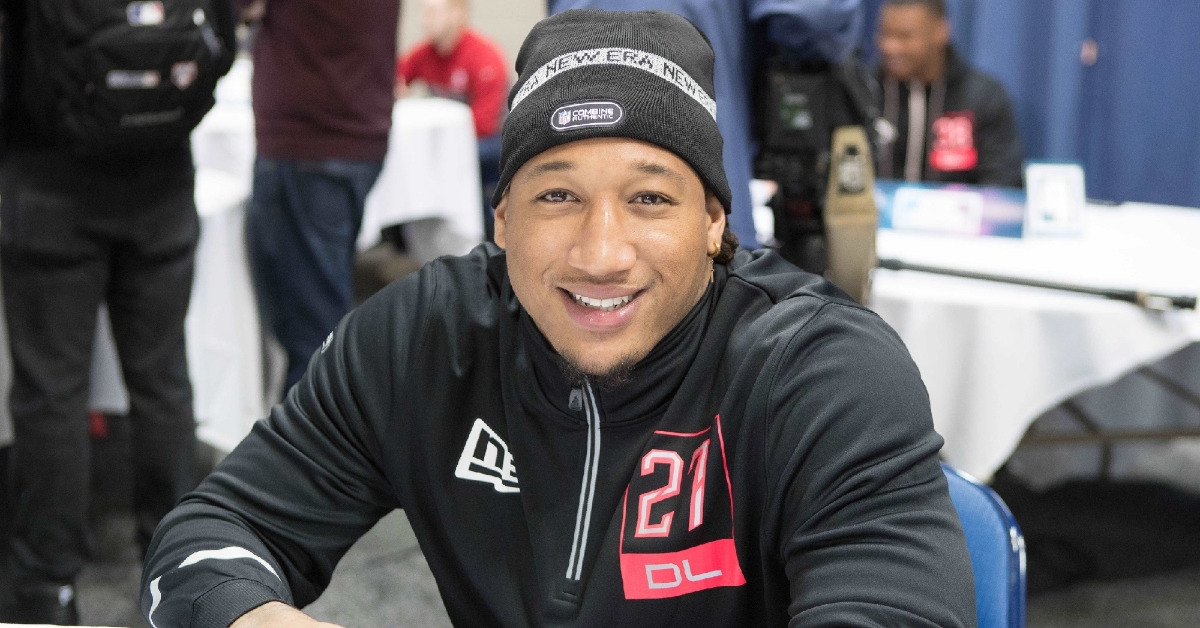 | | |
| --- | --- |
| Bears News: Getting to know: DE Trevis Gipson | |
---
| | | |
| --- | --- | --- |
| Wednesday, April 29, 2020, 11:03 AM | | |
While the Bears did a decent job filling a few holes in round two, Chicago had to sit back the next few rounds as they didn't make another pick until the fifth round on day three. Not only with obvious needs and holes still to fill, but this is also the part of the draft where teams begin to make the roster depth signings as they try to piece out the roster for the season.
While the Bears defense remains mainly intact, Chicago was undoubtedly looking for more pass-rushing help to put along with Khalil Mack. Signing Robert Quinn this offseason certainly helped, but with the 155th pick in this year's draft, the Bears used their first fifth-round selection to bring in Tulsa ILB Trevis Gipson in hopes he adds much-needed pass rush to their team.
At 6-4 265 LBS, Gipson is a huge linebacker that very easily could transition to DE early in his career. While he may be listed as a linebacker, Gipson falls into the category of an edge rusher, which was certainly a need for the Bears depth-wise.
Despite starting just two games for Tulsa, Gipson played all over the defensive line and at the linebacker position, which is one of his strengths coming into the draft. Not only is he versatile, but he is a developmental athlete who may not know how good he even is quite yet. Not only is he agile, but he is quick in space and can get into the backfield quickly by surprising players with both his strength and quickness.
He was not surrounded by a ton of NFL talent while playing at Tulsa, but you could see him stand out as the best defensive player on the field in most of his games against schools similar in talent. Gipson has played both inside and outside pass-rushing positions for Tulsa but had significant jumps in production once they decided to move him around on the line. That allowed him to use his athleticism more to his strengths as teams had to adjust their offensive schemes continually.
Like most middle to late-round picks, Gipson has a ton of flaws in his game that need to be ironed out before he can make significant impacts. For starters, despite all that athleticism he possesses, there is not a ton of strength in his upper body as he needs to play stronger at the point of attack. You would think his 264-pound frame stands out on the field, but he has the build of a basketball player more than a football player which could be a problem against more physical players in the NFL.
His awareness was not what you would expect as a college senior, but moving him around did help with that a lot more. Tying into the whole moving around process, Gipson is not a smooth rusher at this stage in his career and often tries to confuse offensive lineman by using multiple moves instead of just going after the QB. With Chuck Pagano as his new defensive coordinator, look for him to find what works for Gipson and have him stick to that for the most success.
Player Comparison: If I had to look at a player to compare Gipson too, it would be Dorance Armstrong of the Dallas Cowboys. Gipson appeared to have figured out how to use all his physical gifts once the season ended, but for some reason couldn't discover how to do that sooner. He puts those tools on display at the recent Senior Bowl, which impressed a lot of people and pegged him as a player with a high upside. He will not be much of a factor this season, I don't think, but given time, I wouldn't be surprised to see him as a starter. Had he put his tools on full display early on in his career, you would be looking at a day two talent, and someone, the Bears, would be looking at contributing now more so than later.