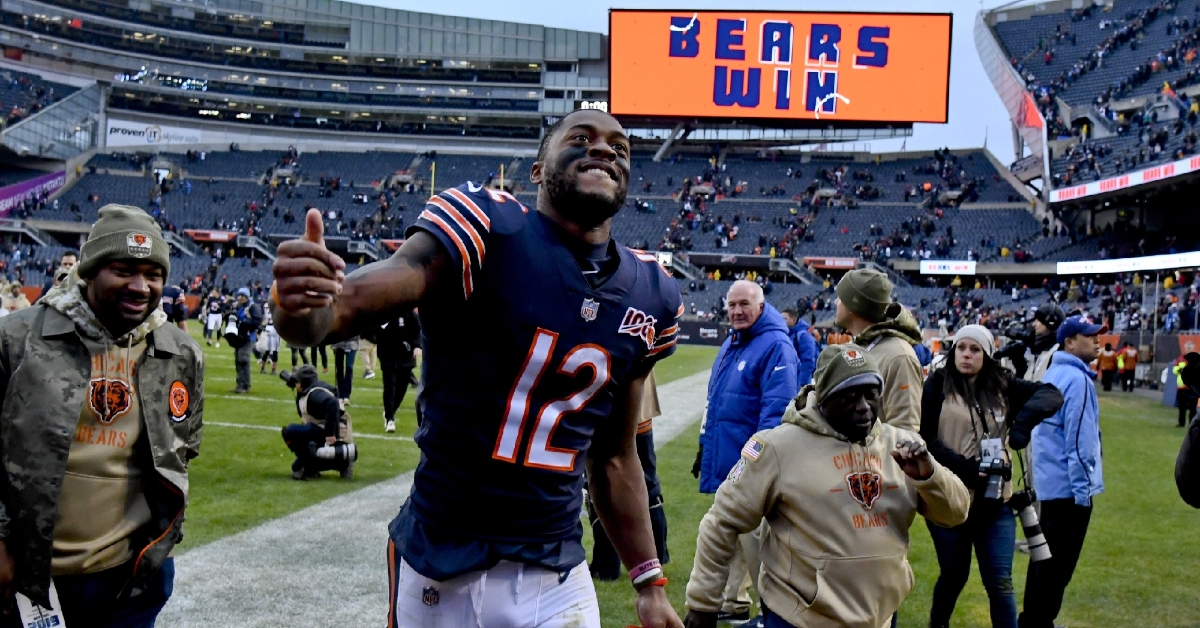 | | |
| --- | --- |
| Bears News: Allen Robinson on offense: "We know that we have good players" | |
---
| | | |
| --- | --- | --- |
| Thursday, November 21, 2019, 12:27 PM | | |
One of the Bears' most significant offseason acquisitions a year ago was signing former Jacksonville WR Allen Robinson to a five-year contract upwards of 8 million a season. After putting up solid, but not elite numbers for the Jaguars, Robinson was looked at to become the Bears number 1 in an offense desperate to replace both Alshon Jeffrey and Brandon Marshall from recent seasons.
After putting together a strong 2018 campaign, Robinson has not lived up to the same hype this year despite surpassing most of his marks from last year. That mainly has to do with the Bears' inability to score consistently, so now he is looking at finishing 2019 with a nice string of consistency. When you talk to the now seven-year pro, Robinson is confident that not only he can finish the season strong, but the entire offensive side of the ball also.
"We know that we have good players," said Robinson to the media Wednesday. "We know the capability of everybody. We have pretty much the same players that we had last year. Seeing some of the success that we have had, even this season, it's tough not to be consistent with it."
With 57 catches so far this season, Robinson has already passed last seasons total and has accounted for more than 25 % of the team's completions. He was also caught 66% percent of his targets so far, which would be a career-high mark in that category should that pace continue the final six games. However, in recent weeks, the opposition has done an excellent job taking the ball away from Robinson and forcing Mitchell Trubisky to use his other reads.
A prime example was last Sunday against the Rams when he came down with four catches, but for only 15 yards in the process. Given that the offense has been inconsistent all season, Robinson isn't going to point one single blame on what the issue has been.
"I don't really think there's something you can point to and say, 'this is why,'" said Robinson. "I think (it's) all around. I thought that last week early in the game we moved the ball. We got to some--not in the red-zone, but we were in the fringe area a few times. Unfortunately, we weren't able to capitalize or come away with points."
Robinson may still be one of the Bears' best options to move the chains, but looking at the numbers, you may not see that. The big plays that have come easy earlier in his career are just not there anymore as his catch average has gone down from 13.7 last year to 11.1 this year. Both of those are well behind his 17.5 pace that he set in 2015 en route to his lone pro bowl selection.
Robinson sees offensive execution as the key to not only himself turning his season around, but the entire offense. This Sunday would be an excellent opportunity for them to do that as the New York Giants are giving up 7.7 net yards per play, which is second highest in the league. Yes, the Bears offense may be struggling, but there is no excuse why they shouldn't be able to move the ball better this week.
"Just make the plays that are called for us," said Robinson, "I think that's the biggest thing. It's no secret in this league as to how explosive plays or things like that come about. They've just got to be made."
Even though the Giants defense is as useful as swiss cheese, the Bears offense is still facing some uncertainty this week as Trubisky is recovering from a hip injury. The hope is to have Trubisky ready to go, as he participated in practice fully yesterday. No matter who will be tossing balls on Sunday, Robinson and the rest of the receivers are familiar with both, so the transition shouldn't be an issue.
"From a receiver standpoint or a skill position standpoint," said Robinson, "you've just got to go out there and prepare well, make sure you're in the right spot no matter who is throwing the ball. I think that's the biggest part about it. When the ball is in the air, it's just for us to make a play."
Look for a more consistent showing this week as the Giants haven't posed much of challenge to anyone yet this season.