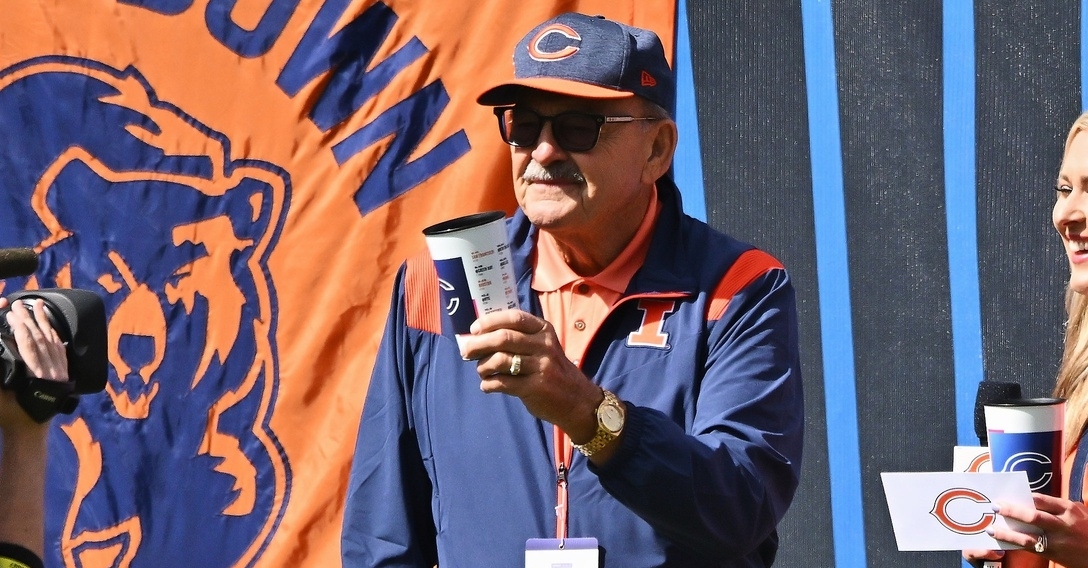 | | |
| --- | --- |
| Legendary Bears linebacker Dick Butkus has passed away | |
---
Legendary Bears middle linebacker Dick Butkus has passed away at the age of 80 on Thursday morning.
"The Butkus family confirms that football and entertainment legend Dick Butkus died peacefully in his sleep overnight at home in Malibu, California," a statement from the Butkus family read. "The Butkus family is gathering with Dick's wife Helen. They appreciate your prayers and support."
Butkus played and started in 119 games in 10 seasons with the Bears (two winning teams), 1,020 tackles, 22 interceptions, 27 fumble recoveries, 11 sacks, one touchdown, and a safety.
For that play on the field, he received eight Pro Bowl selections, five All-Pro selections and was inducted into the Pro Football Hall of Fame (1979). His iconic jersey, No. 51, was retired by the Bears.
"I felt my goal and my dream was in sight when I entered professional football. Finally, after eight years of preparation, my opportunity was before me," Butkus said in his enshrinement speech at the NFL Hall of Fame.
The Bears released the following statement.
"Dick Butkus was a legend who embodied what it means to be a Chicago Bear," the statement read. "Our hearts go out to his family and friends."
Bears Chairman George McCaskey released a heartfelt tribute on his passing.
"Dick was the ultimate Bears, and one of the greatest players in NFL history," the statement read. "He was Chicago's son. He exuded what our great city is about and, not coincidently, what George Halas looked for in a player: toughness, smarts, instincts, passion and leadership. He refused to accept anything less than the best from himself, or from his teammates. When we dedicated the George Halas statue at our team headquarters, we asked Dick to speak at the ceremony, because we knew he spoke for Papa Bear.
"Dick had a gruff manner, and maybe that kept some people from approaching him, but he actually had a soft touch. His legacy of philanthropy included a mission of ridding performance-enhancing drugs from sports and promoting heart health. His contributions to the game he loved will live forever, and we are grateful he was able to be at our home opener this year to be celebrated one last time by his many fans.
"We extend our condolences to Helen, Dick's high school sweetheart and wife of 60 years, and their family."
The NFL released a statement after hearing of his passing:
"The NFL is mourning the loss of legendary Hall of Famer Dick Butkus," the statement read. "Our thoughts are with his family and the Bears organization."
"Dick Butkus wasn't just one of the greatest football players to ever play the game, he was a remarkable man. He was always there for me when I needed him," Jarrett Payton tweeted.
Butkus is survived by his wife and their three children.
More to come on this breaking news story.
Remembering the legendary Dick Butkus. pic.twitter.com/8TMWltAO7V

— NFL on Prime Video (@NFLonPrime) October 5, 2023
This NFL Films feature on Dick Butkus is worth your time:

"I want to let 'em know that they've been hit...to say, 'must have been Butkus that got me.'"

May he rest in peace 🙏pic.twitter.com/bLWTHPtCLqhttps://t.co/X70Tl3fmV7

— Dov Kleiman (@NFL_DovKleiman) October 5, 2023
Dick Butkus wasn't just one of the greatest football players to ever play the game, he was a remarkable man. He was always there for me when I needed him. Now, these 3 #Bears legends are in heaven, sharing a drink, getting ready to watch the #TNF game from the best seats. Here's… pic.twitter.com/dzKa8n5p7x

— Jarrett Payton (@paytonsun) October 5, 2023
RIP Dick Butkus🧡🐻⬇️ pic.twitter.com/cF1T0xKvEV

— Stadium (@Stadium) October 5, 2023
The Dick Butkus press conference in 2019 for his statue dedication was pure gold pic.twitter.com/qfTR6LGC02

— Bret Beherns (@WCIA3Bret) October 5, 2023
Dick Butkus was a legend who embodied what it means to be a Chicago Bear. Our hearts go out to his family and friends. pic.twitter.com/8UEVuuZLwi

— Chicago Bears (@ChicagoBears) October 5, 2023
Sad to hear of the passing of Dick Butkus, I used to watch his highlight reel right before I went to play my HS football games. One of the toughest players I've ever seen play.

— Mike Golic (@golic) October 5, 2023
RIP, Dick Butkus pic.twitter.com/OZIPbk27hr

— Joe Schad (@schadjoe) October 5, 2023
Super Sky Point to the predatory, legendary, and utterly hilarious Dick Butkus. He was, and always will be, the goddamn physical embodiment of the greatness of the city of Chicago. If your kids don't know, just tell 'em if he didn't know who had the ball he'd tackle the entire… pic.twitter.com/yq14TgBnbN

— Super 70s Sports (@Super70sSports) October 5, 2023
Rest In Peace to the Great Dick Butkus:

- Hall Of Famer
- 8x Pro Bowler
- 5x All Pro
- HOF All 1960s team
- HOF All 1970s team
- 119 games
- 1020 tackles
- 22 interceptions
- 27 fumble recoveries

One of the greatest to ever play the game. pic.twitter.com/Zo8LRGL6bS

— JPAFootball (@jasrifootball) October 5, 2023