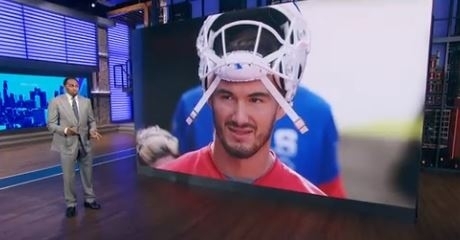 | | |
| --- | --- |
| WATCH: Stephen A. Smith slams Mitch Trubisky on 'nice to be wanted' comments | |
---
Former Chicago Bears quarterback Mitch Trubisky is happy to be part of the Buffalo Bills as he had some strong words about his former team during a press conference this week.
"It's just really nice to be a part of a great team and be somewhere where people want you here," Trubisky said. "And they care about how you're progressing as a person and as a player."
Trubisky is happy to be at a place where he is needed.
"Throughout the process, you can see that they continuously were believing in me less and less. Happy to be in a team where you are wanted."
ESPN analyst Stephen A. Smith saw Trubisky's comments and went off on him.
"Really? Really? What do you mean, it's nice to be wanted? You are wanted," Smith said. "That's what you said, right? You're wanted, right — as a backup. There wasn't a single team that wanted you as a starter, bro. Not one. And you're not just any kind of backup, Mitchell Trubisky. "You're the backup to a guy that just signed a six-year, $258 million contract. A guy who finished second in MVP voting last year. A guy who is actually a year younger than you in Josh Allen.
Smith knows that Trubisky probably won't play much unless its in garbage time.
"So guess what? There ain't no way you're ever gonna see the field in Buffalo unless there's an injury," he said. "There ain't no way that's gonna happen! You're just gonna be standing there holding a clipboard doing pretty much nothing, OK? You, the guy that the Chicago Bears moved up in the draft and passed up on Deshaun Watson and Patrick Mahomes to get. You — that's you."
REALLY, @Mtrubisky10??? pic.twitter.com/IJN1Qy41zc

— Stephen A Smith (@stephenasmith) August 12, 2021