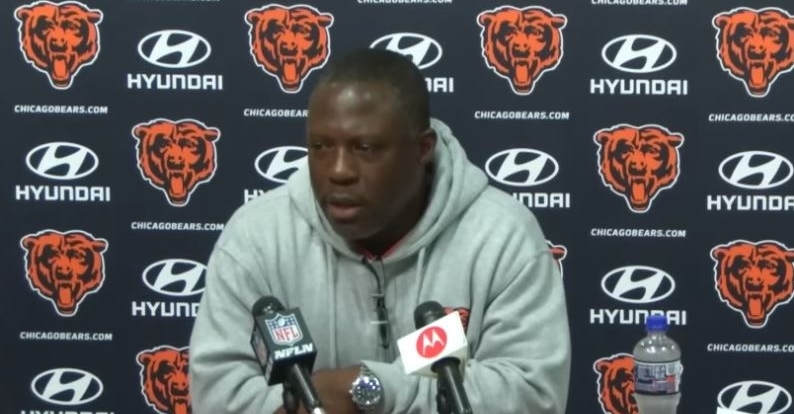 | | |
| --- | --- |
| Bears defensive coordinator: "We got the best coaching staff in the world" | |
---
CHICAGO - Last season, the Chicago Bears defense was far from being the Monsters of the Midway. With a meager 20 sacks, their sack leader being rookie safety Jaquan Brisker with a total of four sacks and only 67 tackles for loss (TFL) with a third of those coming from defensive tackle Justin Jones and linebacker Nicholas Morrow who had a combined 23 TFLs, it was abundantly clear that Chicago needed to add some help in the offseason.
General manager Ryan Poles and the rest of the Bears front office made some big moves to improve the defense overall, but particularly the defensive line, with additions such as defensive tackle Andrew Billings and linebackers Tremaine Edmunds and TJ Edwards. Edmunds has immediately stepped up as a leader during organized team activities (OTAs) so far this offseason.
"When you have good leadership, you always have a chance on top of, (Edmunds and Edwards) are good players," defensive coordinator Alan Williams said recently. "So, you notice that when they're making plays out there, directing the defense, leading the defense. It starts right there in the middle and we are getting that."
While OTAs are optional, this second-year defensive coordinator is satisfied with the number of players that showed up. Williams was able to work with most of his defensive players during these three weeks. Veteran minicamp will start on Tuesday, June 13, marking the first time every player will be required to come.
"We would love all our guys to be out there. But the way football is right now, it is optional, and I want the guys to be out there because I do feel that we bring value," Williams explained. "I think we have the best coaching staff in the world, the best training staff, our strength and conditioning staff. We have the best dietitian. I think we have the best of everything here, so I want guys to be here."
Williams has had a lengthy career with various NFL teams. His first position in the NFL was back in 2001 when he was a defensive assistant for a year with the Tampa Bay Buccaneers. A little over a decade later, in 2012 started his career within the NFC North, serving as defensive coordinator for the Minnesota Vikings for two years before serving as the defensive backs and safeties coach for the Detroit Lions from 2014 to 2017.
Being very similar with the NFL and particularly this division, helps him to know what the Bears need to do to compete in the North. One of the biggest things he mentions, however, is gaining depth on defense.
"I don't know if you can have enough depth no matter how good your guys are," Williams argued. "So, I do like where we're headed, where we are right now, and how our young guys are running around, how our guys are guys that we picked up, our vets, are running around. But we'll kind of see what happens with it. Really, the big test is when you put pads on and how things shake out. But I really love where we are right now."
Of course, a successful NFL team requires a strong offense and a strong defense. Everything on offense starts with quarterback Justin Fields, who had a lot of success last season running the ball with 1,143 rushing yards and leading the NFL in yards per attempt with 7.1. Williams has noticed an improvement from Fields this offense that will serve Chicago well in the regular season, starting with his improved leadership skills.
"Leadership - because that's what you want in your quarterback," Williams said. "I see good decision-making. That's what you want in your quarterback. I see improved accuracy. That's what you want in your quarterback and how fast he's processing, so that's also, in my mind, what you want in your quarterback."
One thing that he believes has contributed to Fields's growth is familiarity with the program. Everything was new last year - Williams himself, Poles, head coach Matt Eberflus. With all of these changes comes a lot for a quarterback to process and learn. Now that things are a bit more consistent, Fields has been able to relax and perform better.
"Last year, everything was just in a frenzy because he wants to please, he wants to do, he wants to be so good," Williams explained. "Now, he's okay. He's relaxed. He's playing within himself. He's got his feet up underneath him. He's communicating more than he did."
The first chance for Williams and the defense to show their improvements, as well as Fields to show how he's improved, will be the first preseason game against the Tennessee Titans on Saturday, August 12 at noon. The regular season will begin on Sunday, September 10 against the Green Bay Packers.