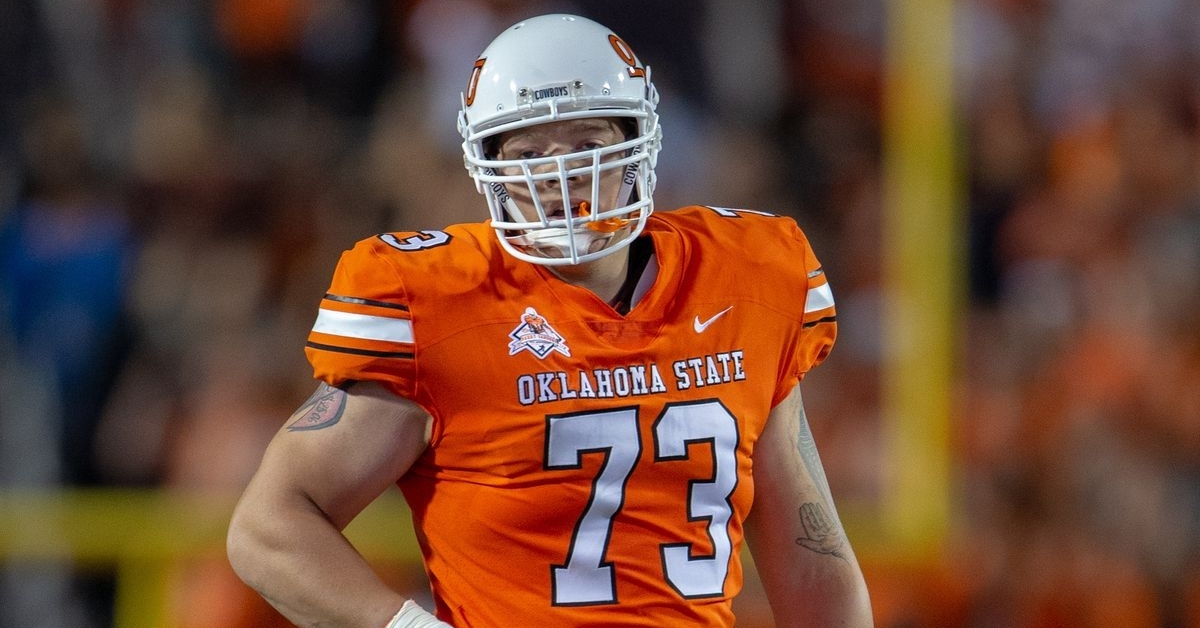 | | |
| --- | --- |
| Bears draft future starter in OL Teven Jenkins | |
---
| | | |
| --- | --- | --- |
| Monday, May 3, 2021, 10:49 AM | | |
Through the first two rounds of the 2021 NFL Draft, the Chicago Bears won the best grade as they took care of two significant needs. Heading into the draft, the Bears had two goals in mind: adding to the offensive line and finding a QB.
Not only did they take care of the QB situation in the first round, but they did so in a big way by trading up and selecting Justin Fields, who has the makings of being a franchise player. The goal is to protect him, and the Bears did that by adding Teven Jenkins with the 39th overall pick. Jenkins was listed as a late first-round prospect, so to see him fall to the second round was huge for Chicago. Essentially it gives the Bears two first-round picks in the first 40, and now they are set to see what Jenkins brings to the table.
Not only is Jenkins a big boy at 6-6 and 317 pounds, but he is also the perfect size for an offensive tackle and has the potential to step in right away and be the Bears starting right tackle. Not only that, but Jenkins has also seen time at left tackle and has hinted he has no problem moving to guard should the Bears see value with him there. In essence, Jenkins is a versatile player who is looking forward to being versatile in the NFL.
Jenkins is one of the more polished offensive linemen in this year's class and specializes as a dominating run blocker which is what the Bears liked about him. This is a run-first football team, so they need guys to dominate in the trenches on both sides of the ball. While his pass blocking isn't as good as his run blocking, Jenkins is still way above average in that category which should have both Andy Dalton and David Montgomery grinning ear to ear.
One thing the Bears have lacked on the offensive line is the nastiness attitude that you like to see, and Jenkins certainly brings that to the table. Not only that, but he also feels as if he should have been a first-round pick and now is playing with a chip on his shoulder. That is something he is going to use to his advantage, and he is going to make sure his opponents know that in the process.
Jenkins has an extremely strong lower body and uses that to get leverage on his opponents, making it easier to drive them back on blocking opportunities. He is an instinctive football player who has a good feel of what to do when blocking and adjust given what he sees on the fly. Don't mistake his size for someone clumsy, as Jenkins is a very athletic tackle who not only blocks to the second level but is willing to put his man on the turf.
He is quick to set the edge, strong on the inside to clear holes, and he plays with a pad level that you would expect from an elite tackle. Not to mention his consistency on the field made him a home run pick when he was available, and the Bears couldn't pass him up as he filled one of their more pressing needs.
Jenkins may have tons more positives than negatives, but there are still some negatives to his game. His short arms are what has some scouts talking about moving him to guard. Typically tackles have long arms as it allows them to get extended. Jenkins doesn't have that, so it will be interesting to see how he holds up against some premiere edge-rushing talent.
There were also some concerns regarding his overall football character on the field. I am not sure what those concerns areas I have yet to see any indication that he doesn't like the game or isn't willing to put the max effort into getting better. Jenkins can also improve a little bit on holding his blocks longer, but that all comes with time and experience at the NFL level.
When it comes to filling a need, the Bears certainly did that in the second round, but they did so in a big way. Jenkins was rumored to be in play for the Bears at 20 before trading up, so he was on their radar from the start. The fact that he fell to the second round was a surprise, and the Bears felt it was an opportunity to get someone they targeted from day one.
Now, not only do they have the QB of the future in Fields, but they have a tackle in Jenkins who is looking to protect him for years to come. This was a great start to the 2021 season for GM Ryan Pace, as he hopes this is the start of a successful season.