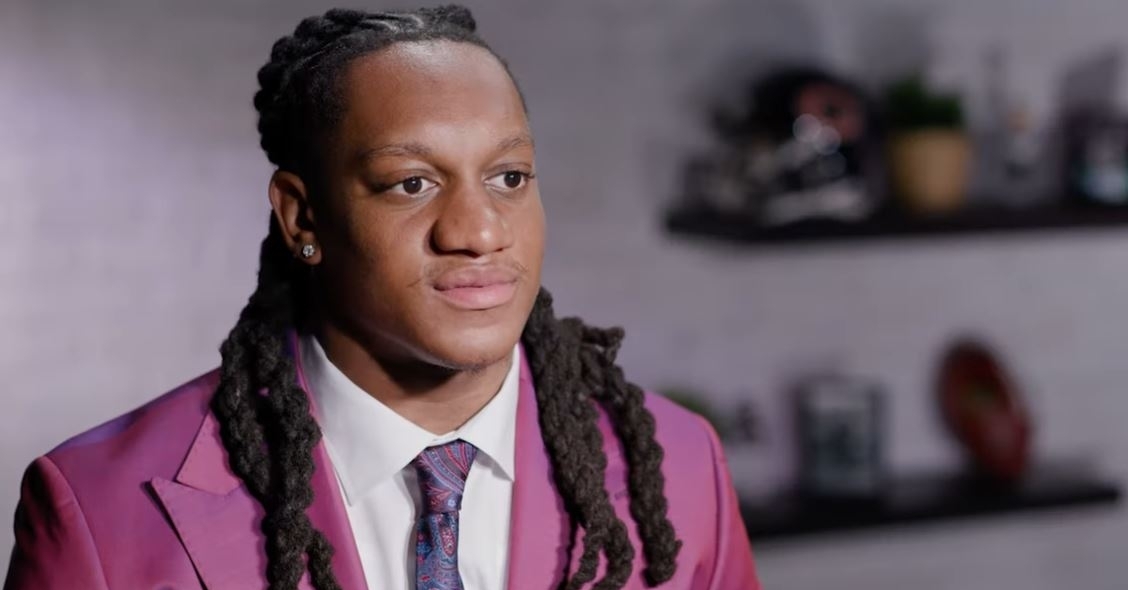 | | |
| --- | --- |
| Bears News: Tremaine Edmunds: "If You're a True Competitor, You'd Want to Play Here" | |
---
| | | |
| --- | --- | --- |
| Thursday, March 23, 2023, 8:32 AM | | |
Chicago is making a lot of moves this offseason to better them next season and for the future. One was the acquisition of linebacker Tremaine Edmunds who received a 4-year, $72 million-dollar contract; $50 million is guaranteed, and he received a $9.75 million-dollar signing bonus. He spoke with Chicago's play-by-play announcer Jeff Joniak about joining the Bears and helping build the organization.
"Just looking at the history that's in this building. I think that's the biggest thing," Edmunds told Joniak. "Sitting here, my family's excited. Everybody's excited. I'm ready to come here to Chicago and make my own story, write my own legacy."
Edmunds comes from a football family.
His father, Ferrell Edmunds, was a Pro Bowl tight end who played for the Miami Dolphins from 1988 to 1992 before finishing his final two seasons with the Seattle Seahawks. His two brothers, Terrell, and Trey Edmunds, also play in the NFL. Trey spent his first season with the New Orleans Saints but is not on the Pittsburgh Steelers; Terrell also plays with the Steelers.
Tremaine, like his father, is also a Pro-BoInBack in 2019 and 2020, he was selected for the Pro Bowl; in 2019, he recorded his first safety. In all five years he has played in the NFL, he has recorded over 100 total tackles and over 65 solo tackles. He defended a lot of passes in his rookie year, back in 2018, but hasn't done that as much since. Further, he hasn't been someone to record a lot of sacks. But, Edmunds could be used very differently from the Bears, perhaps someone who racks up the sacks more. Still, playing in coverage is something that he feels very comfortable doing.
"I think just having a guy that can run with tight ends, run with receivers, they can move because obviously cover two man, if that mike linebacker is athletic and can move around, you can make a lot of plays," Edmunds said.
Just as the Edmunds family has a rich history in the NFL, so do the Bears, and that is something that he admires greatly about coming to Chicago. With players on defense like Mike Singletary and Brian Urlacher, Edmunds hopes to become a part of that history.
"I think the biggest thing is, like I said, just seeing all the faces and seeing how many legends played for the Chicago Bears," Edmunds said. "Like, you hear about it, but to actually come in here and walk around and just look around, if you're a true competitor, you'd want to play here."
The Buffalo Bills were not exactly in the best shape when he started with the team in 2018. Now, they are always a Super Bowl contender. Building an organization from the ground up is something that Edmunds has done before, and he would enjoy helping the Bears do that as well.
"I'm all about the groundwork. I like building a foundation," Edmunds explained. "You have to build one brick at a time. You know, like you said, things won't just come overnight, and I'm all about that groundwork and just knowing that, you know, I have the opportunity to be a big piece of that puzzle, and I'm extremely excited, and I'm grateful for it."
Perhaps most important of all, he wants to show the fans of Chicago who he is. Edmunds is a talented player who can always make an impact on the field, something he now wants to show the fans of Chicago. In addition, he always admired Urlacher and compared himself toHopefullypefully, Edmunds will become the new Urlacher and bring the Bears back to their glory as the Monsters of the Midway.
"I want to show them who Tremaine Edmunds is. I mean, I pay respect to all the guys that came in front of me," Edmunds said. "I think anybody that's striving to be great, you have to watch the great guys that came before you because that's what you're striving to be like. You have to compare your game to somebody. Obviously, you want to compare to somebody, somebody who's been there before, that's done it at a high level."
Upgrade Your Account
Unlock premium boards and exclusive features (e.g. ad-free) by upgrading your account today.
Upgrade Now