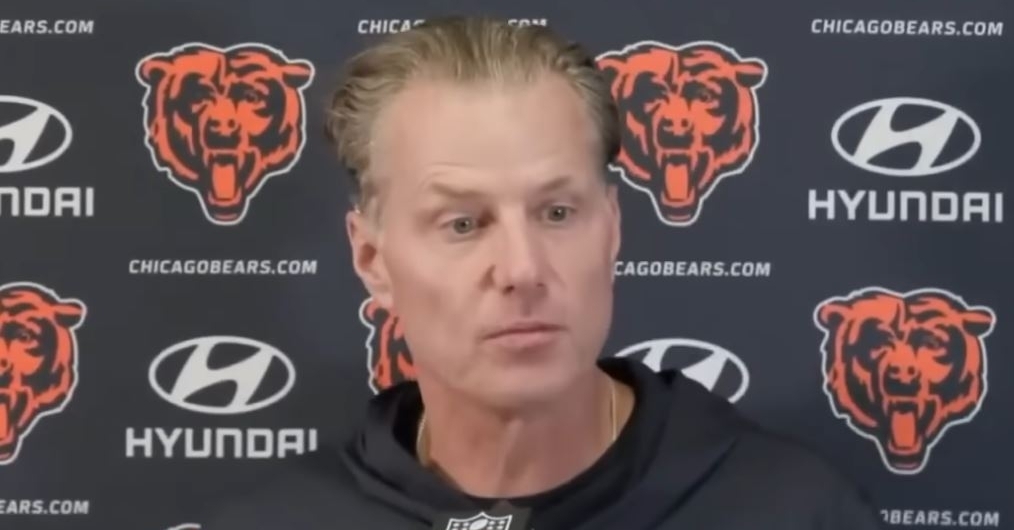 | | |
| --- | --- |
| Bears News: Eberflus on blowout loss to Chiefs: "We got to do a better job" | |
---
CHICAGO - Just when you thought weeks one and two were bad, along came week three against the Kansas City Chiefs to show just how much worse it can get. With all of the controversy and conversations about the Bears leading up to this game, this was the last thing fans needed to see from their team.
Speaking with the media after the game, head coach Matt Eberflus appeared to put part of this loss on the coaching staff.
"Everybody's got to take a hard look at what they're doing in terms of the scheme we're running, what we're doing," Eberflus said. "We're in charge to put our players in position to execute, and that's what the coach does and develop the players at the same time. We got to do a better job."
Part of the controversy of the week was the bizarre situation surrounding former defensive coordinator Alan Williams and his resignation from the team. This game was the first since his resignation. But losing by 30-plus points is not a first. In fact, it is the third season in a row the Bears have lost at least one game in the season by 30 or more points and the second season in a row with a 41-10 loss.
Given the defensive struggles, now making it 13 games in a row losing as well as allowing at least 25 points in all of those games, some questioned whether Chicago would consider bringing in a defensive coach. Eberflus gave a non-answer to this question.
"That's certainly something that we could do and something we're always looking at. We always look to evaluate that," Eberflus said. "This is a new process for us that we're going through right now. But if we feel it can help the squad and help that side of the ball, we'll definitely do that. But again, we'll look at all options as we do. It's got to be the best fit"
Chicago was able to score 10 points at the end of the game, albeit all of the points were set up by interceptions from the Chiefs's backup quarterback, Blaine Gabbert. Still, Eberflus did feel like there were some positives to take away from the past few weeks overall.
"There's been some good things. There's been some good drives. We saw some last week. We saw some (in) the second half here," Eberflus said. "There's been some good things with that, and also defensively, there's been some good things, some good moments, in there."
Quarterback Justin Fields was not one of those good things Eberflus referred to. His completion percentage of 50%, his lowest since the Bears' 41-10 defeat against the Detroit Lions in week 17 of last season. Furthermore, he had his fourth straight game with an interception. The one bright side would be that he had more rushing yards than last week, with 47. After saying that he wanted to play like his "old self" on Wednesday, he did not do that. However, Eberflus continues to support his quarterback but also stresses that everyone on the team needs to continue to improve.
"There's no one more determined than Fields. Justin is working his tail off, and again, we're finding the flow for him, and we just have to keep doing it. We got to keep doing it," Eberflus said. "We got to find how to let him do his thing and explode and again, it's not just about Justin. It's about everybody on the offense. So, we just got to keep doing that, and it's not just about offense. We got to do a better job on defense."
When you lose 41-10, you would think you had the worst loss of the week. That actually was not the case, as the Denver Broncos lost their game against the Miami Dolphins this week 70-20. Thankfully, Chicago will not face Miami this year. But, in their next matchup, they will be going against the 0-3 Broncos (Noon / CBS).
That game will be followed by a Thursday night matchup against the Washington Commanders (7:15 p.m./Prime Video), who suffered their first loss of the season in a 37-3 game against the Buffalo Bills.
"We've got a great opportunity ahead of us," Eberflus said. "We've got two games in 11 days, and so, we're going to focus on that and focus on being the best version of ourselves every single day as we go through practice this week."