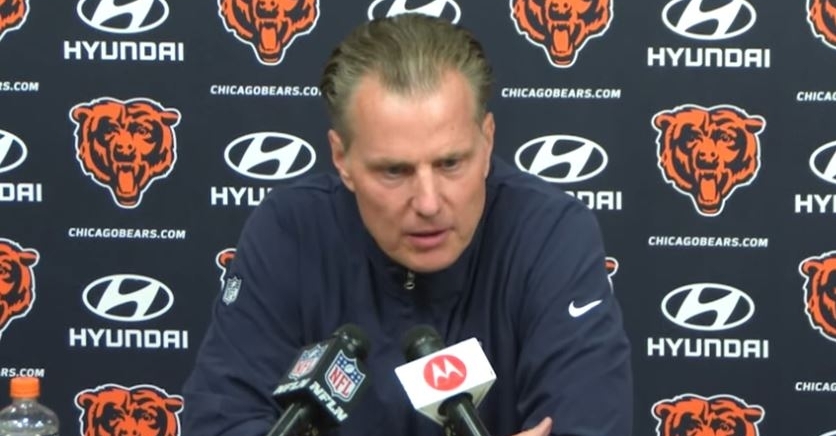 | | |
| --- | --- |
| Bears News: Eberflus to call defensive plays against Bucs, previews matchup | |
---
CHICAGO - Things are not looking good on the defensive front for the Bears going into their game against the Tampa Bay Buccaneers (12 p.m./FOX). Not looking is one of the starting cornerbacks, Kyler Gordon, now on injured reserve (IR), but defensive coordinator Alan Williams will not be traveling with the team to Tampa Bay.
"Alan Williams will not travel with the team this weekend. He's out for personal reasons. I will be assuming his responsibilities," head coach Matt Eberflus stated. "I don't have any timeframes. He's out for personal reasons, and if we, you know, at the right time, if I have timeframes or I have more information, we'll get it to you when available."
With Eberflus taking over defensive play-calling for the time being, it is a question of how different the defense will look against the Buccaneers compared to how they played in the season opener. But that also puts a lot of pressure on Eberflus since he will have not only his responsibilities as a head coach but also serving as the defensive coordinator.
However, he argues that the experience from the coaching staff will help him to balance all of these responsibilities.
"I would say that we've got a lot of experience on the defensive staff," Eberflus argued. "(Cornerbacks coach) Jon Hoke is a very experienced coach. (Safeties coach) Andre Curtis is a very experienced coach. They've been in the league a long time and been in our system a long time. So, you know, (linebackers coach Dave) Borgonzi has been with me for a long time."
In regard to Gordon, he is dealing with a broken hand and had surgery for that on Thursday. Putting him on IR guarantees that he will be out for at least the next four games. On the bright side, Eberflus and the rest of the coaching staff anticipate that he will be ready to return in Week 6 against the Minnesota Vikings on October 15.
"We're anticipating, if all things go well, he can be back after Washington," Eberflus stated. "So, we'll just keep him in our prayers and all that. We visited earlier, and his teammates have been talking to him, and he's in a good spot mentally right now."
The biggest problem in the season opener was the lack of execution from players on all sides of the ball. Wide receiver Chase Claypool is probably the most prominent example of this; he is expected to play in Week 2. Going into this matchup against the Buccaneers, Eberflus was looking to establish more of the fundamentals and had a heavy emphasis on situational football during practice.
Bears fans can only hope this will translate to the game.
"We're looking for execution," Eberflus said. "We're looking for, you know, guys alignment assignment, key technique, doing the basics and one play at a time, and that's offense, defense, and kicking, and that's what we're looking for and being really good at situational football because that's what wins football games. That's what we're looking for, and that's what we practiced this week."
Despite the lows of the first week, it did show something positive for the future in Chicago - the rookie class. Cornerback Tyrique Stevenson had done a solid job thus far on the outside while running back Roschon Johnson led the team in receptions in the first game of the season. He also provided a bit of a spark for the Bears when they were struggling offensively.
Eberflus has seen a lot of positive traits from Johnson, and potentially, he will see an increased role in the offense.
"I would say that he's doing really well. He's very smart. We like where he is in terms of his makeup, you know, his mind. He's got a great spirit. I mean, the guy has great energy. So, we like where he is. We're just going to keep adding things to him," Eberflus explained. "He takes everything in, learns to improve, and that's what he's doing, and he's doing a good job so far."
Upgrade Your Account
Unlock premium boards and exclusive features (e.g. ad-free) by upgrading your account today.
Upgrade Now