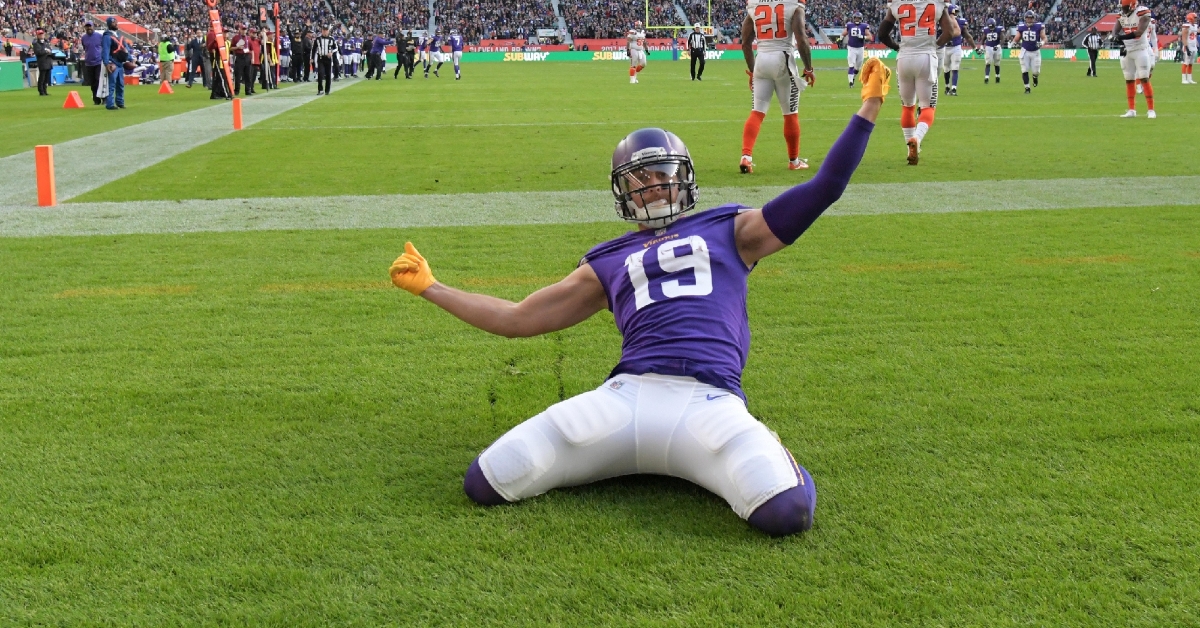 | | |
| --- | --- |
| Bears should try to add talented receiver Adam Thielen | |
---
| | | |
| --- | --- | --- |
| Friday, March 10, 2023, 5:00 PM | | |
The Minnesota Vikings are the gift that keeps on giving. First, they released linebacker Eric Kendricks. Now, they're releasing their wide receiver Adam Thielen. Thielen is a nine-year veteran who still is playing at an elite level.
Cutting Thielen is a salary cap move. Minnesota is continuing to struggle to get under the salary cap, showing just how lucky Chicago is to not have this problem. He made $14,353,529 last season, which is a lot for a receiver that only had 716 receiving yards. For the record, that's still more than any Bears receiver last season. With how talented Justin Jefferson is, it just didn't make sense for Minnesota to keep him around.
But, what would make sense is for Thielen to come to Chicago. He was born in Minnesota, went to high school and college in Minnesota; he can't leave the Midwest now. Since he obviously isn't staying with the Vikings, it seems to make sense for him to stay within this region. Also, he could play against his former teammates twice a year if he played for the Bears.
From Chicago's perspective, this is like a dream come true - he's a talented receiver who was overshadowed by Jefferson's MVP-caliber play. Now, he's getting released, instead of traded, so the Bears can pick him up and give him a decent contract with plenty of money left over without sacrificing anything. Last season was the most money he ever made in a season, primarily because $9,000,000 of that came in a signing bonus. Chicago would certainly have to give him a signing bonus as well (perhaps the same amount), but his base salary last season was only $4,253,529. If the Bears raised that by a few million, they would have themselves another receiver to go alongside Darnell Mooney and could move Equanimeous St. Brown to the No. 3 receiver.
Chicago has more than enough money to take on Thielen and still sign numerous other players to benefit the team. Right now, they have $95,015,862. If the Bears were to give him a $9,000,000 signing bonus like he had as well as, say, an approximately $5,500,000 base salary, Chicago still has $81,015,862 left for their other players while addressing a huge need by signing a receiver.
There are some other big names out there for wide receivers - including Robert Woods, Robbie Anderson, Randall Cobb and Julio Jones. Woods and Anderson are younger than Thielen, so perhaps some would argue that the Bears should sign them instead. However, Anderson was a problem child with the Carolina Panthers and Arizona Cardinals, while Woods has been dealing with injuries. Jones is 34 and is playing like he is nearing the end of his career. Cobb seems like he can only play decently for the Packers, but he is also playing like he is near the end of his career. Thielen, despite being the exact same age down to the day as Cobb, is certainly playing at a higher level. Further, injuries have not been a significant problem for Thielen. In fact, he did not miss a game all of last season. His catch percentage has remained rather consistent throughout his career; last season it was 65.4% and his career percentage is 68.8%.
Going after any other big name receiver, such as DeAndre Hopkins from the Arizona Cardinals, would cost the Bears a lot of money and draft capital. Pursuing Thielen would provide the best of both worlds - signing a talented receiver without giving up any draft capital in a trade and not spending a lot of money.