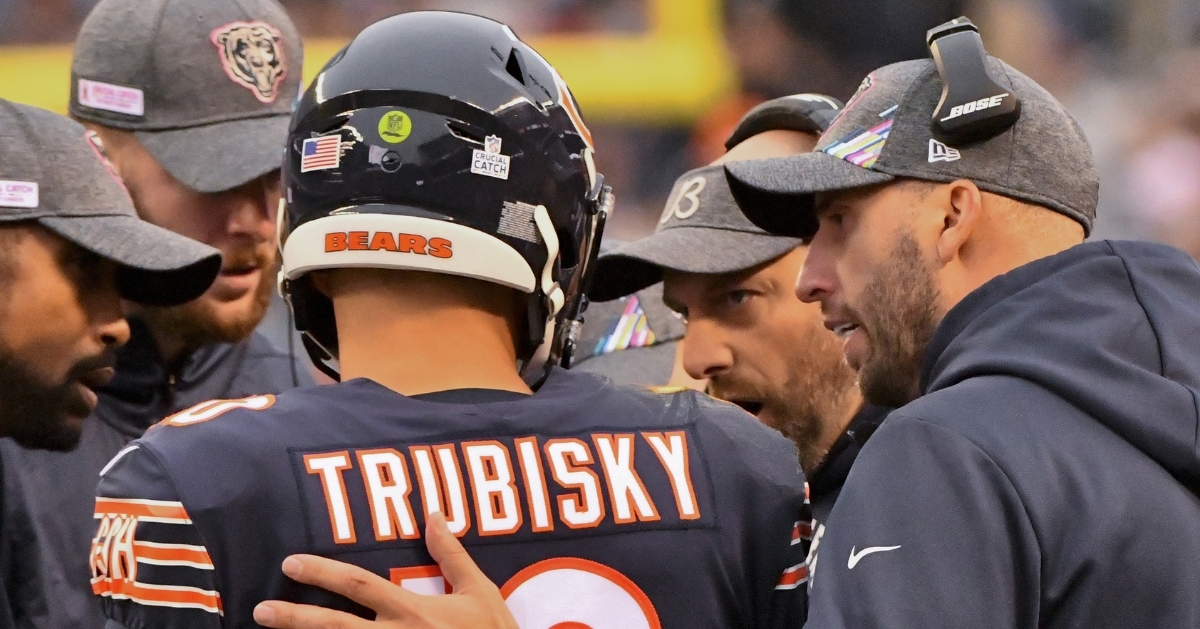 | | |
| --- | --- |
| Commentary: Bears need to shake things up everywhere | |
---
| | | |
| --- | --- | --- |
| Wednesday, November 20, 2019, 12:52 PM | | |
I have given up trying to figure out this Bears team this season. One week it looks like they are on the verge of putting it together only to see them fall flat on their face the next week. That trend continued again this week as the Bears are 4-6 on the season and in danger of being eliminated from playoff contention before December.
After what Chicago accomplished last season, no one would have expected such a decline so rapidly, despite a decline most likely happening. When I looked at this roster and saw the schedule, I said the Bears were a 10-win team that would be competing for both a playoff berth and a division title. Boy, was that prediction been dead wrong as the Bears will be lucky to finish .500 this season with several tough games remaining on the schedule.
To me, last week was their only hope to keep their playoff hopes alive, and they let it slip away once again. That has forced fans to face the reality that this team doesn't have it this season and that we need to start focusing on 2020 and not as much as 2019. The only way to do that is by beginning to self-evaluate everyone on the roster from the coaching staff down to conclude that several shakeups are needed to wake this team-up.
One way to do that would be to start playing some of the rookies and younger players more frequently as early as this weekend. That may not win as many games, but at least it will give us a look at what we have going forward to see if they fit with this team. I don't expect them to bench everyone because that would be quitting on the fans, but several players should start seeing action.
One of those players is Riley Ridley, who was viewed as a fourth-round steal for the Bears. What was looking like one of the best-receiving cores in recent memory to start the season, has underperformed from the get-go and hasn't been able to recover. Not only that, they are among the league leaders in dropped passes this season, which will never help an already struggling offense.
While you cannot make a complete overhaul at this position this late in the season, adding new blood like Ridley could undoubtedly be the boost the team needs. Ridley has yet to sniff the playing field this season, but a summertime hamstring injury certainly could have slowed down his progress to develop. However, that was months ago, and since he is not on the IR, that issue shouldn't be a problem anymore. Its time to get him on the field and let him make some plays.
Another young stud that seems to be underused is Ridley's college teammate Javon Wims who was limited to 15 snaps on Sunday. With the potential upside that Wims possesses with his skill set, seeing action in less than 20% of your teams' offensive snaps simply doesn't cut it. Its time for Wims to see more playing time so the Bears can fully utilize his potential.
For these two to see more snaps, the Bears must decide to take playing time away from someone. With Trey Burton hitting IR, that certainly helps, but would Taylor Gabriel be the odd man out, especially after his crucial drops on Sunday. Gabriel has the tools to be a great receiver, but a mix of injuries and inconsistent play has left this a lost season for him, so benching him may be where the Bears need to go to get others on the field.
Another young player that Chicago should start to look at is sixth-round pick, Duke Shelley. As a sixth-round pick, everyone knew that he was going to be a project, playing on special teams to adjust to the NFL game. However, I am very intrigued to see what he can do lined up at the CB position, even if it is in a limited game situation.
With Buster Skrine continuing to be one of the best blitzing CB's from the slot position, I wouldn't want Shelley to take over his starting spot on the field. Instead, I want to see the Bears add him into the mix with a higher snap count gradually each week where come week 16 or 17 they could use him in critical situations and see what he can do.
With the cornerback position being such an essential part of the defense and knowing Prince Amukamara can't play forever, the Bears need to face the reality that it is time to develop others and see what you have on your roster. That goes for everyone at every position as the Bears seeming look lost at all levels now.
The final shakeup I could see coming may not happen until the offseason but look for wholesale changes to the coaching staff. For starters, look for Matt Nagy and Chuck Pagano to ultimately be safe this year. Pagano was thrown into a tough situation as he needed to employ a new system with hopes of taking the Vic Fangio built defense and keeping them elite. Let's just say the transition has been difficult.
Nagy was a genius last season, and every decision he made worked. This year, those decisions have not gone as planned, and it almost seems like he has stripped the Bears playbook down without being able to adjust quickly enough during in-game situations. That was something I expected from him last season, not this season.
The one coach who should be most concerned about his job right now is offensive coordinator Mark Helfrich. The Bears brought in the former University of Oregon head coach as the offensive coordinator in hopes of establishing a truly elite offense. Although not explosive last season, Helfrich got the most out of his unit and was able to score when needed.
This season is a loss for words as practically the same unit of players continues to underachieve week in and week. Maybe that has to do with the play calling from Nagy, or the lack of development from Mitch Trubisky. Or could it be that Helfrich cannot adjust to the NFL game? Whatever the case is, Helfrich may be coaching for his job the final six weeks as the Bears need answers fast.
Whatever happens, the last six weeks of the season will go a long way to telling us the Bears direction moving forward next year. All I can say is that Ryan Pace will be a busy man this offseason because this kind of play cannot continue for a team investing a lot into their organization. Shake up will be coming somewhere along the line. The only question who will be out and when will the shakeup begin to take place.