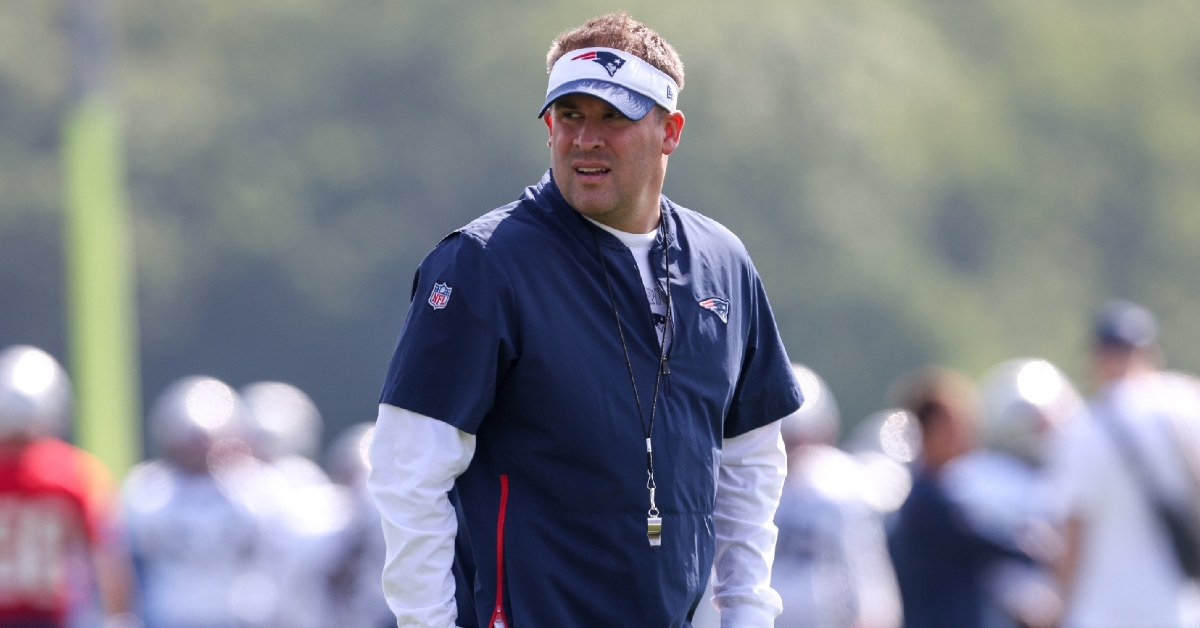 | | |
| --- | --- |
| Commentary: Josh McDaniels could be fit for Bears | |
---
| | | |
| --- | --- | --- |
| Saturday, December 11, 2021, 5:00 PM | | |
It is no secret that the Bears will most likely be looking for a new head coach next season. If that is indeed the case, there will be plenty of candidates to choose from, as the Bears opening should be one of the more desirable jobs considering the history behind the organization.
From former head coaches to up-and-coming assistants, look for Chicago to have plenty of interest as this team desperately needs a winning attitude to come to the organization. Even if the Bears want new blood at the top, there is a fine line as to what the right fit would be. At this point, fans are ok with bringing in a first-year coach over a veteran presence as long as they make sense and are the right fit.
However, one name that is often talked about never seems to materialize, and that is New England offensive coordinator Josh McDaniels who appears ready to branch out once again. Let's get one thing straight. McDaniels is one of the best offensive coordinators in the game and has been for nearly two decades. No one will argue that, but all of that success has been under Bill Belichek and the New England system, where he had Tom Brady for years.
Since Brady's departure, McDaniels has had to readapt as a play-caller going from Cam Newton last season to Mac Jones this year. So far, so good in terms of this season as the Patriots currently occupy the top spot in the AFC. We saw the adaption McDaniels has made in just two seasons on Monday night, where the Patriots defeated the Buffalo Bills 14-10 despite passing the ball three times. Those are the kind of things the Bears need in a head coach as they need someone who understands the game and knows that you need to adjust on the fly to have success.
McDaniels has been putting himself on the head coaching radar again over the last two seasons, but this season especially is drawing some interest. However, with the good comes the bad, and McDaniels has plenty of red flags when you look at his past track record. For starters, becoming a head coach is nothing new for him as he had an opportunity to do that once before with the Denver Broncos.
During his time with the Broncos, not only was he a .500 coach at best, the mistakes he made haven't been forgotten. Despite securing a massive playoff win with Tim Tebow as his starter, McDaniels torched a lot of relationships within that organization from the day he arrived, which is a big reason why his stay was so short.
He then went on to St. Louis, hoping to land on his feet as an offensive coordinator again, but failed miserably as people felt he was being exposed by not having Brady at his disposal. Nearly out of football, McDaniels thought it was best for his career if he returned to New England, and he was right. Not only did he pay his dues the first time around, but he has paid his dues once again to earn the trust from Bellichek a second time around.
McDaniels has not only figured things out as a play-caller once again, but rebuilt his brand as a play-caller to find himself in the head coaching talks once again. We have seen this story before with him as three years ago, it was a done deal that he would be leading the Colts only to get cold feet and back out last minute.
For the longest time, McDaniels has been named the replacement for Bellichek whenever he decides to hang it up, which makes sense. He has been with New England for nearly 20 years, knows the ins and outs of the organization, and has the respect from everyone in that organization.
The problem with him waiting for this job is how long he will have to wait. Bellichek isn't showing any signs of slowing down and hasn't talked about retiring anytime soon. That means that if McDaniels is seriously ready to be a head coach once again, he may have to look elsewhere for that opportunity. Why not look at the Bears as his next destination.
I know, given his track record and how things went down, fans may be very cautious about bringing him aboard. That is understanding, but if he is the best candidate for the position, you have to give him a fair shot and not let his past be the death of him. Has he made mistakes? Yes, we all have, but he has learned from his mistakes and has learned to be a great play-caller again despite changing his philosophy over the years.
He has proven he can work with a rookie QB in Jones, as he has changed that offense to fit Jones's strengths.
He would have the opportunity to do that with Chicago as Fields is a rookie this season and will be in his second year next season. Not only that, Fields is far more athletic than Jones, so there could be a lot more things McDaniels could do with him to maximize his full potential.
I am sure the Bears will have a boatload of interviews this offseason if Nagy is let go, and I think McDaniels will be on that list. If he can prove to the Bears that the past is the past and he is ready to be the man in charge, Chicago would be foolish not to consider him before bringing in a coordinator with no prior head coaching experience.