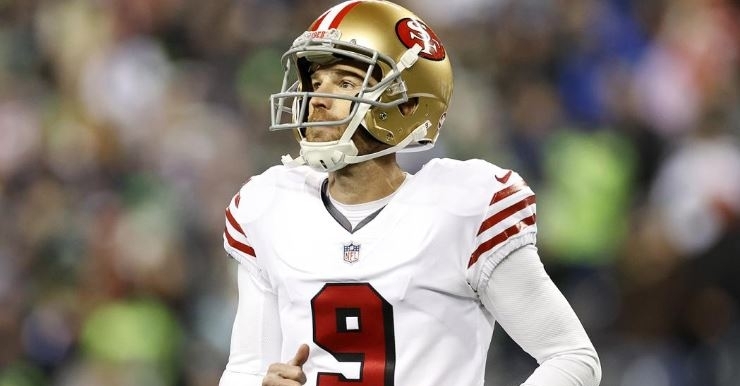 | | |
| --- | --- |
| Could Robbie Gould return to Chicago? | |
---
Chicago's favorite kicker, Robbie Gould, is leaving the San Francisco 49ers after six years. He is set to become a free agent on March 15. While getting a kicker may not be the top priority for the Bears, would it be worth it to pursue Gould?
Right now, the Bears have $98,841,200 in salary cap space. They have a lot of needs that they will need to deal with not only this offseason but also probably next year. Then again, it's not every day that the best kicker in the history of your franchise becomes available in free agency.
Robbie Gould is the all-time leading scorer for the Chicago Bears with 1,207 points. Gould is the second-most accurate kicker in franchise history (with a minimum of five field goal attempts), making 85.4% of his field goals. Ironically, the only kicker more accurate than Robbie is the current kicker, Cairo Santos, with 89.7%. However, it should be considered that Santos has only attempted 87 field goals for Chicago; Gould has attempted 323.
Among active kickers, Gould holds a number of records, including the most points scored (1961), field goals made (447), and field goal attempts (517). He led the league in field goals made in 2006 when he was voted to his only Pro Bowl and received his only All-Pro selection, as well as in 2017. In 2018, he led the league in field goal percentage with 97.1%. Robbie has gone to the playoffs seven times - three with Chicago, once with the New York Giants and three with the San Francisco 49ers. He has never missed a kick. The Bears have not been able to find a consistent kicker since Robbie Gould and although he is older at 40, a kicker can play to a higher age than most other positions. Therefore, he could still have a lot of years left.
His current contract with the 49ers gave him a base salary last season of $4,000,000 with a $1,509,313 signing bonus. Going to another team, Gould will want a little more from his contract. It's clear that the Bears can afford to pay him. However, the salary that he would demand would be enough to pay a low-level wide receiver. So, would Chicago rather have a low-tier receiver or the best kicker in the history of the franchise?
While the temptation would be to say a receiver because that is clearly the greater need, there is something to be said for quality. The NFL Draft this season has a lot of good receivers that the Bears could pick up in later rounds. In addition, with the Bears most likely trading the No. 1 overall pick, they will have even more opportunities to draft a wide receiver.
That kind of flexibility is not available with the kicking position. Jake Moody out of the University of Michigan seems like an elite kicker; besides him, there are no standouts at that position. Per Walter Football, Moody is the only kicker that has the potential to get drafted as early as the fourth round. Every other kicker is facing getting drafted as early as the fifth round, seventh round or most likely will not get drafted. So, free agency seems like a more ideal place to find a kicker, and the city of Chicago loves Robbie Gould; we would welcome him with open arms.
There's just one other factor that should be taken into consideration - would he want to play for Chicago while they are in the process of rebuilding their franchise? Gould, with all of his accolades, has never won a Super Bowl. He has been on the receiving end of a Super Bowl loss twice, once with the Bears in Super Bowl XLI and once with the 49ers in Super Bowl LIV. Every football player wants a Super Bowl ring, and Robbie still has time to make that dream a reality. Some teams that should be more competitive next season are in need of a kicker, including the Miami Dolphins and the Dallas Cowboys.
Dolphins' kicker Jason Sanders was named an All-Pro in 2020; things went rather downhill from there. In 2021, he only had 74.2% of his field goals. This past season wasn't as bad, but it wasn't as good as Robbie Gould's season. Therefore, Miami is most likely in the market for Gould. The largest question surrounding their ability as a contender is the health of quarterback Tua Tagovailoa after the numerous concussions suffered last season.
Then there's Dallas. It would be rather awkward as a fan to see Gould playing for long-time Green Bay Packers' coach Mike McCarthy. But after the playoff kicking disaster for the Cowboys, they could use a reliable kicker. However, they also have the problem of never being able to make it beyond the divisional round of the playoffs. Thus, they do not seem like they offer much hope for Gould to get his Super Bowl ring.
We'll just have to wait until free agency to see where Robbie goes, but it is clear that the Bears are a team that could use him and wouldn't make the mistake of letting him go again.