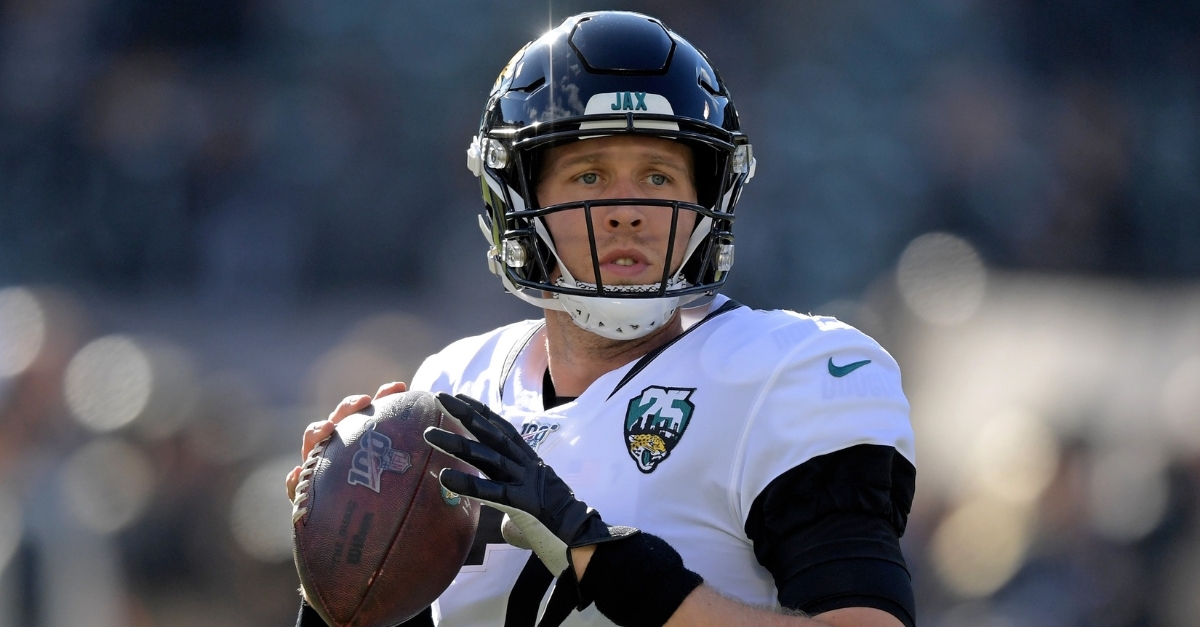 | | |
| --- | --- |
| Bears News: Don't be surprised to see Nick Foles land with Jets | |
---
| | | |
| --- | --- | --- |
| Thursday, June 10, 2021, 8:54 AM | | |
There isn't much going on around Bears camp right now, but there are two situations worth keeping an eye on. The first is the Akiem Hicks situation and the possibility of a trade happening down the road. This would certainly be a kick to the groin if you're on the Bears defense and if a Hicks trade is going to happen, look for it to go down during training camp as opposed to the regular season.
The same thing can be said about another player on the Bears roster, and right now, that seems like the most prominent trade that will happen with Nick Foles in the center of the trade talk yet again. Ever since the Bears drafted Justin Fields and signed Andy Dalton this offseason, Foles seems to be the third QB on the Bears roster.
Typically, having a ton of quarterback experience is a good thing, but paying a third-string QB four million dollars a season doesn't seem like a wise idea, especially for a team that is as cap-stressed as the Bears are. The potential solution to solve this problem would be to move Foles, but at this point, who would take him? However, there does appear to be a favorite to make a run at Foles, and the New York Jets are the team to watch.
The more you think about it, the more you realize how perfect and logical a fit this could be. It all starts at the top with GM Joe Douglas, who was with Foles in Philadelphia. He saw firsthand the best of Foles, and they have a connection and a great relationship. Secondly, The Jets drafted Zach Wilson to be their starting QB this season and franchise QB in the future. The problem with that is, the Jets do not have a veteran QB presence on the roster.
With new head coach Robert Salah coming in, it would be great to bring a veteran leader into the fold and help teach Wilson a lot about the game. Foles would be a great mentor for that if he wants to leave Chicago for New York. The Jets also have a ton of left-over cap space, so taking on this contract will not be a problem for them.
Not only has Douglas worked with Foles in Philly, but he also worked with Matt Nagy before leaving for Philly. He has a relationship with both men, and it could be one of those we will help you if you help us deals. Not only do the Jets have Wilson, but they have James Morgan waiting in the wings who has yet to play an NFL snap. Adding a veteran QB should be at the top of their list at this point.
Given the circumstances and the connections in place, it seems like a deal is imminent, or at least a deal appears logical. The problem becomes, does Foles want to play for New York, or does he have other ideas in mind. While Foles doesn't have no-trade protection or anything like that, he is getting to that point in his career where he may elect to ride off into the sunset versus bouncing around the league.
When you think about it like that, it makes a ton of sense. Not only has Foles won a Superbowl, but he played the best football of his life in the process during the biggest games. That allowed him to make a ton of money at the back end of his career. The money he recently made he will never see again, so what is left to prove?
Should Foles get traded or leave Chicago, he would be playing on his fourth team in as many seasons. I find it difficult to believe that a player of his age will want to go to yet another team after spending time with three organizations over the past three seasons. Earlier this offseason, it was reported that not only did Foles turn down a deal back to the Eagles, but the Bears tried to trade him and had no luck finding a suitor.
That right there tells me that he won't be playing for anyone if he isn't playing for Chicago this season. It is his right to say and do that, but he needs to realize that he is the third option on that team right now, and if he wants to keep playing, he would only get that chance outside the Bears organization.
It's disappointing that the Foles experiment with the Bears didn't work out, but it was also a blessing in disguise. Think about it, had he come in and played the way he did in Philadelphia, he would be the starting QB today without any questions. The fact that he struggled so much, but the Bears in a position to draft another option this season in which they landed Fields. If anything, the Bears fans should be thanking Foles for that and allow him to do whatever he chooses to do at this point.