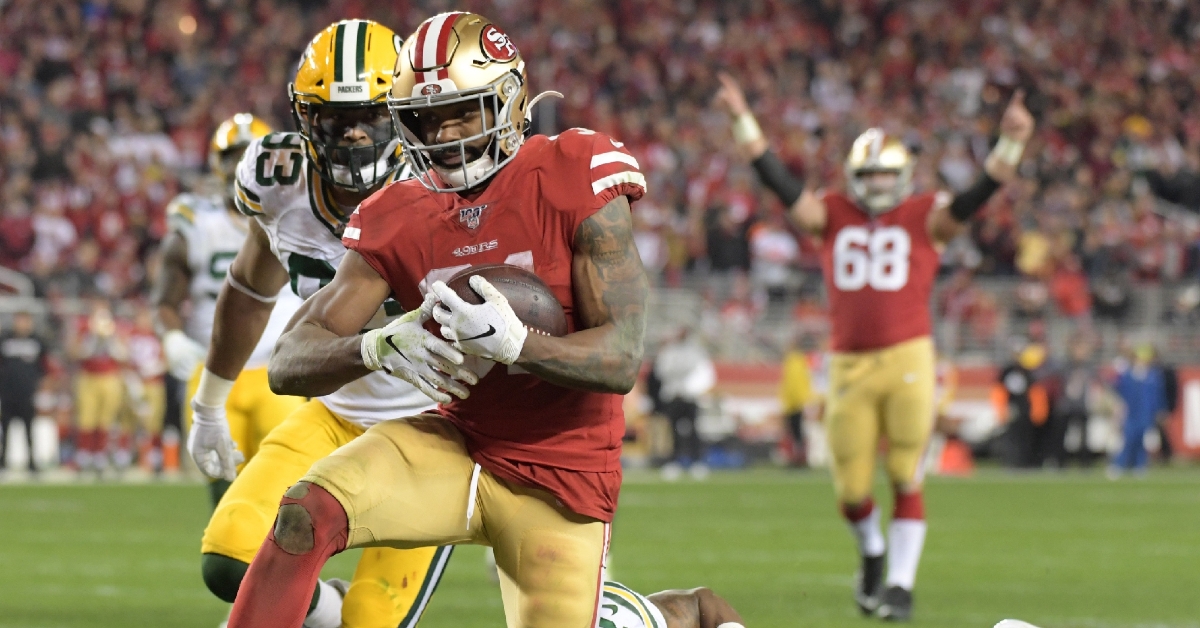 | | |
| --- | --- |
| Ex-Bears score 37 points in helping 49ers into Super Bowl | |
---
| | | |
| --- | --- | --- |
| Monday, January 20, 2020, 1:33 PM | | |
Football is a weird game as sometimes things don't happen the way you want it too. Chicago knows all too well about this as the Bears appeared to have a Superbowl contending team last season only to have a missed Field Goal end any thoughts of that.
Kicking has always been an issue for Chicago since Robbie Gould left the team a few seasons ago, and that stung a whole lot more this postseason when a pair of former Chicago Bears were responsible for single-handedly putting the 49ers in the Superbowl with their 37-20 over the Packers Sunday night.
If any of you were to the point of not watching the Superbowl this season if Green Bay were to make it, I think it is safe to say that you can enjoy the big game a little more knowing the whiny cheese heads will not partake in it this season. Also, knowing that a pair of ex-Bears, as much as it hurts to say, were responsible for last night's win may give you a little better feeling about watching a Superbowl without the Bears in it.
Suddenly star running back Raheem Mostert certainly is not a household name, well he is now, but up until this season, not many people may have known who he was. After last night, the whole world will know who he is, making it a mystery as to why he has gone unknown for so long. Chicago, on the other hand, knows a bit more about him than most teams, although they may be kicking themselves in the foot after last night.
After not being drafted several seasons ago, Mostert has found it challenging to stick on a roster being cut from several teams since 2016 before latching on with the 49ERS. One of those teams happened to be the Chicago Bears back in 2016, where he played in just two games, that season competing in 17 special teams snaps for the Bears. That was about all the excitement he saw in Chicago as they became only one of many organizations to let him walk.
After going through a fumbling problem with the 49ERS earlier this season, Head Coach Kyle Shannahan refused to give up on him and preached that Mostert would eventually find his role on the team. After his 220 yards and four touchdown performance, Mostert may have found a starting job soon as he carried the 49ERs offense last night.
Then you have Gould, who was with the Bears for over a decade. Not only was Gould one of the most accurate kickers in NFL history during his time in Chicago, but he is also the franchise's all-time leading scorer which is what makes his performance even that much harder to watch last night given what the Bears have endured on special teams in recent years.
After having one of his worst season's accuracy wise, Gould put things together by missing just one kick in his final teams of the season. That great stretch continued with a perfect postseason thus far, including his 3-3 FG performance last night to go with 4-4 in extra points, including a season-long 54 yarder that he made with relative ease. What makes that even more impressive is that Gould has yet to miss a kick in his postseason career dating back to his Chicago days.
With the Bears not making the playoffs this season, watching two of your former teammates eliminate your biggest rivals is almost as good as you playing in the game itself. Ok, maybe not, but it is still sweet watching someone you once counted on to give you some more joy heading into the offseason. So, what does this have to do with the Bears some people might ask?
Well, for starters, Gould played a significant role on this team for many years, and Mostert was part of this franchise at one point, so there are some connections there. Regarding Gould, he was trying to get the 49ERs to trade him last offseason, hoping a return to the Bears was in the cards at that point. I am guessing he is happy that never happened as he will have an opportunity to play in his second career, Superbowl.
Mostert is a prime example of someone just needing a chance to succeed. He is an excellent example of a player not panning out on one or multiple franchises only to find the perfect fit elsewhere. As much as that may hurt Bears fans, no one knew he was capable of that until last night. This leads me to the next part of this equation regarding the current Bears roster.
We have seen Tarik Cohen struggle this season, but have success in the past. We have seen other players struggle this season in Chicago, leaving them with tough decisions this offseason. I fear that Chicago will let one of these players go for nothing only to see them succeed and thrive with another organization if given a chance.
Some players are not going to start over others, but I caution the Bears at this point to give up on someone before they are given a legitimate shot to succeed. The Bears played a big part in the 49ERs Superbowl run without even trying to. Let's hope someone else's' failure can turn into a success story for the Bears next season as they look to make their first Superbowl run in 15 years.