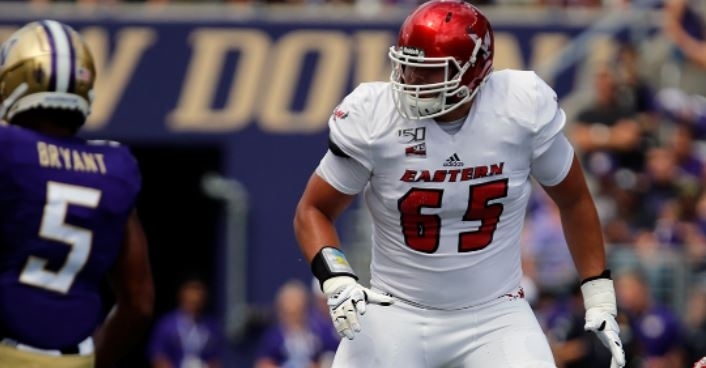 | | |
| --- | --- |
| Getting to Know: Bears OL Tristen Taylor | |
---
| | | |
| --- | --- | --- |
| 2022-06-03 10:26:26.0 | | |
Remember when the offensive line was the primary area of focus for the Chicago Bears? Well, those days are not as prevalent as they once were as Larry Borum, Tevan Jenkins, and a cast of new faces and returning players look to be miles better on the offensive line.
Even with the offensive line not as much of a concern, the Bears were not going to say no if an undrafted free agent wanted to sign with them. Tristen Taylor from Eastern Washington is a prime example of that, as he was the lone offensive lineman added to this roster via the Undrafted free-agent market.
When you talk about the FCS or the FCS schools compared to the FBS, many people don't give those schools the credit they deserve. I want to urge you to reconsider that thought process as there are plenty of great players capable of being NFL stars. I am not going to sit here and say Taylor will be a star, but he is a classic example of someone who is looking for a chance.
Coming in at 6-6 and 320 pounds, Taylor has the ideal size for the NFL and comes with plenty of experience across his collegiate tenure. In total, Taylor played in 27 games as a member of the Eagles and saw over 2100 career snaps. Known as a better pass blocker than run blocker, the physicality he shows on the field leads a lot of scouts to believe he can morph into one of those pass blockers the Bears have been lacking.
Given that he has tons of size, you immediately watch the film to see how athletic he is. Although not the most athletic player on the field, Taylor is extremely strong and uses that to his advantage by anchoring down against defenders in the middle. He does have enough athletic ability to help out on nose tackles and does a great job getting after interior rushers.
If his defender by chance beats him, Taylor has the length to recover nicely and will hustle until that final whistle is blown. Not only is he strong, but he has terrific hand and foot coordination. Pair that with his hard work ethic, and you have a player made to play tackle in the NFL. His above-average mobility off the snap allows him to ease out of his strength and quickly get to the point of contact.
The more film you watch on him, the more you can pick out his weaknesses that need to be addressed in rookie Mini Camp. For starters, his inconsistent footwork and body movement lead to poor positioning at times, affecting his blocking angles. As nice as it is to have his size, his height is also a disadvantage at times, as quicker defenders often beat him.
Taylor has a good initial burst which should be far better, and isn't good enough to consistently hold out elite pass rushers. Although a decent run blocker, he needs to improve his straight-line run blocking game, which the Bears like to do.
He anticipates speed rushers attacking the edge and will over-set to the outside, leaving inside rushing lanes wide open for defenders to jab-step outside and re-direct through the gap. These are all flaws, yes, but unlike many players, these are flaws you can work with as his flaws don't stem from a lack of overall effort.
Regardless of what scouts or fans might make of his decision to sign with the Bears, it was a good get for Chicago. He is a raw talent and will be used as a project throughout camp to give the team more camp bodies to work with. Who knows, maybe he can do enough to impress the coaches and earn a spot on the roster in some aspect.