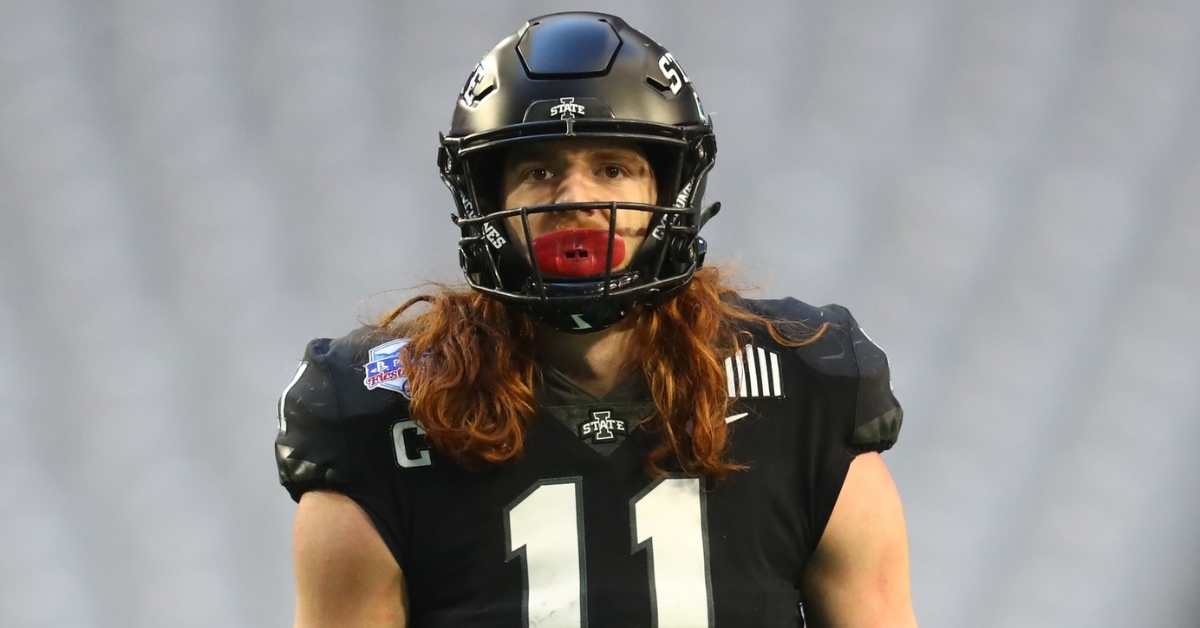 | | |
| --- | --- |
| Getting to Know: Bears TE Chase Allen | |
---
| | | |
| --- | --- | --- |
| Saturday, June 4, 2022, 12:00 PM | | |
When it comes to the undrafted free agent market, it is always a crap shoot as to how good or bad a team does. For Chicago, they wanted to go with quantity as they signed the most players of anyone at 16. While it is unclear how many of these players will make it through camp, there is plenty of quality to go with that quantity.
One of the players who is hoping to be given a chance and potentially make a huge impact would be former Iowa Stare TE Chase Allen. When it comes to the Bears and their TEs, this always seems to be a prominent position of target, so adding Allen as an undrafted free agent isn't a surprise.
The 6-7 250 pounder has excellent size for the TE position and is far more athletic than you would think. In other words, he reminds me a lot of Mercedes Lewis or a poor man's version of Jimmy Graham which would fit well in this offense. Physical stature is one thing, but fans only care about the stats when it comes to players looking to help out this offense.
Although not the most productive player in college, Allen did what you want all college players to do: improve from one season to the next. After coming away with 12 catches for 123 yards and no scores in his first two seasons, Allen topped both those totals as a junior when he had 17 catches for 167 yards and two scores.
One year later saw, him became a more popular target for Brock Purdy as he brought in 19 catches for 234 yards and two more scores. His YPC that season was 12.4, which ranked him in the top 10 among college TEs. Given that his production that season happened during the COVID year, Allen was one of those players who chose to exercise the extra year of eligibility and came back to deliver his best season.
He brought in a career-high 26 catches last season with a career-high 284 yards. Allen had two touchdowns for the third straight year where, although minimal production, he continued to get better in the Matt Cambell system to become a valuable option.
One thing you can't teach a player is their competitive nature, and Allen is one of the most competitive guys you will meet. He is also someone who gets to the perimeter quickly and knows how to set up for the block, which the Bears will love. Although not the most physically intimidating presence, Allen understands his role as a blocking first TE and uses that to his advantage.
He has also done a great job improving his route running and has figured out to create space in the coverage side of things. Even if he can't consistently create space, his height makes him a tough matchup for anyone, and he could be a decent red-zone threat.
Although there is a lot of intrigue to his game, Allen is not a highly rated TE for a reason, and that is what the Bears will find out. Sure-handed or not, Allen does not do a great job tracking the ball over his shoulder. Unless he faces the QB, he will have a hard time making a play.
He lacks the brute strength to be a consistent blocker at the NFL level, but he isn't as agile as you would like, especially when you consider his height. He is also not as consistent as you would like to see from play to play, which will have to change. This is a classic Bears-type tight end, and it may work out in their favor.