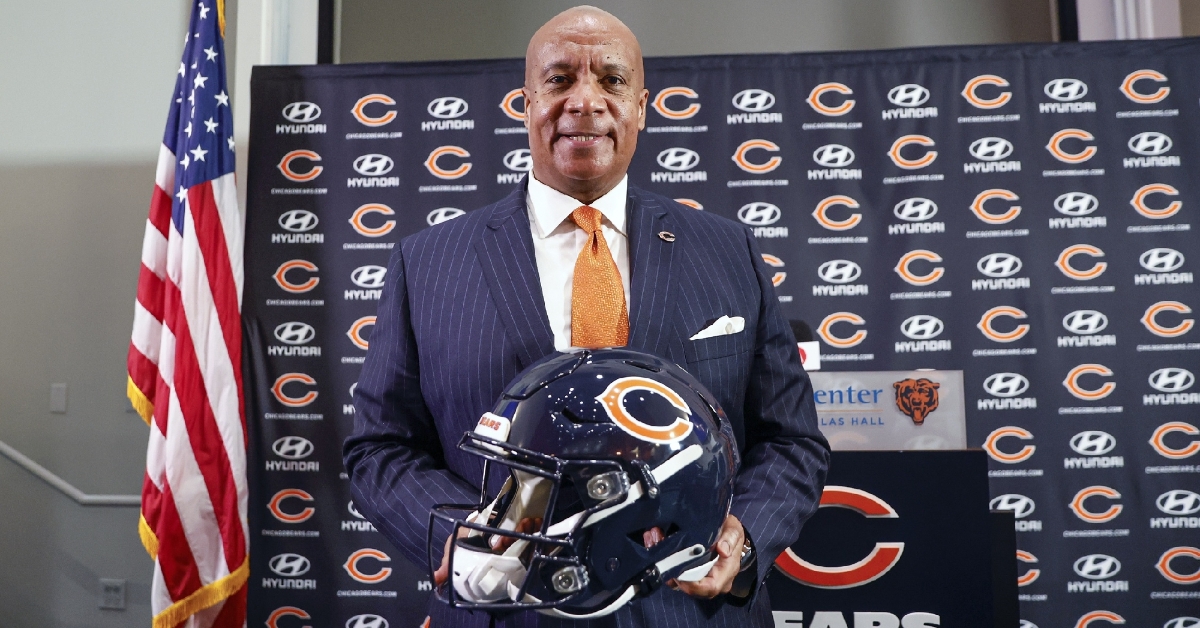 | | |
| --- | --- |
| Kevin Warren on Bears: "I want us to win multiple Super Bowl trophies" | |
---
The Bears' new CEO and President, Kevin Warren, had a lot of positive things to say about coming to the Chicago Bears and helping the team grow. Among other things, his goals for the Bears include winning the division, the conference, and the Super Bowl.
"Yeah, it's a big responsibility, but I love challenges and to be able to pull this together. This is a championship-caliber team and I want us to dominate the North, dominate the NFC. I want us to win multiple Super Bowl trophies," Warren said. "I want us to be dominant in the community and be champions. I want to build a positive relationship with our alumni, our fans, our corporate sponsors. I want every single person who works here or who is in and around this franchise to be proud to tell their loved ones that they're around the Chicago Bears."
Things really have come full circle for Warren. Back in 1992, he established his own sports and entertainment agency with Chris Zorich as his first client. Zorich played for the Bears from 1991 to 1997. Warren also described attending the Bears game against the Philadelphia Eagles this season and while Chicago lost the game, he still admired how the team continued to fight throughout the entire game and made it close throughout. Those values that translate off the field, determination, grit, perseverance, are some of the things that he admires about the Bears and their fanbase, and part of why he wants to give everything he has to grow this organization and help them succeed.
"I'm not looking for a quick fix. I'm leaning into this. I'm committed to (being) here. I want us to be great and I'm excited and energized and focused to remain healthy and do all that I possibly can do. This is home now," Warren said. "I look so forward to the day where we can win those NFC titles and the George Halas trophy and go on and win those Super Bowl trophies."
He also discussed in great detail about the Halas family. As someone who comes from a family where values were stressed a great deal and being a good person was the most important thing, Warren is excited to be working with the Halas family as a whole, in particular Virginia since she has been with this organization for so long and being the only living child of their founder, George Halas.
"They epitomize everything that my parents taught me about of the people that you want to be around. History, tradition, legacy, respect, humility, honesty, credibility, integrity, hard work, the love of God, prayer, they have it all," Warren said. "Now I think everyday about what can I do that if George Halas were to walk into this building, that he would say, 'Good job' and that's going to be my focus."
He has worked long and hard to get to where he is now. He graduated from Grand Canyon University in Phoenix, Arizona with a bachelor's degree in Business Administration in 1986 and received his masters in Business Administration from Arizona State University two years later. He then earned his Juris Doctor in 1990 from the University of Notre Dame Law School.
His first job with an NFL team wasn't 1997 working for Dick Vermeil and the Rams. He served as the Vice President of Player Programs and Football Legal Counsel from 1997 to 1999 and then received a promotion in 2000 and served as the Vice President of Football Administration. Starting in 2001 is where his NFL journey in the NFC North begins. From 2001 to 2003, he was the Senior Vice President of Business Operations and General Counsel for the Detroit Lions. He then worked for the Minnesota Vikings for nearly 15 years. From 2005 to 2014, he served as their Executive Vice President of Legal Affairs and Chief Administrative Officer before becoming their Chief Operating Officer from 2015 to 2019. That is when he departed from the NFL and became the Commissioner for the Big Ten Conference in 2020.
All of his past experience gives him the expertise and knowledge to have a great impact on the Bears. Time will tell how his leadership helps the Bears win games, the division, the conference, and eventually the Super Bowl.
Upgrade Your Account
Unlock premium boards and exclusive features (e.g. ad-free) by upgrading your account today.
Upgrade Now