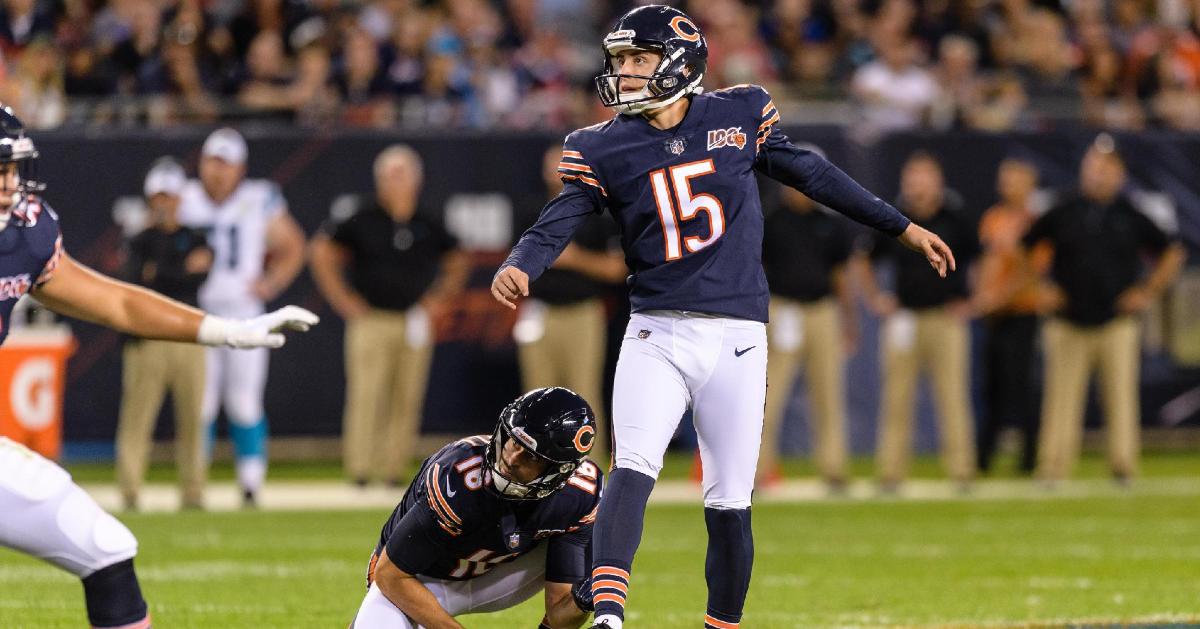 | | |
| --- | --- |
| Season in Review: ST Grades for Chicago Bears | |
---
The final part of the season in review series looks back at the Bears special teams. For the longest time, well only about three seasons now, the Bears have been looking to find a replacement for Robbie Gould, who was nearly Mr. Automatic in the kicking game for over a decade.
After what looked to be a solid find in Cody Parkey, it quickly went downhill with a rough 2018, which was capsulated by his postseason miss that sent the Bears home earlier than expected. That forced the Bears hand to not only cut Parkey, but to bring in a pair of kickers for 2019 with Elliott Fry and Eddy Pinero battling it out for the kicking job. Pinero ultimately won the job, and the rest is history.
Here are the grades for the special teams this season.
EDDY PINERO: Pinero wasn't perfect, but he did prove he was the right choice for the kicking game after a solid first season in Chicago. After missing his rookie season with an injury, Pinero responded by going 27-29 in Extra points and 23-28 in field goal attempts. That included a season-long of 53 yards in week two that gave the Bears a win over the Broncos in overtime.
Season Grade B: Pinero was solid this season, despite a mid-season funk where it appeared, he lost it for three games only to respond big down the stretch. Pinero was not only clutch at times, but he was perfect from inside 30 yards and a perfect 2-2 from 50 plus, including his game-winner week two. The most struggles Pinero had come in the 40-49-yard range where he managed to go just 3-7. Outside of that target area, Pinero was near flawless, missing only one of his other 21 field goals as Chicago may have found their solution at kicker.
PAT O'DONNELL: Punters never get much credit on a football team, but if you have a punter who knows how to punt and flip field position, it gives your defense and team a distinct advantage. Yes, the Bears did struggle to move the ball at times, so O'Donnell's punts may not look great in terms of starting field position, but his stats prove he is one of the best in the game.
This season, O'Donnell was a busy man, punting the ball away 80 times for 3586 yards. That comes to an average of 44.8 yards per kick with a long of 73 on the season. What stands out the most from O'Donnell's season is that the net average is 40.7 yards meaning teams were averaging just 4.1 yards per return. That is a combination of great hang time, and terrific coverage as the Bears very rarely gave up a big play.
Season Grade A-: O'Donnell was good, but the coverage allowed him to be good. Even with 80 punts on the season, O'Donnell was sharp as just two of those punts resulted in touchbacks this season. 26 of them landed inside the 20, and 26 were fair caught for no return. He also had just one punt blocked this season. O'Donnell has now been with the Bears for quite a while, and one thing is for certain, Chicago doesn't appear interested in letting him go anytime soon.
CORDARRELLE PATTERSON: Patterson has always been an excellent weapon for any team to have, but he specializes in the kick return game as he has done for the past six years. This year was no exception as Chicago saw firsthand how good this man could be in person. Of the 34 kicks returned this season, Patterson was responsible for 28 of those averaging to nearly 2 per contest.
That isn't a high number, but since the kickoff was moved up five yards a few years ago, fewer and fewer players are taking chances out of the end zone settling for the touchback. Patterson, on the other hand, is not one of those men as he has no trouble trying to make things happen. His 29.5-yard return average ranked in the top three in the NFL this season, and his 102-yard kick return touchdown against the Saints still proved how dangerous he is when he has the ball.
Season Grade A: Make no mistake about it, Patterson is a dangerous weapon in the return game when he has the ball. With fewer returns happening every season, Patterson makes the most out of the chances he is given and, for the most part, doesn't disappoint. His speed, agility, and size combination make him a big play waiting to happen every time he returns the ball, which gives coaches plenty of headaches trying to defend him. The best bet is not to kick it to him.
TARIK COHEN: Much like Patterson, Cohen excelled in the return game this season, but it was the punt return game that got him going. After not only losing his starting spot at the RB position but producing minimal at best when on the field, Cohen needed to prove his worth on this team by making something happen in the punt return game.
That is precisely what he did, as he returned 33 punts this season for a 9.2 average, putting him ranked near the top of the league. Although no touchdowns came from his returns, he managed to run one back 71 yards setting the Bears up with a short field for their offense. Cohen should be back there once again in 2020.
Season Grade A: Returning punts is always a scary thing as you need to know exactly when to call a fair catch and when to trust your instincts. Cohen is one of the best out there as he shows no hesitation when running one back and finds ways to make things happen at that. If he wants to stay on this team long term, this type of production will certainly be needed moving forward.
Positional grade: A-: For once, it was the Bears special teams that could be counted on as they were strong at every level. From the kicking game to the return game and even the coverage side of things, you could find the Bears in the top half of the league as they indeed fixed one of their weaknesses in the past. The next step will be to keep that improvement trending in the right direction.