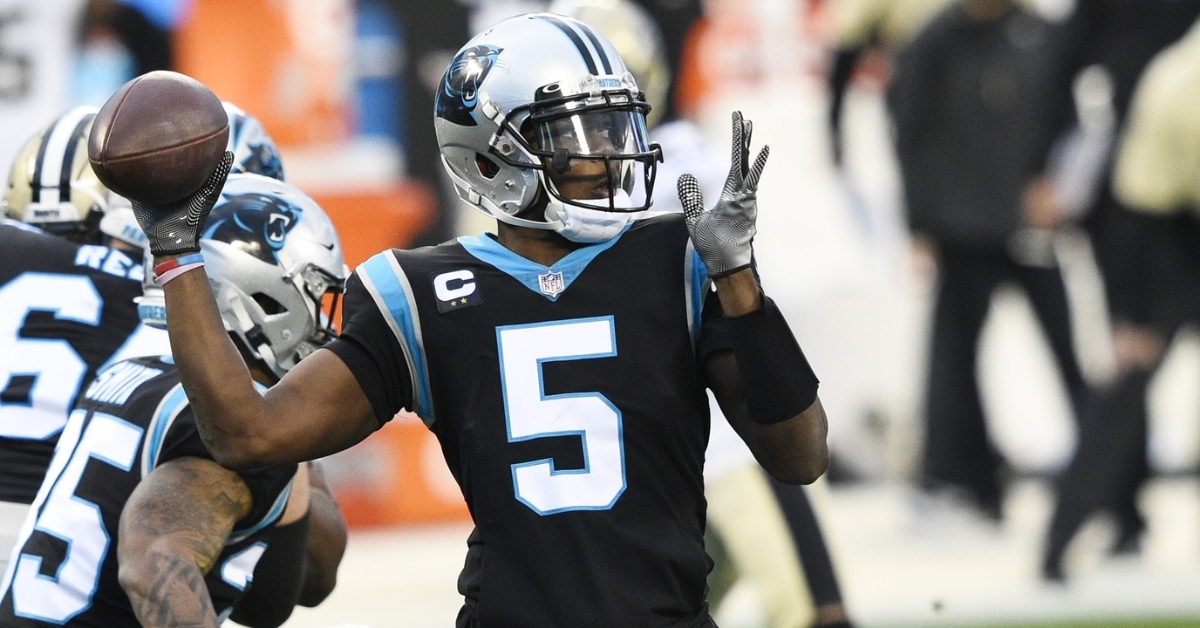 | | |
| --- | --- |
| Should Bears go after Teddy Bridgewater? | |
---
| | | |
| --- | --- | --- |
| Friday, April 9, 2021, 1:59 PM | | |
There have been many surprising moves and signings this offseason but none more surprising than what went down in Carolina a week ago.
After signing Teddy Bridgewater to a three-year contract, a season ago, the Panthers turned around and traded for former No.3 pick Sam Darnold, bringing him in from the Jets. With that comes the confidence that Darnold is the Panthers starter for this season, leaving Bridgewater's future with Carolina in question.
Out of respect for Bridgewater, Carolina has given him the option to seek out a trade, and at this point, it seems like several teams are interested in bringing him in. Whether that means as a starter or a backup remains to be seen, but one thing is for sure, Bridgewater will have to take a pay cut wherever he goes.
Does Chicago make sense as a possible landing option for Teddy?
The former first-round pick taken 32nd overall by the Vikings in 2014, Bridgewater has had an interesting NFL career that has come with adversity. Known for playing with two gloves, Teddy two gloves sat on the bench until week three his rookie season before taking over as the full-time starter week four after a foot injury sidelined Matt Cassell. His numbers were not great, throwing 14 touchdowns to go with 12 picks, but he went 6-6 to keep Minnesota competitive.
The following season, the Vikings were Teddy's team, and they had visions of him being their franchise man. Again, Bridgewater didn't wow too many people throwing for just 14 touchdowns to go with nine interceptions. He did, however, complete 65.3% of his passes for 3200 yards, and the team went 11-5. Winnings games are all that matters, and Bridgewater was showing he could win. On the verge of having a breakout 2016 season, Bridgewater blew out his knee in a non-contact drill in practice and missed the entire season. Little did he know that would be the final start he would make with Minnesota as he took the field just one more time as a member in purple.
After the Vikings declined his fifth-year option, the New Orleans Saints picked him up and stashed him behind both Drew Brees and Taysom Hill for two seasons. Despite limited action in 14 games, Bridgewater did make six starts leading the Saints to a 5-1 record while throwing for 1500 yards, 10 touchdowns, and three interceptions. Not only was his comeback complete, but he continued to show everyone he could win games, and it was only a matter of time until he got his chance again.
Enter 2020, where the Carolina Panthers believed in him enough to sign him to a three-year 42-million-dollar deal to be their QB. Despite posting his worst record as a starter going 4-11, he wasn't given a great roster to work with and still put up the best numbers of his career. He completed a career-high 69.1% of his passes for 3733 yards and a career-high 15 touchdowns. The 11 interceptions were a concern, but when you don't have tons of playmakers, what can you expect.
With Bridgewater permitted to seek out a new team, do the Bears make sense for him, at least in terms of a backup. I get that Andy Dalton was signed to be the starter, but the Bears showed interest in Bridgewater last year but couldn't give him the money he wanted. With Nick Foles as the team's current backup, Bridgewater would be miles better than Foles and would come at a lower price if Bridgewater was willing to take a pay cut.
Not only that, but you would also be adding a quarterback with a winning pedigree to a team that has the most talent surrounding him since the 2017 Vikings squad. That may not only bring out the best in Dalton as it would force him to play well but barring injury Bridgewater could come in and lead the Bears too many wins. I also like that he still has two years left, so Chicago would have multiple years to get things right with him.
Having someone like Bridgewater come in is perfect for the team not only now but for the future. It would give Chicago two starting-caliber QBs on their roster, which is something they haven't had in years. It would also give Chicago flexibility in terms of the QB market on draft weekend. This way, they wouldn't be forced to reach for a QB. You could draft one later and use Bridgewater as more of a fill-in gap next season if Dalton leaves.
It would also allow the Bears to pass a QB altogether and try their luck in the 2022 free agent or draft class, knowing you could start Teddy one more season. Money will be the biggest hurdle here as he would have to go from 17 million down to around 10 to make this work. It would also require the Bears to release or trade Foles, but who would want that contract. Either way, I think the Bears should look at Bridgewater because he fits this team well and knows how to win games.