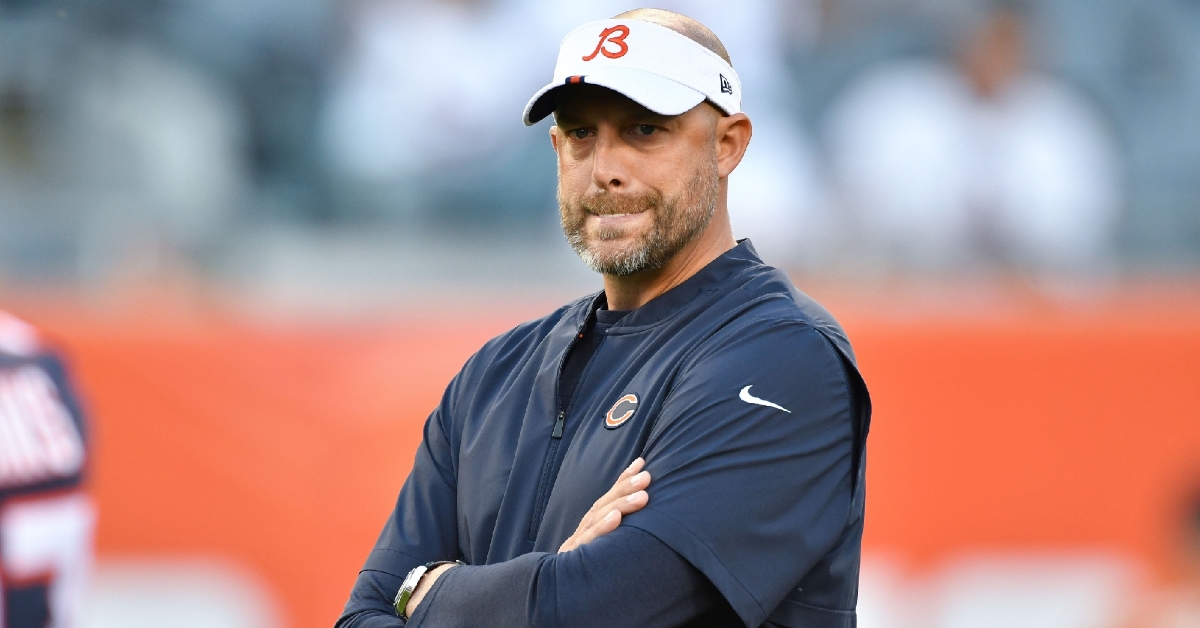 | | |
| --- | --- |
| Should the Bears staff be on the Hot Seat? | |
---
| | | |
| --- | --- | --- |
| Thursday, November 7, 2019, 11:35 AM | | |
A season ago, this would have been a stupid question to ask, given the amount of success that transpired in the organization. After putting up with constant underperforming teams from Marc Trestman and John Fox, the Bears made outside the box hire by bringing in former Kansas City Chiefs offensive coordinator Matt Nagy.
Well, that appeared to be an ingenious decision by Ryan Pace and Bears ownership as Chicago got off to a 3-3 start before winning nine of their last ten ballgames to finish the year 12-4 and NFC North Champions. It was the Bears' first postseason appearance in eight years and their first division title in nearly a decade, but it all came to an end in the first round of the postseason with a missed kick.
However, with an entire offseason to refocus and regroup, the future was bright in Chicago as, for the first time in forever, fans couldn't wait for the next NFL season to get underway. Or so they thought. Immediately after the super bowl ended, the Bears suffered a considerable blow as defensive coordinator Vic Fangio left the organization to take the Denver Broncos Head Coaching job.
Fangio became a household name for the Bears as he took one of the worst defenses in the league and turned them into the best before leaving for Denver. That left a huge hole for Nagy and his staff to fill so in comes former Colts head coach and long-time defensive mind Chuck Pagano to take over the reins of an elite defense.
Expected to go through some growing pains, Pagano has never had a defense like the Bears and was excited to get started with this team. Through four games, it seemed as if the Bears didn't miss a beat as they raced out to a 3-1 record, looking much like the team they did last season. Since then, something has happened as the Bears have now dropped four straight and have fallen to 3-5 on the season.
Who is to blame for this skid that no one expected this season? Well, obviously, the players need to shoulder some of the blame, but ultimately it comes down to coaching, and to me, some of the Bears staff could be on the hot seat going forward. Let's take Nagy, for example.
When he was in Kansas City, he was known for his work with quarterbacks, helping transform Alex Smith into a legitimate NFL starter. Once Andy Reid let him call plays for one season, the league got a glimpse of what he could do with an offense once given the keys. That allowed the Bears to take a chance on him with the hopes of not only transforming their offense but developing Mitch Trubisky also.
With former Oregon Ducks Head Coach Mark Helfrich as offensive coordinator in Chicago, the duo seemed like the perfect match to get this offense back on track. It appeared that after just one season together, the two of them would have a chance at doing just that as the Bears, although not cracking the top 15 offensively a season ago, remained consistent enough to put together wins.
That was a step in the right direction as this season both were hoping for more. Instead, they have seen this offense become one of the worst in the league and has scored more than 20 points on one occasion through eight games. Elite defense or not that will not get it done. Maybe Helfrich isn't the NFL coordinator we hoped he was. Perhaps Nagy isn't as good at developing a QB as we expected. Whatever the case, something needs to change quickly.
For me, the biggest thing I see this season is Nagy has been outcoached and has not been able to adjust on the fly. All the cool tricks that he pulled out last season getting results have just not worked this season, and it has caused the Bears to go into a tailspin. When it comes to Trubisky, something is just not right with him. Nagy being the QB guru that he has been in the past, needs to figure out how to make him successful, or we should be thinking about next season.
On the defensive side of the ball, everyone expected somewhat of a drop off in production, given the Bears would have a new system in place. However, with the athletes and the amount of talent on that side of the ball, fans still expected that to carry the team this season. Early on, that was indeed the case as the Bears could do no wrong in their 3-1 start. Since then, this unit has been a far cry of themselves as fingers have begun to point toward Pagano.
New system or not, this defense is not playing near the level they have the past few seasons, and the results are showing. Last year when the Bears lost a game, they were low scoring affairs often in the 13-17-point range. This season, all though two of their losses have been low scoring contests, teams are finding it easier to move the ball on the Bears, putting up 20 or more points in three of the team's last four losses.
The biggest reason for that has been the suspect secondary who suddenly finds themselves giving up chunk plays more than they have in the past. That doesn't bode well for an offense that can't consistently score if the defense is giving up more points than what we are used to seeing.
Stopping the run continues to be the strong point for this unit despite allowing over 15 yards more per game this season. That is credited mainly to the injuries the Bears have suffered this season as Akeem Hicks continues to miss time, which has caused havoc for the Bears. Still, it is up to Pagano to find the right combinations to get this unit back on track and playing at a level we have become accustomed to seeing before it is too late.
With eight games remaining on the Bears schedule, they must go 7-1 if they expect to make the postseason this year. I don't expect that to happen, but if they struggle to finish .500, coaches may be on the hot seat this offseason. I don't expect Nagy to go anywhere, but expect him to be under much more pressure in 2020 than he is now.
As far as Pagano and Helfrich go. Pagano was put in a tough place this season as he needed to replace a guru of a coach. Yes, Pagano is a good coach in his own right, but installing a new system after four seasons of the same one takes time getting used to. Add in critical injuries to key players, and things will be difficult for anyone. I expect him to be safe this season.
Helfrich is the one that may be gone this offseason if not before that if things don't change. If you look at his track record at Oregon, he did a fantastic job calling plays allowing the Ducks to put up points at will. That was college, not the NFL, and this is his first NFL job, as he does need to do better.
The amount of money the Bears invested in giving Trubisky help the offense should not be this bad. With Tarik Cohen, David Montgomery, Allen Robinson, Taylor Gabriel, and Trey Burton surrounding Trubisky, there is no excuse why this team shouldn't be averaging a minimum of 20-21 points per game. I am not asking for them to be an offensive juggernaut, but if they would average 20 -21 points, that defense is good enough to where they would win to plus games every year.
Trubisky has taken a step back and has shown he may not be the long term answer this season, but Chase Daniel worked with Nagy before and should know his system. Apart from one quarter against Minnesota, Daniel has also looked terrible, which is even more puzzling. As of right now, I expect the coaches to be safe through the end of this season, but if things continue to go in this direction, some, if not all, will be on the hot seat next year or potentially out the door.