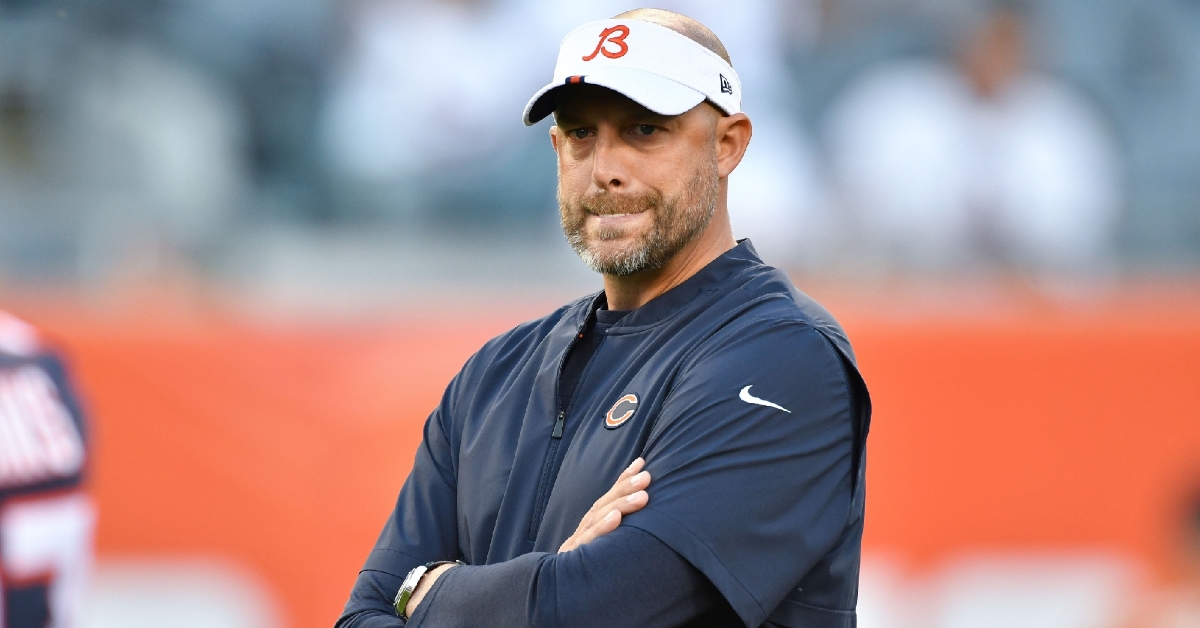 | | |
| --- | --- |
| Three Takeaways on loss: Bears QB position is a mess, Nagy issues, Kicking problems | |
---
Well, once again, the defense did their part, limiting a highly potent Rams offense to just 17 points. However, the offense continues to be a mess more so now after Mitch Trubisky exited last night's game with a hip injury, which ultimately led to another seven-point effort in the Bears 17-7 defeat. At 4-6, I think it is safe to say that the Bears postseason hopes are over, and that now is the time to start planning. Here are three takeaways from last night.
The quarterback position is a mess
This is the one position that has brought the most scrutiny this season as many are starting to wonder if Trubisky is the answer long term. With every passing week of underwhelming performances, that chatter begins to grow louder as fans think it is time for a change.
That talk may become louder the rest of the way as Trubisky was replaced by Chase Daniel late in the second half after suffering a hip injury. What makes things worse, Trubisky came out and said that he sustained that injury in the first half, which limited his mobility during the second half. My question is, why was he still out there then?
Without knowing the severity of the injury, it looks like this will be Daniel's team moving forward as the Bears are on life support. With the playoffs most likely out of the question, I think going with Daniel the rest of the way is the right move as it could establish what the Bears need to build on for next season.
Has Matt Nagy lost the team?
The more I watch this team flounder and look like a high school offense, the more I am wondering about Nagy and if the team wholeheartedly believes in him. After what Trubisky said about his injured hip from the first half, Nagy had no business leaving him in for the second half as that could have injured him even worse.
At this point in the season, I think we can safely say that last season was a fluke year for not only the Bears but for Nagy also. Every button he pushed seemed to work, and everything was flowing the way you expect it to with a veteran coach, not a rookie coach. This season has been entirely different, as Nagy looks more like a rookie coach this year as opposed to last year.
Those same buttons he pushed last year simply are not working anymore. The creativity on offense has become more a simplistic vanilla approach, and his inability to adjust during a game is just mindboggling. All in all, the Bears need a complete rest this season and potentially need to change plenty of things up from the top down. That starts with Ryan Pace and Nagy as they need to evaluate this roster moving forward fully.
Kicking problems return once again
Eddy Pinero got off to a fantastic start this season and made fans forget about Cody Parkey quickly. After missing a potential game-winner against the Chargers a few weeks ago, it appears Pinero has fallen victim to the mental head game the kicking game plays as he has not been good as of late.
Not only has he been bad, but Pinero went 0-2 on his field goal attempts last night, leaving potentially six points off the board, which could have altered the outcome of the game. I am not saying the Bears would have won because their offense didn't get it done, but with each miss, it shortened the field for the Rams, which is not something you want to do.
Pinero was a wild card for the team this season, beating out Elliott Fry for the kicker job in week three of the preseason. After missing all of 2018 with an injury, the Bears certainly took a flyer on him and liked what they saw enough to give him the job. After missing just one kick in the team's first seven games, Pinero has now missed four over his last three, including two costly one's last night.
That is not a trend the Bears hope continues as they have enough nightmares from last seasons kicking game to last them a lifetime. Maybe this has been just a case of bad luck after such a good start, or perhaps this is the Pinero that we should get used to. Whatever the case, he must get back to putting points through the pipes, or he may be looking for work elsewhere soon.