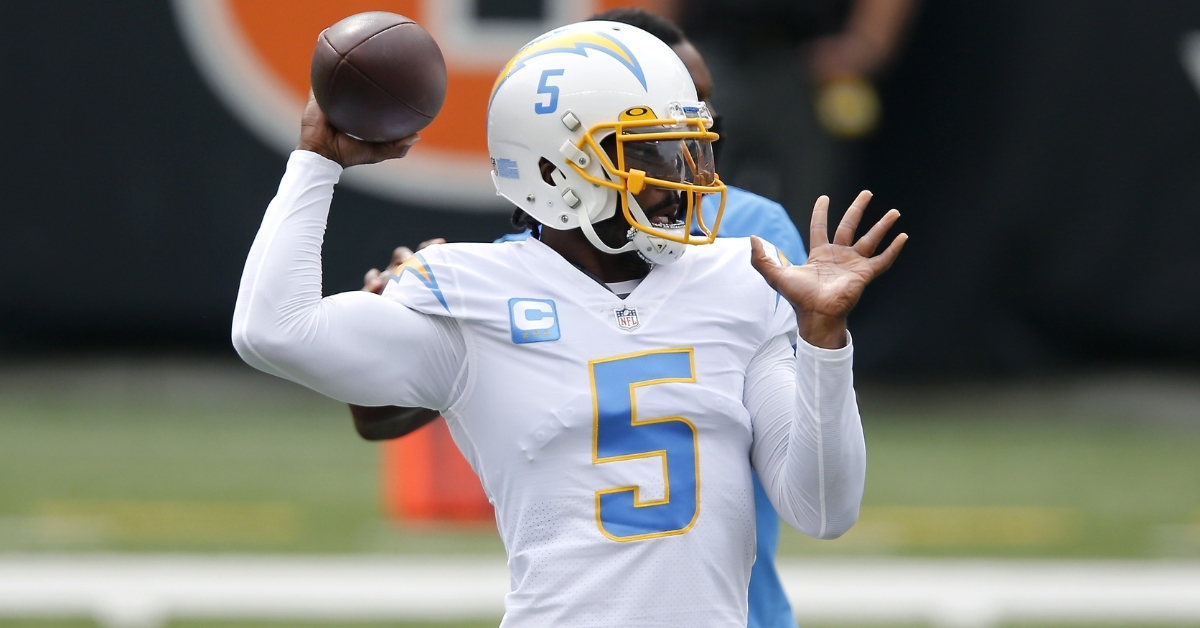 | | |
| --- | --- |
| Tyrod Taylor could be solid QB option for Bears | |
---
All offseason long, the Bears have been tied to numerous QB rumors, and for a good reason. That is a position in which the team has struggled with the past few seasons, and Mitch Trubisky is now a free agent looking to strike a deal elsewhere. Unless the Bears are confident in Nick Foles going forward, and how could they be after he went 2-5 this past season, the Bears need to figure something out under center.
The Bears quarterback position's key still revolves around the offensive line, as that needs a ton of work. Ultimately it won't matter who is calling the shots if they don't have the protection in front of them. Even with the offensive line struggling, the Bears need to get more from that position which is why Deshaun Watson and Carson Wentz have come about.
With Watson's asking price too high and Wentz heading to Indianapolis, time is running out for the Bears to decide on what they will be doing. Worst comes to worst, and the Bears focus on drafting a QB in the second or third round and sitting them behind Foles next year. I am all about a bridge-style quarterback, but Foles is not someone I would want as my bridge option. A name came to mind the other day, and it is someone Bears fans may not even consider.
To me, Tyrod Taylor could be a perfect bridge option for this team, and he would come at a much cheaper cost than any other option. Before we dig into his stats, let me tell you why I feel like he could be an option. For starters, Taylor is entering his ninth season in the league and has plenty of experience. Although most of his experience was served as a backup role, he did lead the Bills to the playoffs in one season as a starter and showed success both at Cleveland and this year before losing the job to Baker Mayfield and Justin Herbert.
Taylor entered the 2020 season as the Chargers starting QB and played well in week one. During that game, Taylor took a vicious hit and was ruled out for week 2. Upon injury diagnosis, it was reported that the team doctor examining him somehow ruptured his spleen, forcing him to have surgery. Taylor never started a game the rest of the season and played minimal snaps.
Chicago has had a rough time finding a quarterback as they have never had a 4000-yard passer in team history. Jay Cutler came the closest with 3800 yards, but to not have a 4000-yard passer for this long is almost comical at this point. Taylor is certainly not going to be the quarterback to give you those kinds of numbers, but his game is like Watson, just not at the same level. Most importantly, he takes care of the football and knows how to win games.
After an impressive college career at Virginia Tech that saw him throw for over 7000 yards and rush for 2300 yards with 60 plus total touchdowns, Taylor landed in the NFL as a sixth-round pick.
Since then, Taylor has worked his way up from back up to starter, throwing a total of 199 yards in his first four seasons as a pro with zero touchdowns and two picks. He did make up for the lack of pashing in rushing, rushing for 178 yards and one score during that same time.
It was in 2015 where Taylor got his first shot as a starter with the Bills. That was the season where he set a career-high in passing with 3035 yards, a career-high 20 touchdowns to go with six picks. Taylor also rushed for 568 yards and four scores that season. 2016 was more of the same as he tossed for 3023 more yards, 17 touchdowns, six interceptions, and a career-high 580 yards rushing with six scores. Despite those two strong seasons, the Bills drafted Josh Allen in 2017, but Taylor still emerged as the team's starter out of camp. He led the Bills to the playoffs that season, throwing for 2799 yards, 14 touchdowns, four interceptions to go with 427 yards rushing, and four in 14.
Since that three-year run, Taylor has bounced around between Cleveland and Los Angeles, making four total starts and playing in 14 games. His teams have gone 3-1 in those starts, and he has thrown for 707 yards with three touchdowns and two interceptions. Taylor also added 140 yards rushing and one score during that time frame.
Taylor is certainly not the sexy name Bears fans may want to hear in terms of the quarterback position, but they could do worse. He is 27-20 in 47 career starts with one post-season appearance. He has thrown for 9770 yards with 54 touchdowns and just 20 interceptions. That is mixed with 1850 yards on the ground and 16 more scores. That is indeed the definition of a dual-threat QB.
Watson is my first pick for this team, but fans need to start looking beyond as this may not happen. The Bears need to build for the future, which could include drafting a QB this spring. I feel they need someone to start for one season first, and Taylor is a way better option than Foles.
Upgrade Your Account
Unlock premium boards and exclusive features (e.g. ad-free) by upgrading your account today.
Upgrade Now