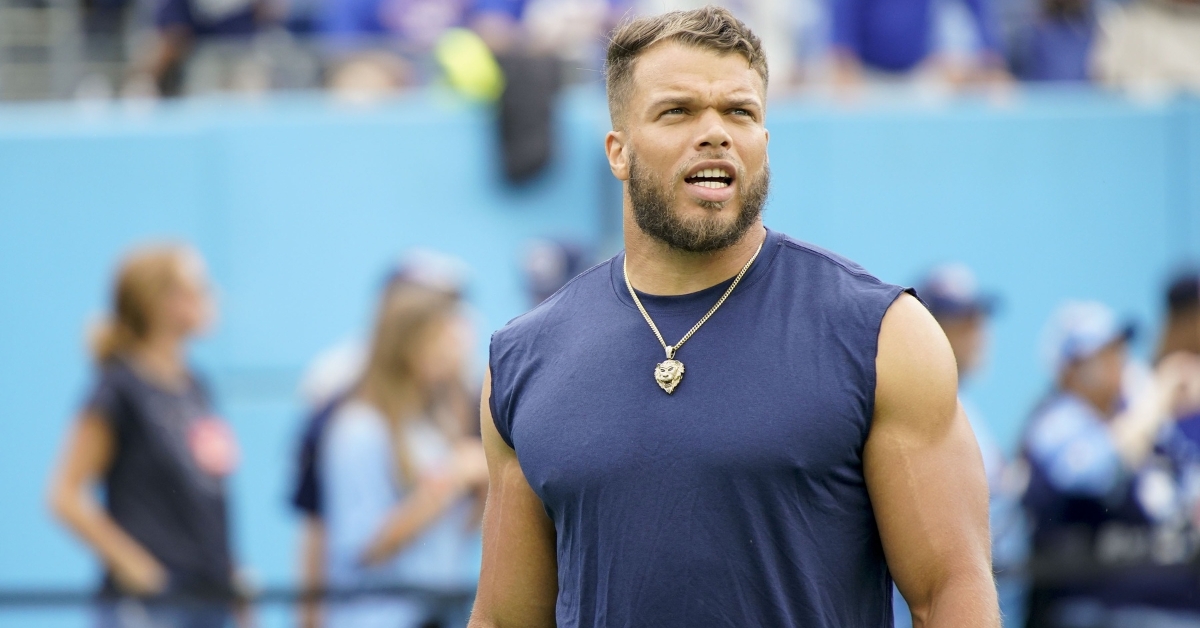 | | |
| --- | --- |
| What can Bears expect from linebacker Dylan Cole? | |
---
| | | |
| --- | --- | --- |
| Thursday, March 23, 2023, 5:43 PM | | |
It has been a while since the Bears have added a free agent to their roster, but that doesn't mean they haven't tried. After setting the bar high during the first week of free agency and showing they wanted to be aggressive, things have slowed down for the Bears as they continue to prepare for the upcoming NFL Draft.
Thursday saw the Bears get back on the open market as they added former Tennessee Titans LB Dylan Cole on a free-agent contract. Unlike their other signings, which are long-term starter-type deals, Cole is being brought in as a backup LB, but will have plenty of opportunities to see the field.
The 28-year-old Cole is coming off a season where he made eight starts with the Titans and accumulated 64 tackles during those games. He is also coming off a season where he saw 43% of the defensive snaps after spending 62% of the time on Special Teams.
Not only did the increase in snaps draw the attention of some teams this offseason, but seeing him grab a career-high 64 tackles did open some eyes, and the Bears are hoping that this is just the beginning for him. Unlike TJ Edwards or Trumaine Edwards, whom the Bears know will be starters, the role for Cole will be determined later, but there is a lot to like about this pickup.
For starters, you are getting a high-motor, high-energy gut that has thrived on Special teams. He plays fast and hits hard, which the Bears defense could use after last season. Most importantly, Cole is a team player and will always do what is asked of him, even if it is an unfamiliar role to play.
Being able to play multiple roles or do whatever is asked of you is one of his biggest strengths, but his greatest strength is on Special Teams. When you talk about impact players on Special teams, Devin Hester and Cordarrelle Patterson immediately come to mind for their play-making ability.
Cole is not that type of player, but an impact player for a different reason. Not only does he fly around the ball to try and make every play possible, but he also tends to do it with his hair on fire and is always looking for a highlight reel hit. Having that type of player that can change the momentum with one hit is crucial, and the Bears are hoping Cole can make a ton of plays this season.
Although he is better on special teams, the Bears will use him at LB for specific packages, but that is not his strength. In fact, if they use him too much in the LB position, he will become less of an asset for this team, which could hurt the defense more than help it.
No one is going to question the effort that Cole plays with, but he tends to get himself in trouble because of it. The speed he plays at is a step faster than everyone else, and that often leads to over-pursuing the play on defense. He is also a liability in pass coverage which the Bears need to work with him on immediately.
Despite being a liability at times when used more on the field, he was pushed into a more prominent role in 2022 as injuries played a role in that. Given his speed and special teams tackling skills, Cole should be valuable enough to hold up against the run, but he doesn't play well in pass coverage for whatever reason.
Teams began to expose Cole in that area last season and started to target his side of the field more often than not. Don't expect him to see a ton of time in pass coverage, as Edwards and Edmunds are more than capable of holding down the fort in that category.
While it is nice to have a depth piece coming off a career season, Chicago is bringing him in to play special teams. The Bears were average at best when it came to defending returns, and Cole will provide an instant boost to improve that. Bears fans worldwide will enjoy watching him fly around and bring the hammer every week.
Upgrade Your Account
Unlock premium boards and exclusive features (e.g. ad-free) by upgrading your account today.
Upgrade Now