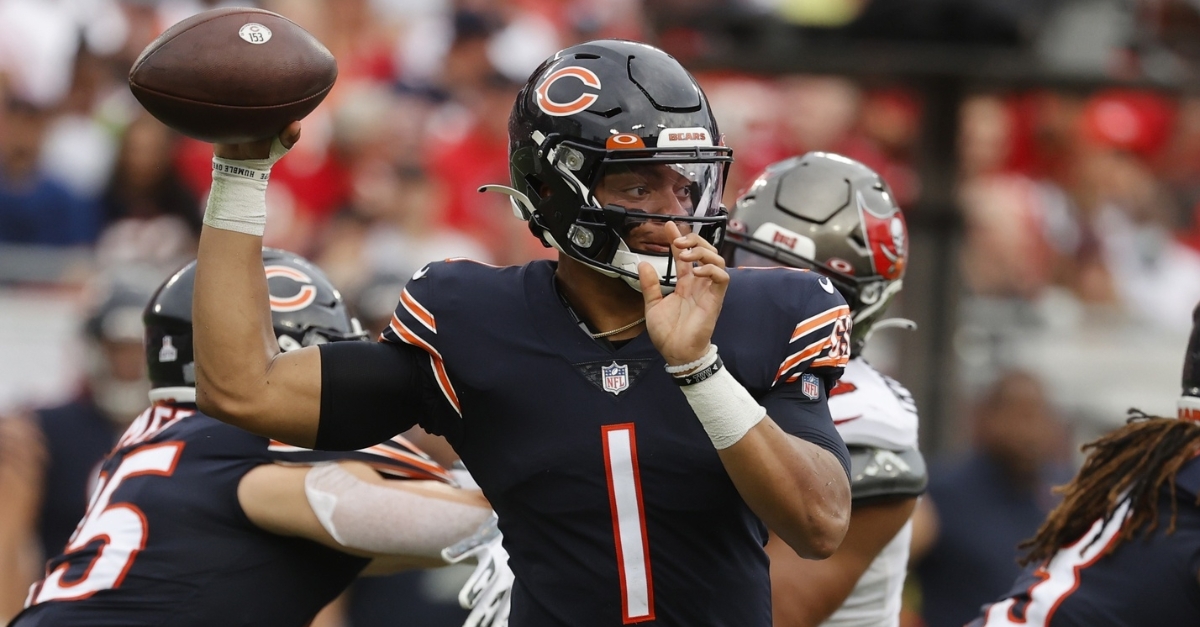 | | |
| --- | --- |
| What history tells us about the Bears and Bucs | |
---
Week two of the NFL season is set to kick off tonight when the Minnesota Vikings (0-1) travel to the Philadelphia Eagles (1-0). The rest of the games will conclude on Sunday and Monday, with the Bears heading to Tampa to take on the Bucs. Unlike the Packers, who the Bears see twice a season, the Bucs are considered an unfamiliar opponent, although these teams used to be in the same division until 2002.
In their 61 meetings against each other, the Bears have had the upper hand since day one and hold a 40-21 mark against this team. That includes winners in six of the first eight games played between the two of them, including their first-ever matchup in 1977 when the Bears held them off 10-0.
By the time 1983 rolled around, it was all Chicago, as these could be considered the golden years for the Bears franchise for this rivalry. During six years from 1983-88, the Bears not only never lost a game against Tampa, but went 12-0 against the Buccaneers during that stretch, as it was that stretch that put this rivalry into a one-sided affair. After that, the Bears had another stretch of six straight wins in the early 1990s and five straight in the mid-90s as Tampa Bay had no answers for how to solve Chicago.
Once the late 1990s and early 2000s began, the Buccaneers started to turn themselves around as a franchise as they began to not only make the playoffs under Tony Dungy, but won their first Superbowl with Jon Gruden in 2002. By the time 1997 rolled around, it appeared as if the Buccaneers were starting to figure out the Bears as they won six straight from 97-99 and nine of 12 during a six-year stretch.
After leaving the division, these teams haven't met as frequently as they once were, but they still play each other enough to keep this one of the better non-divisional rivalries. Over their last 13 games going back 22 years, this has been about as evenly matched of a series as it can be, as the Bears have squeaked out a 7-6 record in their past 13 meetings.
Going back to their most recent meetings from 2016-21, the Buccaneers have continued to struggle against the Bears for whatever reason, but they still hold a 3-2 record over the last five against the Bears. That includes a win in their previous meeting in 2021 when the Buccaneers dominated the Bears 38-3 with Tom Brady under center.
Their win in 2021 is significant because it was played in Tampa, where this Sunday's game is being played. Tampa Bay has been a house of horrors for the Bears recently, as they have gone 0-3 in their last three games there. To make matters worse, the Bears offense hasn't scored more than 10 points in either of those meetings, while their defense allows an average of 33 points per game. That doesn't make for a winning combo, which is concerning heading into Sunday.
Things haven't always been that bad in Tampa Bay as they hold a winning record there all time, going 17-16 in games in Tampa. All that aside, Tampa Bay is not an easy place to play, especially this time of year, so the Bears must be at their best. Brady isn't under center anymore, so the Buccanneers offense shouldn't be as explosive as they have been in the past.
They still have an outstanding defense that held the high-powered Minnesota offense to just 17 points while forcing three turnovers. They also got after Kirk Cousins all game long, which is a concern considering the status of the Bears offensive line. If the history of these teams tells us anything, the Bears are due for a win in Tampa, especially after struggling so much the past decade at the Big Sombrero.
Upgrade Your Account
Unlock premium boards and exclusive features (e.g. ad-free) by upgrading your account today.
Upgrade Now