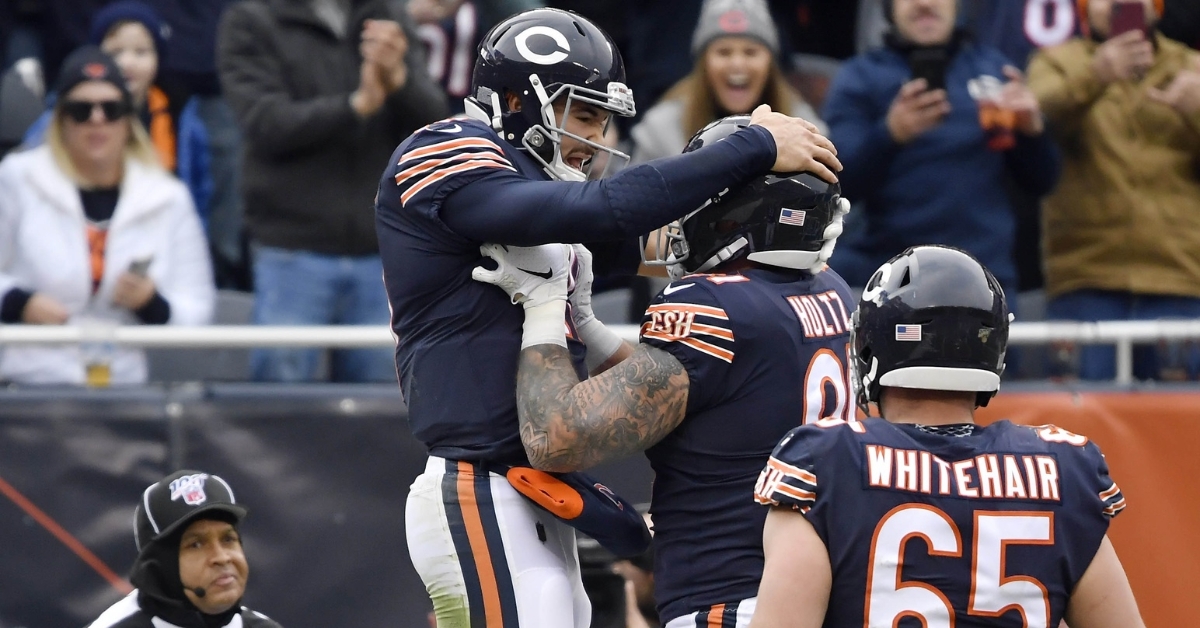 | | |
| --- | --- |
| What to expect from the Chicago Bears in 2020 | |
---
| | | |
| --- | --- | --- |
| Saturday, February 15, 2020, 9:06 AM | | |
As we inch closer and closer to the NFL draft, what exactly should Chicago fans expect from the Bears in the 2020 season? Coming off an 8-8 year and finishing behind the Packers and the Vikings in the NFC North, without a first-round draft pick and not a lot of money to play with during the offseason, what can Chicago fans realistically expect next year without getting our hearts ripped out?
Before we go any further, yes, I am the one who wrote the article for this site concerning Chicago trading Khalil Mack to the Washington Redskins for their second overall pick in the draft. I'm very excited that a deal hasn't happened yet, and I hope it doesn't. Yes, some change is needed at quarterback this year for the Bears. That being said, I'm not exactly sure getting rid of Trubisky is the answer. That brings up my first expectation for what we can look forward to next year.
Competition for Mitch
No, trading the anchor of our defense to draft a quarterback in the first few picks of the draft isn't an idea I support. That being said, Trubisky has to show some improvements this season. I'm not ok with saying the blame falls on our quarterback for 2019. Until the Bears address a few issues with the offensive line, it doesn't matter who they have under center.
That being said, you can say the position was simply handed to Trubisky last year. There wasn't anyone to compete with. Regardless of what happened, he wasn't in fear of losing his starting role. That has to change this season.
While I'm entirely against trading Mack for one of the top three picks in the draft, I'm all for bringing in someone who can take the starting role from Trubisky. I need to be clear here. I'm not against Mitch being the starting quarterback. I'm all for it if he deserves the position, and I think he can.
I don't want controversy and be left wondering from week to week who the starting quarterback is going to be on Sunday. That being said, I think Mitch could easily have the best season of his career if he's being pushed every week. If he knows there's another quarterback on the sideline who could take his position if things aren't going well, I don't see him allowing that to happen.
Say what you want about him. One thing you can't disagree with is the kid is a competitor. I think it's safe to say that Chicago fans can expect Mitch to have some competition for his job before the regular season starts.
Montgomery rushes for over 1,100 yards
Regardless of who the starting quarterback is, their job will be much easier if David Montgomery has a big season. I know, I know. Unless some things change with the offensive line, this simply isn't going to happen. Montgomery finished 2019 with 889 rushing yards on 242 carries. Just in case math isn't your cup of tea, that's 3.7 yards a carry. He had six rushing touchdowns and only averaged 55.6 yards a game. Opposing defenses had every right to expect the Bears to throw the ball if they wanted a chance of winning the game.
If Montgomery gets off to a quick start in 2020, this changes everything. Yes, Naggy would rather throw the ball, and this hurts. That being said, Naggy isn't stupid. He's completely aware of what happens if the rushing game has some big numbers the first three or four games.
Also, if Trubisky is the starter next season, a stronger attack on the ground is going to take a lot of the pressure off of him. I think the Chicago faithful can expect a more balanced offensive attack next year.
Look for a solid number two at receiver
Allen Robinson II played about as well as he could last year, given the circumstances. He had 98 receptions on 154 targets, good for 1,147 yards and seven scores.
But, the Bears second receiver, Anthony Miller, only hauled in 52 catches for 656 yards. That won't cut it next season. It allows the opposition to focus too much attention on Robinson. As I mentioned, Naggy isn't stupid. He knows how this works.
There's been some talk that Taylor Gabriel might be wearing a different jersey next year to come up with some extra cash for the Bears to spend on free agency. Yes, Gabriel has had some issues, and to an extent, this makes some sense. I don't think this is how it plays out, though.
Gabriel currently has two more years left on his contract. I think he's well aware of the fact that it's time to put up or leave. Chicago fans should expect him to have a huge season next year. I won't be at all surprised if he puts up better numbers than he's ever had. As much as Naggy wants to throw the ball, there's no reason why the Bears can't have two receivers with over 1,000 yards next season. If that happens, think about how much that opens things up for Montgomery and the running game?
The defensive side of the ball
No, Chicago wasn't even close to the numbers fans are used to seeing out of a Bears' defense. That being said, they had a new defensive coordinator, and let's face it, he was replacing an absolute genius. On top of that, there were several injuries to the defense last year, specifically Akiem Hicks and Danny Trevathan.
Kyle Fuller led Chicago with three interceptions in 2019 and was second on the team with 82 tackles. I expect both of those numbers to be higher in 2020. Roquan Smith led the squad with 101 tackles, and Khalil Mack had a team-high eight and a half sacks. If the defense can stay healthy, I think we can expect both of these categories to have a higher number by whoever leads the team in the category next season. That's the thing. The defense is stacked from top to bottom on the defensive side of the ball. If everyone is healthy, these numbers are going to grow.
Prediction time:
Now the fun part. As I mentioned earlier, the Bears finished 2019 at 8-8, third in the NFC North. As fans, we were all disappointed. This roster, top to bottom, is much better than a .500 team. As far as the Vikings and Packers go, they were good. Either team could have beaten any team in the NFL on any given week.
Here's the thing. I think there are easily four or five players on the team who know this is the year they need to do something, especially Trubisky. The list doesn't end there. Floyd, Gabriel, Cohen, hell I'd even put Naggy on the list.
Let's face it. Without a first-round pick, there's more than likely not going to be a big name rookie next season for Chicago. That being said, Pace has pulled more than one rabbit out of a hat during the draft. Also, there's a ton of free agents this offseason at several positions.
Other than the offensive line and tight end, the Bears don't need too many new faces to be a contender in their division, or to contend for the NFC for that matter. Expectations without getting our hearts broken. I believe those are the words I used in the opening paragraph or two.
I expect the Chicago Bears to be a double-digit win team next season. As tough as the division is, it might be a wildcard spot, but I expect the Bears to make the playoffs. Also, I expect them to miss a few field goals. I just don't expect one being missed to be how 2020 ends.