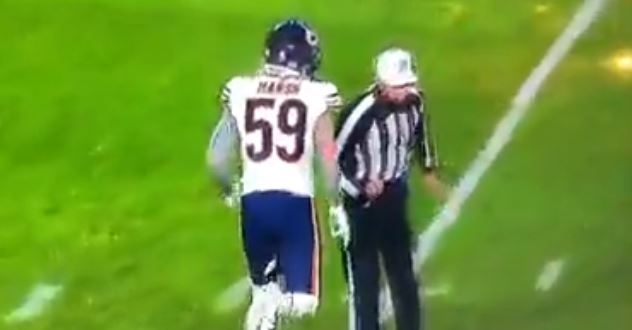 | | |
| --- | --- |
| Referee addresses controversial taunting call against Bears | |
---
| | | |
| --- | --- | --- |
| Tuesday, November 9, 2021, 9:58 AM | | |
The Chicago Bears lost a close 29-27 contest against the Steelers on Monday Night Football.
The game had a ton of flags, with the Bears getting called on 12 penalties for a total of 115 yards, including a controversial taunting call after a sack late in the fourth quarter.
The call gave the Steelers a fresh set of downs to ice away much of the time left in the ballgame.
NBC Sports Chicago Adam Hoge spoke to the referee Tony Corrente about the controversial taunting call that has most of Chicago up in arms.
"First of all, keep in mind that taunting is a point of emphasis this year. And with that said, I saw the player after he made a big play, run toward the bench area of the Pittsburgh Steelers and posture in such a way that I felt he was taunting them."
Corrente said that the player and ref getting hip-checked had nothing to do with the penalty.
"That I'm not aware of at all, no. I didn't judge that as anything that I dealt with."
THIS REF FLOPPED INTO MARSH TO THROW THE FLAG ?????? #Bears #Steelers pic.twitter.com/Rx7SFbbSza

— Andrew Carter (@LetItFlyAndrew) November 9, 2021
Obviously, Cassius Marsh disagreed with the call:
pic.twitter.com/ZJTUQmxgfc#Bears Cassius Marsh on Referee Hip Check and Taunting. #DaBears #ChicagoBears

— NFL Rumors (@nflrums) November 9, 2021