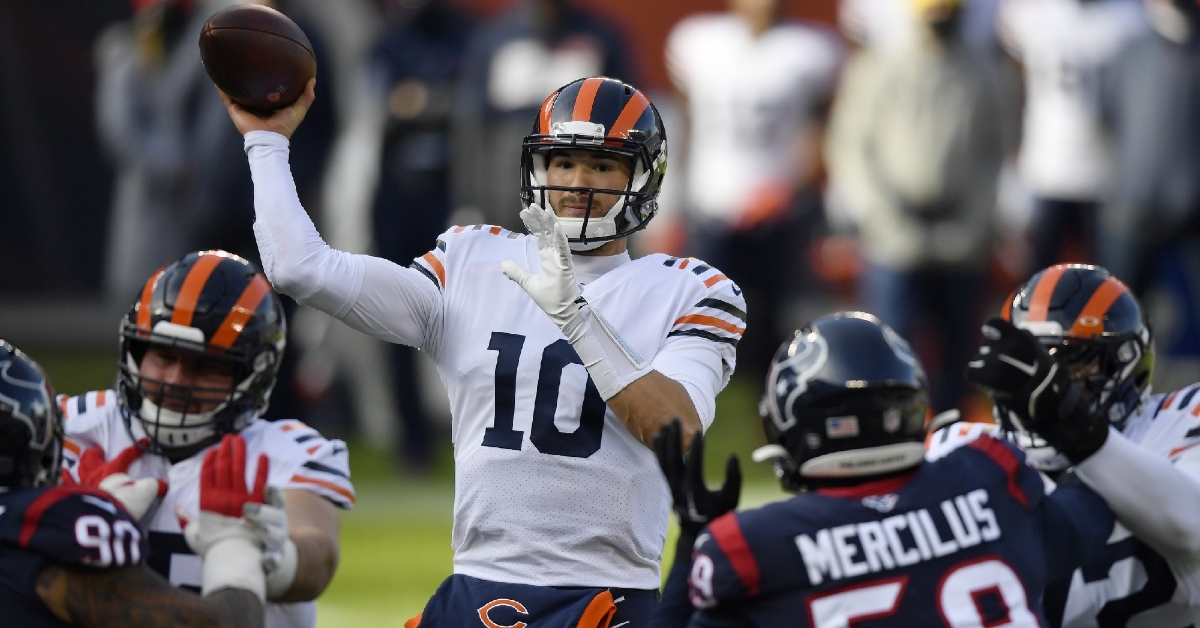 | | |
| --- | --- |
| 2020 Season in Review: Quarterback grades for Bears | |
---
| | | |
| --- | --- | --- |
| Friday, January 15, 2021, 8:28 AM | | |
Now that the Bears' end of the year press conference is over and announced that Matt Nagy and Ryan Pace would be sticking around, it's time to look ahead to 2021. This will be a challenging offseason for the Bears as they have a ton of tough decisions to make and not a lot of money to play with.
The defense needs a new play-caller and is getting older. The offense could be losing their best wide receiver, and the quarterback position remains a big question mark. Nagy went on record during the presser to say that all options are on the table regarding the quarterback position. He also said the Bears need more from that position, so that will be a big story going forward.
The quarterback position was already under fire before the season even started as the Bears not only traded for Nick Foles but declined Mitch Trubisky's fifth-year option. Trubisky got off to a strong start, but it didn't convince Nagy, and he made a move to Foles. After what looked like the right decision quickly backfired as Foles lost four straight starts at one point and was injured midway through the season.
That forced the Bears to go back to Trubisky for the final month-plus, and it was a great decision. Trubisky was not only playing well but playing the best football of his career, helping the Bears reach the postseason. Unfortunately, it was one and done for Chicago, and once again, the future of the Bears quarterback position is under fire.
Mitch Trubisky: To say Trubisky had a rough and interesting year would be an understatement as he had to endure so much this season. He was not bad from a statistical side of things, throwing for 2055 yards, 16 TD, 8 INT to go with 195 yards rushing and one score. Those numbers may not look impressive, but keep in mind he only started half the season.
Those were numbers he put up in nine games and had he played an additional seven, he would have approached 3500 yards passing with around 25 TDs. Stats are one thing, but wins and losses are another, and Trubisky was solid, going 6-3 during the regular season. That seems like a good enough record to keep the starting job, but his future remains unclear.
Season Grade B-: Grading Trubisky was very difficult given the circumstances he went through. At times this season, he played out of his mind and proved he should have been the starter all season. Then there were other times where he continued to make the mental mistakes that drive Bears fans crazy. For that inconsistency alone, it does affect his grade a little bit but not too much.
Trubisky is never going to be an all-pro, but he has proven to be decent enough to lead a team. Given the right circumstances, Trubisky has the tools and makeup to deliver in big moments with the right supporting cast. He needs to cut down on the mental mistakes and trust himself more.
Nick Foles: Immediately following the Bears trading for Nick Foles, questions surrounded the team about who the starter would be. Heading into week 1, some felt Foles should be the starter out of camp, but the team elected to go with Trubisky the first three games. Following a week three second-half performance that led the Bears to the win, Foles was announced the starter going forward and was hoping to prove his doubters wrong.
Seven starts across his nine games, Foles didn't live up to expectations struggling to move the ball and lead his offense. He threw for barely 1800 yards while picking up 10 touchdowns and 8 INT. Those interceptions were the same amount as Trubisky, but he played fewer games, which is a concern. Foles' thing that stands out is the win and loss record, as he went just 2-5 as a starter.
Not only that, but it was also Foles who was starting when the Bears went through their six-game losing streak, eventually getting hurt before losing the job. The offense couldn't move the ball with him under center, and he proved to everyone once again that he is never going to be anything more than a backup who can thrive in high-pressure situations.
Season Grade D: Bringing Foles in appeared to be a great thought process by the Bears, but it backfired in their face. Not only did they potentially hurt Trubisky in terms of coming back, but Foles was trusted to lead an offense long-term, and he continues to show he can't do that. Foles is at his best when he is called upon in relief during high-pressure situations.
He did that numerous times with Philadelphia and with the Bears early in the season. However, when given a chance to lead a team, Foles has been horrendous, and all you must do is look at his time with Jacksonville and St. Louis/ Los Angeles Rams to prove that. His best years came with the Eagles, and only one of those years was the permanent starter. With a ton left on his contract, the Bears may have no choice but to hold on to him.
Tyler Bray: The third-string QB on the roster, Brey has been with the team awhile and hasn't gotten a chance to shine. This season, he got in for one final drive going 1-5 for 18 yards after the Vikings knocked out Foles. That was the first completion of his career and maybe the last for a long time.
Season Grade Incomplete: