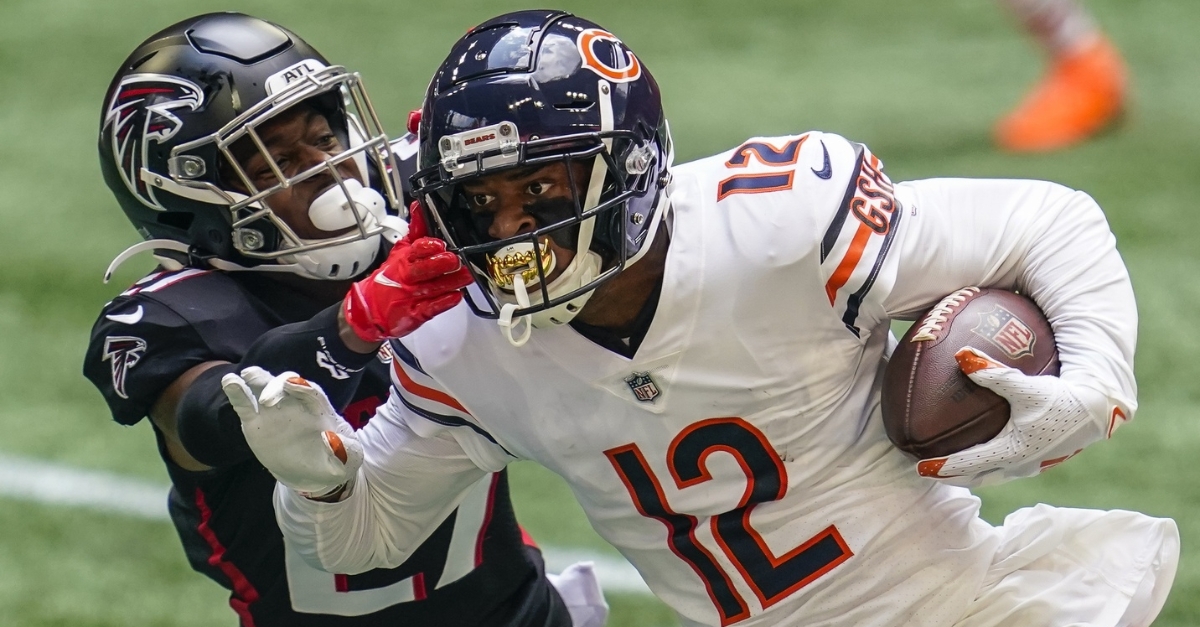 | | |
| --- | --- |
| Allen Robinson hints at leaving Bears on Twitter | |
---
| | | |
| --- | --- | --- |
| Thursday, December 3, 2020, 8:23 AM | | |
As if losing five straight games was bad enough, but now it looks like some internal issues within the Bears team could make for some late season frustrations. Before their game against Green Bay last week, there were reports that both Ryan Pace and Matt Nagy are on the hot seat for the remainder of the year.
Those reports came after Chicago lost a home game to Minnesota, and there reportedly was a lot of tension with the ownership group and the coaching staff during the bye week. After laying an even worse egg last week during another prime time nationally televised game, the frustrations are boiling over, and the players are now the ones getting involved.
The offensive struggles have been evident since last year, but they are even worse this year. From the lack of a running game, inconsistent quarterback play, and the offensive line's inability to block, things haven't gone as planned for the Chicago offense this year. Now it appears that the Bears wide receivers are unhappy with what is going on and start to show their own frustrations.
The Chicago Bears franchise has a rich history of success, but most of that success has come pre-1990. There have been former great receivers who have come to Chicago to see their careers faze out once they arrived. That is why some went on record to say that Chicago is the place where wide receivers die.
While that might be true in some instances, both Brandon Marshall and Alshon Jeffrey were pro bowl wideouts in Chicago, so clearly, they didn't have that issue. However, since those two left, the Bears have been looking for wide receiver production, and the Anthony Miller-Allen Robinson duo seemed destined to be the next great pro bowl duo. Instead, outside of Robinson, the wide receiver production isn't there, and now it appears like the wide receiver room is in a dark place filled with frustrations.
If you don't know what I am talking about, maybe the Bears twitter accounts can give you some insight. Javon Wims account is shown liking a quote, "Chicago, Where Receivers go to Die." And then you have Miller liking a tweet about the New England Patriots trying to bring him aboard. I know that Twitter and many stupid things are said, but given the situation the Bears are currently in, it comes off as a rather bad look.
Now, if the Tweets don't get you concerned, maybe Robinson will. His account has also been shown liking tweets from other teams trying to acquire him. Couple that with his agent actively criticizing the team's usage in the red-zone, Robinson removed the Bears from his Twitter and even requested a trade. Robinson was the first of the receivers to become unhappy. A lot of that is on Pace as he never gave Robinson the extension he deserved, and given where this offense currently is, there is probably no way Robinson returns beyond this season.
#Bears star WR Allen Robinson liked tweets from fans about leaving the #Bears and joining another team after the loss to the #Packers

A reminder that Robinson chose to sign with Chicago as a free-agent over Green Bay. pic.twitter.com/SeVpLyQdbp

— Dov Kleiman (@NFL_DovKleiman) November 30, 2020
The unhappy wide receivers are nothing new as this has been going on since 2019 about Mitch Trubisky. However, last year nothing got out of hand, and seeing that other people within the organization are unhappy, maybe that is what has allowed these reports to surface publicly.
This is a big problem within the organization, and with only five games left, it will be something to keep an eye on. Granted, both Wims and Miller have disappointed this season, so that it may be their frustrations more so than the team, but Robinson showed frustrations earlier this year. The Bears pass catchers know they are better than what this offense shows, yet they can't put it on display.
Chicago has been looking for a spark for over a month. This is undoubtedly not the spark they were looking for. The more frustration that lingers, the worse things will get. Chicago is still in an excellent position to contend for a playoff spot when you look at their remaining schedule. However, a loss to Detroit, Jacksonville, or Houston could be the ultimate breaking point as heads will roll at that point.
Upgrade Your Account
Unlock premium boards and exclusive features (e.g. ad-free) by upgrading your account today.
Upgrade Now