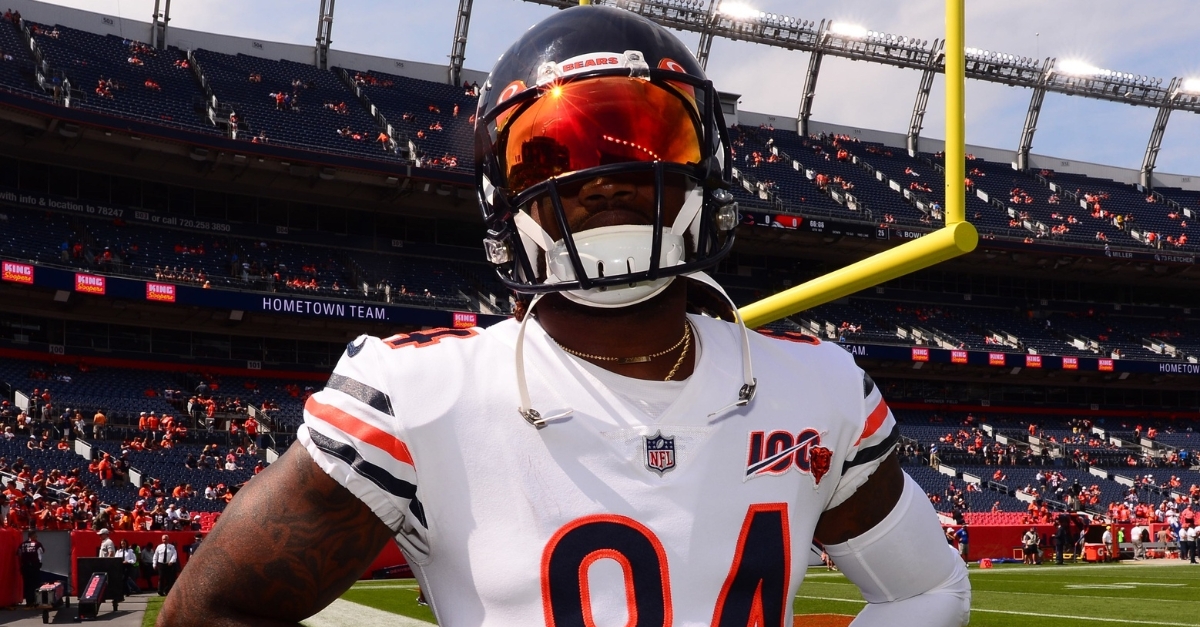 | | |
| --- | --- |
| Bears secret weapon: Cordarrelle Patterson | |
---
| | | |
| --- | --- | --- |
| Friday, October 18, 2019, 9:05 AM | | |
One of the biggest things the Bears have lacked since the departure of Devin Hester has been the secret weapon in the return game. After trying out multiple players over the past few seasons, nothing has seemed to work. That was until this offseason when the Bears went out and signed what could be the modern-day version of Hester in bringing in former division rival Cordarrelle Patterson to take on special team duties.
With the constant changing of kick-off rules the past few seasons, it is almost impossible for anyone to make something happen on kickoffs if they even have a chance to run it back. With 95% of kickoffs resulting in touchbacks, very few teams would even dare let someone try to return it out of the endzone should they have their hands on the ball.
The Bears are not one of those teams as Patterson's aggressive nature makes him a weapon every time; he has a chance to touch the ball. It seems as if the Bears give him the green light to run anything back should he think he can make something happen. Well, I wouldn't say he always has the green light, but often he has earned the right to be trusted on special teams.
Patterson is the rare breed of return men that have a mixture of speed and power with the ability to take one to the house every game. He has averaged at least one run back for a score every season he has been in the league as his big-play abilities are well documented. With the kickoff line being moved up five yards from when Patterson was a rookie, his opportunities to take kicks outside of the endzone have become slim to none as it is up to him when he thinks he can make something happen.
Usually, a coaching staff would let a player know right from the start that returning a kick from the endzone is unwise. In Patterson's case, he has been instructed to take a calculated risk in kickoff situations, but he needs to be smart about it and not reckless. Special teams coach Chris Tabor has no issues with how Patterson decides when is an excellent time to take a kickback as he knows that it could change momentum in a hurry.
"You have to be smart. You don't want to be reckless. But at the same time, we're returning the ball because [the opponent] just scored, and our job is to change momentum," Tabor told ChicagoBears.com. "I like our guy that we have back there. Sure, when you bring the ball out, there's a chance that you might get tackled inside the 20. But I feel good about our guy getting it between at worst the 20 and 25."
That momentum is clear when Patterson touches the ball as he has returned five kicks this season for 145 yards. All five of those kicks, however, have been returned out of the endzone from 9,3,5,5, and 6 yards deep. Each time Patterson was able to reach at least the 20-yard line before being tackled with his team starting at their own 20,20,24,20 and 33 on those kicks.
Although most of those returns resulted in his team starting right around where the touchback spot would have been, Patterson currently ranks third in the NFL in return yard average at 29.0 yards per return. However, with just five returns, he doesn't qualify to land on that list. To qualify, you need to average 1.25 returns per game, and Patterson is slightly under that average at one.
Along with his returning ability, Patterson can also make things happen on offense as he has been used in a variety of ways since coming to the NFL. Drafted by the Vikings in the first round six seasons ago, Patterson was always an unknown as he never really had a true position despite being listed as a wide receiver. His limited ability to run routes hampered his playing time at wideout while his speed and power made him an asset in the backfield.
Players like Patterson don't come around all the time, so when you have someone like him, you need to maximize his usage as much as possible. Ideally, the Bears would love for him to return every kick of the season as he can flip the momentum with just one return. With that now less likely to ever happen again, the Bears need to involve him more on offense as he should have the green light to make something happen every time he touches the ball.
Upgrade Your Account
Unlock premium boards and exclusive features (e.g. ad-free) by upgrading your account today.
Upgrade Now