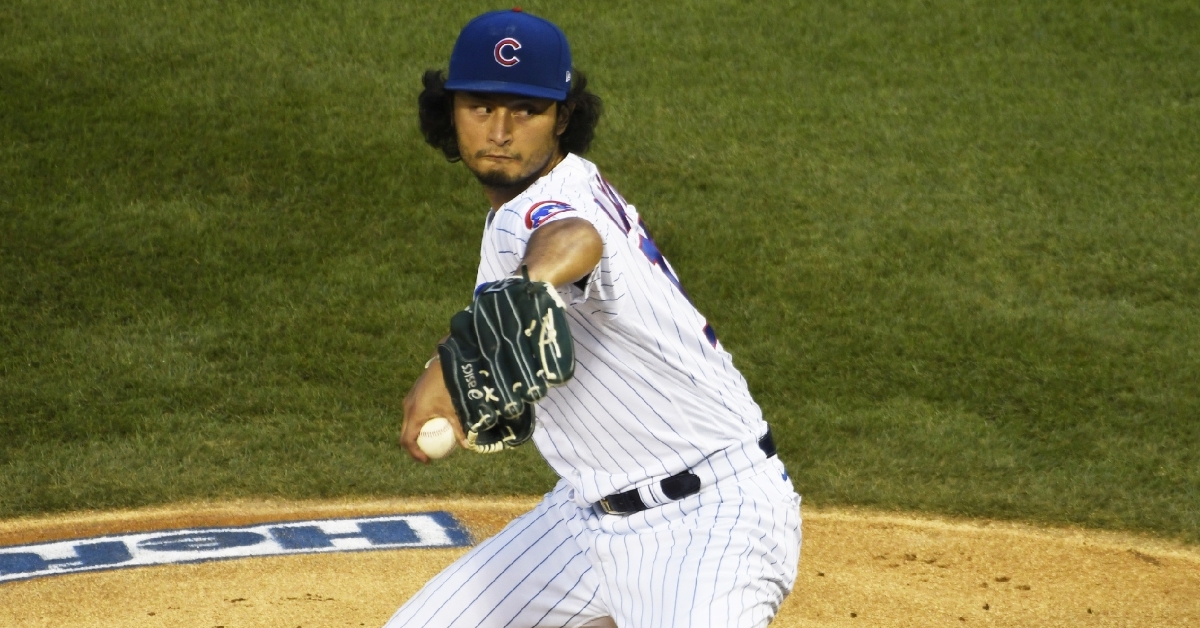 | | |
| --- | --- |
| Commentary: Jed Hoyer made the right move to trade Yu Darvish | |
---
| | | |
| --- | --- | --- |
| Saturday, January 2, 2021, 1:54 PM | | |
The Cubs' trade of Yu Darvish and Victor Caratini to the Padres has been finalized, and Darvish met with the San Diego media earlier this week.
From a Cubs fan's perspective, the move came as almost as much as a shock as the trade did to Darvish and Caratini themselves.
With Theo Epstein's departure, it was evident that changes needed to be made and that they were coming. As Jed Hoyer took over as President of Baseball Operations, he mentioned the Cubs' effort to "thread the needle" between this Cubs team and the next great one — amidst budget concerns, uncertainty regarding COVID-19, and the collective contracts close to expiring of the Cubs core.
This is undoubtedly a period of transition.
All reports pointed to the Cubs trying to cut payroll to get below the luxury tax and an attempt to stockpile the farm system to return to legitimate contention soon. All reports also pointed out that the Cubs would be holding on to its top two in the rotation: Yu Darvish and Kyle Hendricks through 2023 when their contracts expired.
Tom Ricketts even went so far as saying, "I don't think anybody is tearing anything down."
Many around the industry thought the Cubs would attempt to trade Kyle Schwarber or Kris Bryant and MAYBE Javier Baez or Willson Contreras if blown away by an offered deal. The other indication is that some trades may be made with just money in mind — the kind of salary dump of a contract like Craig Kimbrel's or Jason Heyward.
That's why the move to trade Darvish and Caratini to the Padres came as such a shock.
But here's why Jed Hoyer had to.
* It is a known fact that the Cubs have budget concerns, as they have for the last few years and are desperate to get below the luxury tax.
* The core five on offense of Bryant, Baez, Schwarber, Contreras, and Anthony Rizzo are all coming off of career-worst seasons except for Contreras, who was decent.
* The Cubs were unable to trade Schwarber before the non-tender deadline and ended up making him a free agent — thus showing the Cubs' hand of needing to cut payroll.
* The Cubs have thus far had difficulty trying to move Bryant because both his value is at a career-low after slumps and injuries and the known fact that the Cubs do not want to pay his contract.
* Appearing desperate to unload money makes teams less and less likely to pay big-name prospects to get these players in return, especially since their free agencies are less than 10 months away (in the case of Bryant, Baez, and Rizzo).
* Darvish plays a position that is always at a premium and played it at a top-five level in the game a year ago — meaning his value was extremely high.
Obviously, it's hard to say goodbye to a player who fans have grown to love on the field, on social media, and off — especially after a season in which he placed second in the National League Cy Young voting.
But when you consider he is only getting older, only won 15 games in three seasons with the Cubs, and his success has come so deep into his career — you can get on board with the trade a little easier.
As for Caratini, he played a position in which the Cubs have a pretty deep position room. Not to mention, Caratini served as Darvish's personal catcher — and for a pitcher who relies on routine and comfort so much, Caratini joining Darvish in San Diego does make some sense.
The tough pill to swallow is that the Cubs did not secure a top-five prospect from the Padres organization in return. But when you understand the situation, Hoyer was in — and the leverage Padres GM AJ Preller had — you can understand why those players were not offered in return for Darvish.
For the short term, the Cubs get a reliable starter in Zach Davies. And in the *unfortunate* long term, the Cubs get four extremely intriguing and young high-risk high reward players who the Cubs can develop themselves.
Upgrade Your Account
Unlock premium boards and exclusive features (e.g. ad-free) by upgrading your account today.
Upgrade Now

Tags: Bears Baseball
,
Yu Darvish
,
Victor Caratini
,
Kyle Hendricks
,
Kyle Schwarber
,
Kris Bryant
,
Willson Contreras
,
Craig Kimbrel
,
Jason Heyward
,
Anthony Rizzo
,
Theo Epstein