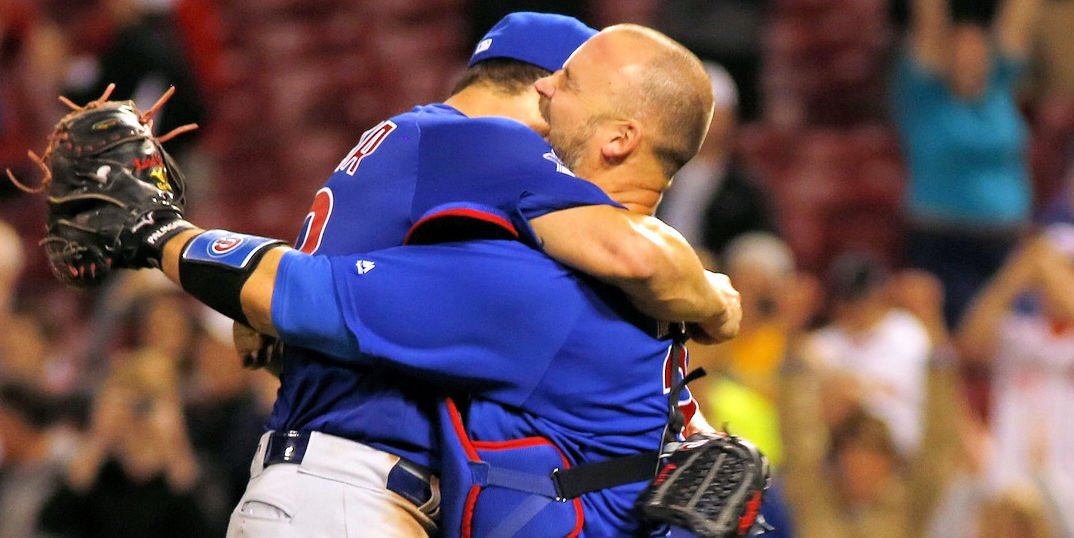 | | |
| --- | --- |
| Bears News: Dancing to the Dugout: Ross is Boss | |
---
| | | |
| --- | --- | --- |
| Wednesday, October 23, 2019, 12:57 PM | | |
It took exactly 24 days for the Cubs to replace Joe Maddon, although I truly believe this was a process that was a year in the making.
Like it or not, Joe Maddon was fired – not in so many words, maybe, but when your World Series-winning manager enters a walk-year without a contract extension, something is up. Theo knew what Maddon's fate was going to be, and I'd be surprised if Maddon didn't know at least 5 months ago that his tenure was ending.
I couldn't agree more with Dave Wischnowsky about the following tweet. Ross has been neatly tucked into an office at 1060 W. Addison, watching, working and waiting.
One thought about Ross: I've always believed Theo & Jed were planning to move on from Maddon in 2020 after they didn't extend him last winter. So, it's likely that they've been grooming Ross for this job for a full year. This isn't a rushed or uninformed hire on their behalf.

— Dave Wischnowsky (@wischlist) October 23, 2019
Several interviewed for the spot, most notably Joe Girardi, Joe Espada, and Mark Loretta, but many felt all along that this was David Ross' job to lose. Although the official announcement will probably be made tomorrow, David Ross has now been confirmed by multiple news sources as Joe Maddon's successor. I honestly began to think recently that Joe Espada was going to get the nod, but I'm happy either way.
The #Cubs appear to have their new manager, and SURPRISE! It's David Ross! What do you think Cubs fans? https://t.co/tJn6KQF40G https://t.co/HtoIcXQCBm pic.twitter.com/Y5u1lJNAtq

— Bernstein & McKnight (@Bernstein_McK) October 23, 2019
Due to a reported change in policy by MLB, teams no longer have to wait until the end of the World Series to make announcements about things like managerial hires, so long as such announcements are made on off days during the season-ending series. This clears the way for Theo to get Ross in place before the start of the free-agency season, which begins just days after the conclusion of the World Series.
"Highly placed source has confirmed to me David Ross is expected to be named Cubs manager this week. His agent has been discussing contractual terms with Theo Epstein. Deal is almost done." -David Kaplan
Many questioned this choice, citing a lack of managerial experience on Ross' part. Still, one needs only to look east to see that experience doesn't always come as a prerequisite for the position. Alex Cora won a World Series in Boston just last year, and Aaron Boone managed a 203-121 (.627) record in his first two years as the Yankees' skipper, including back-to-back, 100-win seasons. Not everyone can be a Boone or Cora type, but Ross has the drive, he's been affiliated with the Cubs since he retired as a player and, like it or not, he is going to get the chance to show what he's made of.
I'll say it now: The Cubs went a very lackluster 84-78 this year under Maddon's command, and I dare say the dawn of the Ross regime will produce a better record than that in 2020. Playoff team? Too early to tell, as a lot depends on what Theo Epstein does or doesn't do this winter, but I think as this team stands now, they'd have made the wildcard round this year with a different managerial style.
"[Joe Maddon is] "old school to the core; he just uses the analytics in his favor for certain wacky situations where he may take the pitcher and put him in left field … [but] 90% of the time, it worked out." -David Ross
Are you worried about Rossy and his ability to manage friends? Many have voiced concerns about a perceived inability for David Ross to manage former teammates. I've maintained for three years now that the Cubs aren't the same team that they were in 2016, predominantly due to personnel changes. Here's the entire list of the former teammates that Ross will be managing: Jon Lester, Kyle Hendricks, Albert Almora Jr., Javier Baez, Kris Bryant, Willson Contreras, Jason Heyward, Anthony Rizzo, Addison Russell, and Kyle Schwarber.
As things stand, there are 10 players under club control for 2020 that were a part of the 2016

team with Ross. That number could be even lower if the Cubs rearrange some things via trades.

— Jordan Bastian (@MLBastian) October 23, 2019
Ten guys. Period. If Theo takes the path that I predicted he'd take when I wrote my "Maybe Next year series, Bryant, Russell, and Almora will be gone, leaving just seven former teammates in the clubhouse.
I see a lot of readers who also feel that he won't be able to discipline players, but according to Ken Rosenthal, that isn't the case.
Dynamic with Ross managing former #Cubs teammates will be fascinating. Ross is affable, but also can be brutally honest. Cubs thought Maddon shied away from tough conversations. By taking job, Ross is making a choice, knowing he might damage existing relationships in new role.

— Ken Rosenthal (@Ken_Rosenthal) October 23, 2019
I've maintained all along that the Cubs needed to find a middle ground between Joe Maddon and Joe Girardi, while also claiming that Ross's demeanor would be the perfect fit. Do the Cubs need a swift kick in the butt right now? Absolutely, but I think there are ways of going about jumpstarting a withering team without losing a shoe in the process. A fresh viewpoint, a little different mindset, and a desire to win – that's what David Ross needs to present to the Cubs to get this team back on track.
"I always have greater comfort level hiring for roles in which the person has done the role before, especially with manager. I think there are ways for that to be overcome. There's a lot of different ways to get experience in this game. Beliefs, skills, personal attributes, those can outweigh a lack of experience, but experience certainly helps."
"David Ross has a lot of great things going for him, I would say. His connection to the players on this team, and especially his connection to the 2016 team, are not necessarily things that are gonna be important to us. – Theo Epstein
Some questioned me on social media, about why I wanted Ross to be named as Maddon's successor, but it was nothing I could really list – more of a set of intangibles. As Espada emerged as the frontrunner, I began to question my initial choice about Ross, wondering if I was clinging to familiarity rather than common sense – something I frequently blamed Joe Maddon's staunchest supporters of doing. Maybe a little, I suppose, but I would have been fine with either choice.
Espada seems to be a good man – hell, maybe even a better man based on experience, but I wasn't about to say that "David Ross is not my manager." I was fully intent on enjoying covering whomever Theo appointed.
I marvel at all of the people who've proclaimed that they would be abandoning the Cubs if Ross was named, but I'm guessing those same people will be buying Ross swag the minute the Cubs start winning in 2020. I couldn't have disagreed with Maddon more toward the end of his tenure, but I wouldn't have turned my back on Chicago had he stayed.
Theo Epstein had plenty of options to replace Maddon, and money wasn't an issue. What he sought was precisely what I said he'd seek: Following the latest trend in MLB, he'd look for a younger, cheaper, and perhaps inexperienced manager. Whine for a month or so if you want to and then realize that David Ross is more than capable of handling this appointment.
A new chapter has begun in Chicago, and it's time to start watching the pieces fall into place. I'll leave you with one question:
Hey, Chicago, what do ya say?
Selfishness is the root of all evil in sports. When you're only looking out for yourself, bad things happen. It's about the team -David Ross pic.twitter.com/NNg7lj4tMs

— Baseball Quotes (@BaseballQuotes1) October 23, 2019
Upgrade Your Account
Unlock premium boards and exclusive features (e.g. ad-free) by upgrading your account today.
Upgrade Now

Tags: Bears Baseball
,
David Ross
,
,
Kyle Hendricks
,
Albert Almora Jr
,
,
,
Willson Contreras
,
Jason Heyward
,
Anthony Rizzo
,
Addison Russell
,
Kyle Schwarber
,
Joe Maddon
,
Theo Epstein
,
Mark Loretta