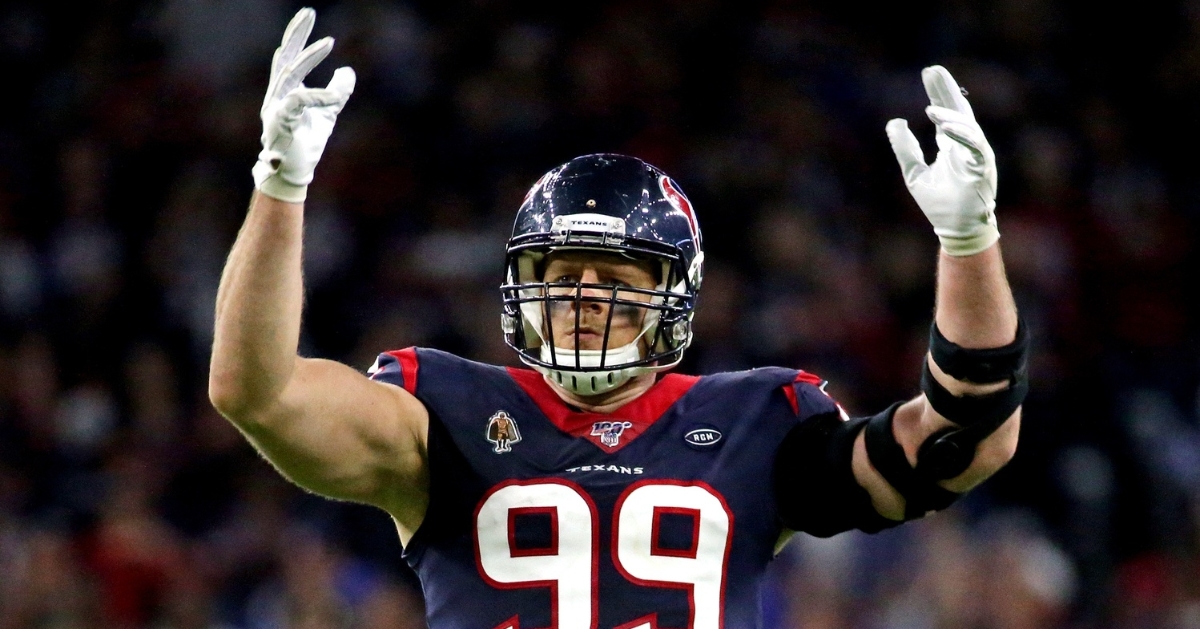 | | |
| --- | --- |
| Should the Bears try to sign Pro-Bowler J.J. Watt? | |
---
| | | |
| --- | --- | --- |
| Thursday, February 18, 2021, 9:18 AM | | |
There have been a lot of dysfunctional organizations across the NFL in recent seasons, but none have been more dysfunctional than the Houston Texans. After competing for the postseason each of the previous three years with Deshaun Watson at QB and a cast of talented players, the Texans elected to go with a new approach this season. Now, the organization is suffering.
It started with trading DeAndre Hopkins to the Cardinals for David Johnson. That was followed by Bill O'Brien's firing, who had no idea how to be both a GM and a head coach. Kenny Stills then parted ways with the team in December, right around the same time Will Fuller was busted for PED's. All that has taken a back seat to what is going on now as not one but two faces of the franchise have demanded trades in the last month.
Watson is the biggest storyline as he remains a Texan despite his overall disgust with the organization. At this point, unless he sits out next season, I find it very unlikely he is dealt given the asking price Houston is requesting. The second of the franchise players who requested a trade is DE J.J. Watt. Unlike Watson, Watt was granted his wish, but not the conventional way. Out of respect for what Watt has meant to this organization, Houston elected to release him rather than trade him making him a free agent. Watt is now allowed to sign with anyone he would like.
Watt is a great defensive player who will make any unit better, but he isn't the same player he once was, as injuries have hampered him. Still, given the right situation, Watt can succeed even if it means he is a two-down player instead of an every-down player. There are many suitors in on Watt at the moment, and some make a ton of sense. Chicago may not be mentioned on that list, but honestly, the Bears should be interested because they make sense for Watt.
Teams like the Cowboys, Titans, Ravens, Brown, and Bills are all listed as possible landing spots for Watt at this time. Dallas was a team that stood out, considering they are in Texas where Watt has played his entire career, but Tennessee seems to want him bad. Cleveland is certainly a dark horse team to watch as Watt is strongly considering going to the Browns at this point to play across from Myles Garrett.
However, I think three teams have the best shot at getting him, and the Bears are on that list.
Green Bay Packers: The Packers make almost too much sense strictly because of their location. Watt is a Wisconsin kid who grew up in Pewaukee, just 90 miles south of Green Bay. He then went on to be a star at the University of Wisconsin, so there are Wisconsin ties all over the place.
Two years ago, when Houston played Green Bay in Wisconsin for the first time, Watt said it was a dream come true to play at Lambeau Field. That was his hometown team growing up, and he finally had a chance to step on that field. Given that he would be playing a minimum of nine games, there if signs with Green Bay that may be hard to pass up.
Coming home would be perfect for Watt, and he would fit well with the Packers 3-4 defensive scheme. Cap space will be an issue, but some of the Packers players have already started restructuring their deals to clear up money. Watt to Green Bay seems like a perfect storybook ending for him but is it too perfect.
Pittsburgh Steelers: Watt has accomplished a lot over his football career, but one thing he has never accomplished can happen in Pittsburgh. Watt loves his family and has had the opportunity to play with his younger brother Derek for one season at Wisconsin. T.J., on the other hand, is the youngest of all the brothers, and Watt never had the opportunity to play with him on the same field, let alone the same team.
Family is vital to Watt, and with Derek and T.J already on the Steelers roster, why not join them and bring the whole family together. Watt would be joining a team coming off a 12-4 season with a defense more than capable of winning lots of games. Of all the things Watt has never done in his career, playing with both his brothers is at the top of his list.
Much like the Packers, cap space is the biggest hurdle as the Steelers do not have much leverage in free money. Pittsburgh would need to move a significant amount of money to sign Watt, but with Bud Dupree and his future uncertain, that would be the start. I tend to think if Family is that important that Pittsburgh may have the upper hand.
Chicago Bears: Yes, I believe the Bears are on this list, and it all comes back to both location and family. Starting with the location. Yes, Watt grew up in Wisconsin, but he grew up in Pewaukee, which is about equal distance from Green Bay as it is Chicago. Pewaukee is 97 Miles away from Green Bay and roughly 128 miles away from Chicago, so travel for the family would be equal.
Another thing that people don't realize surrounds Watt's wife, who is a professional athlete herself. She is a professional soccer player who plays in the great city of Chicago for the Red Stars. She has a house/Apartment in the Chicago area during the season, so why not move in with your wife full time.
During the season, Watt and his wife barely see each other as they play in different parts of the country. Coming to the Bears would not only allow them to see each other more but live with each other full time. Watt will put winning a Super Bowl near the top of his list, but family is going to be a close second.
He is getting to the point in his career where he needs to think about his future and his family's future. Coming to the Bears would keep him close to his Wisconsin Family and would have him and his wife together all season. Watt would also fit nicely in the Bears defense with Akiem Hicks up front and could be lined up with Khalil Mack making a deadly pass rush.
I don't see the Bears as the favorites to get Watt by any means, but they shouldn't be discounted. There is a lot to like about the Bears chances, especially if they can create some cap space for a player who won't be asking for a ton.