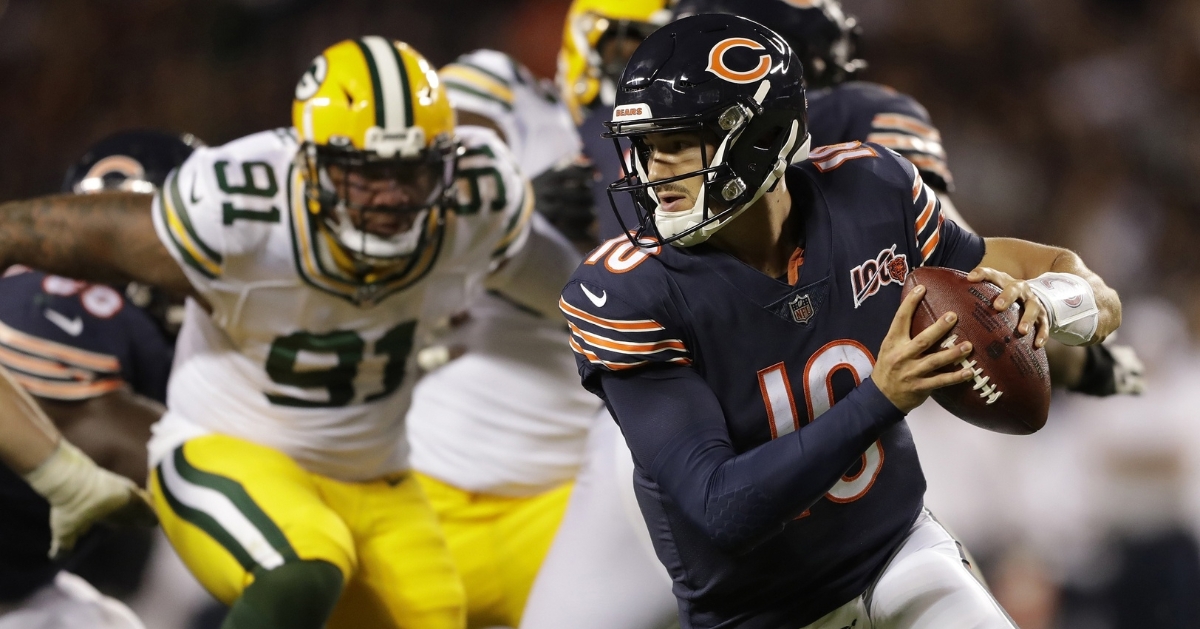 | | |
| --- | --- |
| Bears News: All Eyes on Mitch Trubisky down the stretch | |
---
I am not afraid to admit things when I am wrong when talking about Mitch Trubisky I am starting to get the sense that I may be wrong about him. Yes, I would still like to see a ton more consistency from him, but if his last five games are anything like what we can expect long term, I am happy to have him as the Bears signal-caller for years to come.
Even with the adjustments Matt Nagy and his staff have made to get Trubisky trending in the right direction, many experts still believe that the Bears will still be looking elsewhere at QB next season and could be a target for some free agent names. If you pay attention to ESPN and trust me, that is hard to do sometimes, but Field Yates lists the Bears as potential landing spots for not one, but two QB's this offseason. The two names being tossed around at this point are Phillip Rivers and Teddy Bridgewater.
Why are we even discussing this given the level of play Trubisky has been at lately? Well, for starters, Yates and his colleagues still believe the Bears need to upgrade that position if they want to contend for the Superbowl. Considering how the Bears don't have a first-round pick where they could potentially draft a QB, the best route to go would be free agency, which would undoubtedly shake things up a bit.
Even with Rivers and Bridgewater being discussed as possible QB's in Chicago, Yates reiterates that the players fit within the organization may not be that clear cut. Rivers is generally listed as the cool and fun guy, but Chicago needs to focus on finding the best fit for the team, not the fun fit.
Diving a little deeper into the equation, and on the surface, it would make sense for the Bears to pursue someone like Rivers. Not only has he been an established signal-caller for the last 14 years with the Chargers, but add in his eight pro bowl selections, 58000 passing yards, and nearly 400 touchdowns, and you have a potential hall of fame player that could bring buzz at that position.
However, with every pro, there certainly are some negatives, and Rivers certainly comes with them as he appears near the end of his career rope. Not only is he getting up there in age, but Rivers has seen drops in his completion percentage, touchdown percentage, yards per completion while his interception percentage has gone up. Those are all underlying factors of an aging QB, so making the switch to Rivers to me doesn't make much sense.
Then we turn our attention to Bridgewater, who is a very intriguing candidate. Not only are his numbers trending in the right direction, but he proved he still has what it takes to win in this league going a perfect 4-0 for the injured Drew Brees this season as he fought his way back from a career-threatening leg injury.
Not only did Bridgewater prove he can still be a starter, but at ten years younger than Rivers, he makes much more sense as a free agent target. Even if Bridgewater is set to make roughly 7-8 million next season, the Bears salary cap is so tight right now that they would have to be extremely creative to make any deal like this happen. Given the talent, upside, and ability Bridgewater has shown in limited starts; the Bears may entice that situation to see what they can do.
Even though Chicago has fought their way back into the postseason conversation, it should come as no surprise that they are being brought up in the teams looking at the QB market. With every passing start that Trubisky puts things together, he has also proven to be more streaky than steady, which is not something you want in a franchise leader.
Until his play becomes more consistent or his future gets resolved, Chicago is going to be the place that quarterbacks will be linked to once the offseason officially rolls around. The only question I think the Bears are looking at long term, is what direction are we heading and who do we want to take us there? Regardless of who is running the show next season, the Bears need to be more consistent from the start if they're going to remain relevant in the loaded NFC.
Upgrade Your Account
Unlock premium boards and exclusive features (e.g. ad-free) by upgrading your account today.
Upgrade Now