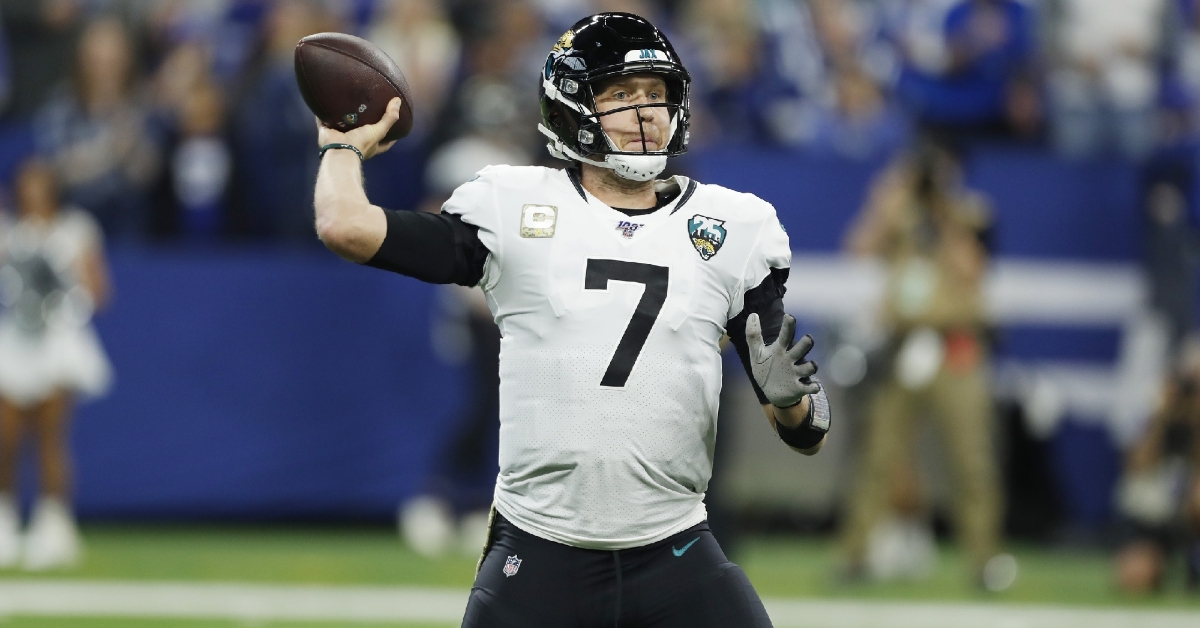 | | |
| --- | --- |
| Bold prediction of Nick Foles to Chicago Bears heats up | |
---
Nick Foles is certainly a name Bears fans are familiar with, but probably for the wrong reasons. Two years ago, in the NFC Wild Card game, Foles led a hot Philadelphia team into Chicago with a spot in the NFC divisional round on the line. Even though it was a Cody Parkey missed field goal that prevented the Bears from advancing, Foles did lead Philadelphia to a go-ahead drive late in the fourth that forced the Bears into that field goal try.
Last season, Foles signed a huge free-agent contract with the Jacksonville Jaguars but was never able to live up to it as a broken collarbone early in the season sent him off track, and he was never able to recover. Despite that, his name was thrown in a lot in terms of trade talks, and the Bears were one of the teams that appeared to be in on him for quite some time. Well, guess what, those talks won't go away as once again Chicago could be a destination for Foles in 2020.
Of the 20 bold off-season predictions from The Athletic's Sheil Kapadia that have been put out so far, one of those predictions has the Bears indeed trading for Foles. Maybe that is not as bold as you may have expected given his name came about last season, but keep in mind the Bears appear to still be all in on Mitch Trubisky and pulling off a trade for Foles may not be as clear cut as people may think.
As the way things sit today, the Bears are in an uncomfortable position regarding their starting QB. Neither both Head Coach Matt Nagy and GM Ryan Pace are ready to give up on him yet, which is why they have penciled him in as their starter next season, but they do need to see significant improvements from him this season if he is to be the Bears long term answer under center.
However, even with Trubisky appearing to be firmly labeled as the team's starter next season, his confidence level may not be where you think it would as Pace has made it clear that he wants to add competition to every position on this roster. That includes the QB position, which means Trubisky may have to earn his job out of camp this season instead of it just being handed to him.
Looking more deeply into that comment and it is clear that the Bears want to bring competition to the QB position this season, and with the departure of Chase Daniel, two open spots are available. One scenario regarding competition could be that the Bears have someone good enough to start, but would also be ok with a backup role should some be better in camp.
That would be a QB who could not only get through a season but could do so without threatening Trubisky's starting role weekly. Should that guy be available, it would certainly be an asset to Chicago. This would be the type of player that could not only sit back and mentor Trubisky but could fill in when called upon as well.
That guy is exactly the type of player Foles is. Now at age 31, Foles has had an interesting NFL career where he entered the league as a starter only to be released and traded multiple times before finding his true calling. Although good enough to start, Foles has thrived in the backup role the last few years with Philadelphia before signing with Jacksonville as he was able to come in off the bench and deliver plenty of clutch moments.
This could be the type of competition battle the Bears are looking for. Not only could competition bring out the best in Trubisky, but Foles is used to competition, so a backup role for him is unfamiliar. Given his experience in the league, Foles would be able to sit back and mentor Trubisky daily, while also filling in when needed. We all saw what happened when Trubisky went down last season, so having a capable backup in Foles could be a key asset to this team moving forward.
Ideally, Foles would love to be a starter, and with his 21 plus million in guaranteed salary left on the table, he is certainly getting paid starting money. The only problem is, Foles is a system QB and has only thrived in Philadelphia while fazing out everywhere else. If you were to ask me today, the only way Foles sees the field next season would be as a backup somewhere filling in for an injury.
I certainly look at Chicago being one of those teams in on potentially trading for him, but given their salary cap situation, obtaining his full salary is certainly going to be a challenge. However, the Bears are also faced with some decisions of releasing some of their current players, which could help them add to the cap. Regardless of where this team is now, watch the Foles to Bears rumors once again this spring.