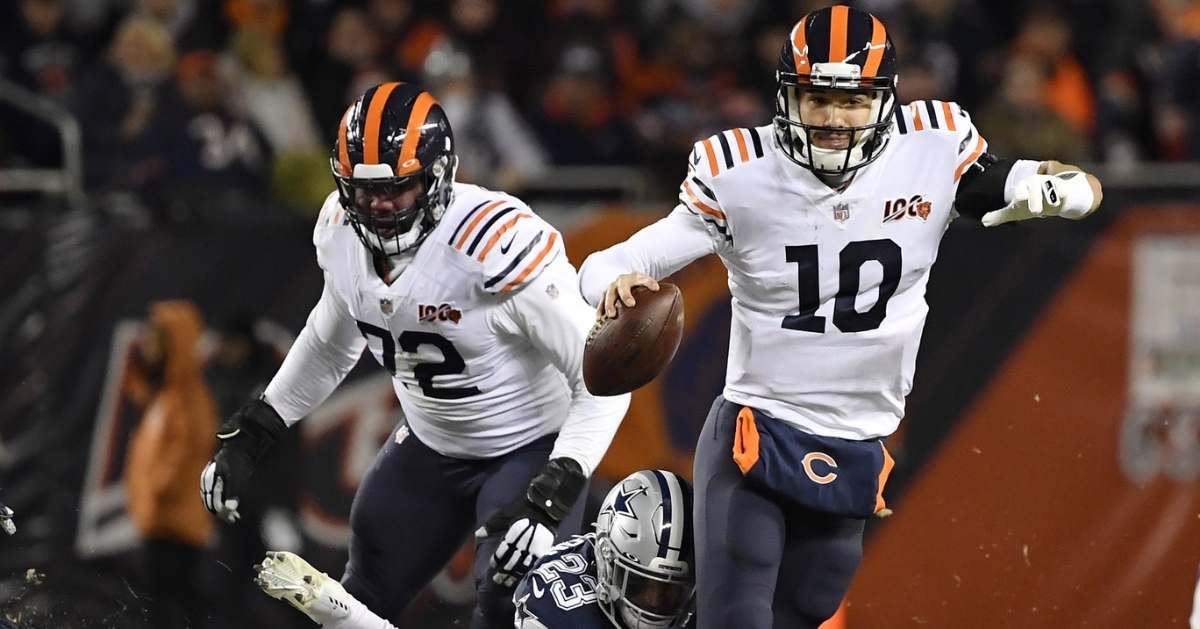 | | |
| --- | --- |
| Commentary: Time for Bears to use Trubisky's athleticism | |
---
| | | |
| --- | --- | --- |
| Tuesday, November 24, 2020, 1:57 PM | | |
While Matt Nagy declines to comment on who his starting QB will be this weekend, it is worth noting that Mitch Trubisky practiced, and Nick Foles didn't. Although it may only be precautionary at this point, and things can change, it does appear that Trubisky may be getting the nod on Sunday.
That will leave a bigger question the rest of the season as to who will be the starter going forward? If you look at it, play aside Mitch Trubisky was 3-0 as a starter this season compared to Foles being 2-5. I understand Chicago doesn't win that game against Atlanta without Foles, but Trubisky has massively outplayed Foles this season and still hit the bench.
What happens if he goes out and beats Green Bay or, at the very worst, the offense looks better this Sunday under him. You would almost have to ride him out the rest of the way, wouldn't you? That seems like the obvious answer, but it has become abundantly clear that Nagy doesn't believe in Trubisky. If he did, Foles wouldn't still be the starter on this team.
I will admit, I have criticized Trubisky as much as anyone, and for the most part, he has brought the criticism on himself. A lot of that may have to do with Nagy and his play calling, but four years into the league and you still can't read a defense is a cause for concern. I will say about him that he can use his legs to make things happen, which is something Foles clearly can't do. Given how much of struggle things have been offensively, Trubisky would at least be able to extend drives with his legs, which could help get the offense going.
At this point, I am not sure who the better quarterback is for this system, but a change does need to be made. Let me propose this idea to all you Bears fans. Should Nagy and the Bears consider diving into the Saints playbook regarding how they use their QBs?
The reason why I bring this up is simple. Granted, the Saints have a ton more weapons offensively than Chicago. Their quarterback situation is similar to the Bears. Drew Brees is nothing but an accurate pocket passer who can't run. If he gets time, he can tear you apart, but he looks mediocre at best if you pressure him. Foles is the same way, but just not at a Brees level. If you give him time, Foles can make all the throws you need him to make. When pressured, you get games like last Monday.
The Saints also have a guy named Taysom Hill, who made his first career start on Sunday. Hill was a quarterback at BYU, known for his running ability. After being drafted by the Packers, Green Bay cut him in the preseason, and he was scooped up by the Saints, where he has been stashed ever since. New Orleans saw value in him as a player and made sure to hang onto him.
Ever since that day, the Saints have used him in a variety of ways. They use him as a runner, a quarterback, and even a receiver. They have specific packages designed for him every game to get him on the field. It makes the Saints' offense more diverse and harder to defend. That is something I would like to see with Trubisky.
I am not proposing that Trubisky go out and catch passes like Hill. What I am suggesting is that Chicago utilizes him more in the offense. Whether that be designed runs, option reads, or specific passing plays, they need to get him in the game for at least 10-15 snaps, if not more. He brings a lot of different things than Foles does to the table but lacks certain intangibles.
At this point, the offense needs to do something, so why not add the element of surprise. I do think Trubisky needs to go back to starting, but if Foles does remain the starter, I am all for a two-quarterback system every game. Use Foles for specific plays and Trubisky for specific plays like how New Orleans uses their QB's.
If it ends up working, then Chicago has something to build on for the future regarding what they want to do with this offense. If it doesn't work, they have both players' performances to evaluate this offseason before deciding what direction to go. Things will get interesting the final month of the season as the Bears have a favorable schedule.
Along with games against Green Bay, the Bears see Houston and Jacksonville and Detroit and Minnesota. Trubisky has never lost to the Lions and has a win against Green Bay. Add in Houston and Jacksonville's records, and there is no reason the Bears shouldn't win four if not five of their last six games. Maybe now is the time to make a switch.