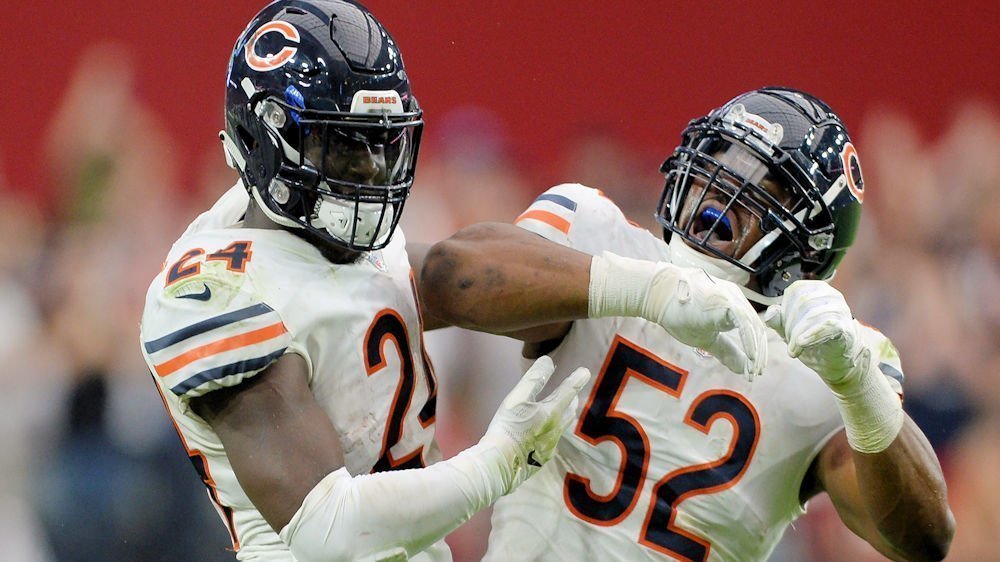 | | |
| --- | --- |
| How close are the Bears to being a Superbowl caliber team? | |
---
Now that the NFL season is officially over (unless you count the XFL), we are officially in the off-season protocol, as every team now can begin to look forward to 2020. Before we get too far, let's congratulate the Kansas City Chiefs on their terrific season and for Andy Reid finally winning the big game to cement his legacy as a hall of fame coach.
As we sat back and watched both the 49ers and Chiefs duke it out last night, it had me taking a hard look at this Bears team as it stands right now and made me ask the question of how far away is the team from being Superbowl contenders?
Except for this season, there has always been a saying that "Offense will win you games, but defense wins championships." In the years past, that was the case where the better defensive team throughout the season managed to hold the Lombardi trophy in the end. Last night, you can say Kansas City was the better defensive team, but that wasn't the case throughout the season as the 49ers were the best defensive team in the postseason this year.
Diving a little deeper into both teams and looking at the state of the Bears roster, I have concluded that Chicago is closer to be a Superbowl contender than what most people would think. For starters, we have a top 10 defense that will continue to carry us most nights. It may not be the prettiest brand of football, but the defense does win championships, and if you have a top defense that keeps you in games, anything is possible down the road. That is undoubtedly something the Bears have going for them, and if you ask me, Mitch Trubisky and Jimmy Garoppolo are not that different at the QB position.
I firmly believe defense is the least of Chicago's worries long term, which leads me to the offensive side of the ball. To get to a Superbowl, you need a leader at the QB position, not just a talented QB. By now, everyone has had their fair share at criticizing Ryan Pace for taking Trubisky over both Patrick Mahomes and Deshaun Watson and rightfully so. Looking at what Watson has done in Houston, and now with Mahomes winning a Superbowl this season and you could see why fans are very irritated with that decision.
Despite both putting up better numbers than Trubisky, fans also forget to realize the systems they plan in and that had either one of these men landed in Chicago, the results would not be the same. I am not going to say Trubisky is better than Watson or Mahomes, because he isn't, but those two play in a system that has been created around them. Had either one of them come to Chicago, not only would they not have the same system, but the weapons around them would be completely different, which means results would not be the same.
I believe if we can tailor the personnel to best suit Trubisky's strength, then he too could become an annual playoff QB that can lead the Bears offense long term. It is about continuity, trust, and execution, which is something Chicago hasn't found just yet.
Perhaps the single most important take away I had from the Superbowl last night was the battle in the trenches. One thing was for sure last night, and that was San Francisco dominated the line of scrimmage early, which is why they led 20-10 with seven minutes to go in the game. Not only were they getting in Mahomes' face and flushing him out of the pocket, but their running game was carving out huge chunks of yardage that Kansas City had trouble containing. That is something the Bears lacked this season consistently. Not only were they not able to dictate the line of scrimmage as consistently as possible, having one of the worst rushing attacks in football didn't make things better as the Bears seemingly seemed lost in the trenches.
While having a solid running game is essential, it isn't as important as being able to keep the defense off-balance. That is precisely what makes both San Francisco and Kansas City so successful offensively. Everyone knows that the 49ers can run the ball, so passing becomes an element of surprise to defenses. Whenever a team sees Jimmy G drop back to hand the ball off, they have no choice but to focus on the backfield. That allows Garoppolo time to survey the defense in which he used play-action more than any other QB this season and had terrific success in doing so.
Mahomes, on the other hand, kills you with his arm, and teams know that. Teams also know that Kansas City doesn't run the ball all that much, but they cannot completely abandon it either. The Chiefs are a pass-first team, but when they do run the ball, they tend to do so effectively as teams don't see it coming. When that happens, you start to see Mahomes use play-action a bit more himself, which makes him even that more dangerous as a QB.
What does this have to do with the Bears' current state, you may ask? Well, for starters, the Bears want to be a run-first team like the 49ERS, but they struggle to run the ball much like the Chiefs. The problem has always been the Bears haven't had good enough play calling to keep teams off balance, which in term makes them look worse than I feel they indeed are. To capitalize on Trubisky and his strengths, the Bears need to stick with the run even if it is not working the way they want it to.
The more they do that, the more they can go with a play-action passing attack, which is when Trubisky is at his best. Being able to keep the defense guessing is a key part of the overall offensive success, and adding a play-action style to Trubisky's arsenal could be a great thing long term. The Bears need to take a long look at both teams in the Superbowl and try to figure out a happy medium for their team. After all, Matt Nagy was calling plays in Kansas City before coming to Chicago, so that shouldn't be a problem for him to put something together.
The Bears have the pieces and the talent to be among the best in the NFC for quite some time should they be able to regroup. From a talent standpoint, yes, Chicago is not as talented as other teams in specific positions, but they do have more depth than most, especially on the defensive side of the ball. Chicago has a championship caliber defense that will continue to shoulder the load. Now it is up to the coaching staff to put something together on offense to allow Trubisky to use his strengths to his advantage, and then maybe Chicago will once again be Superbowl worthy.