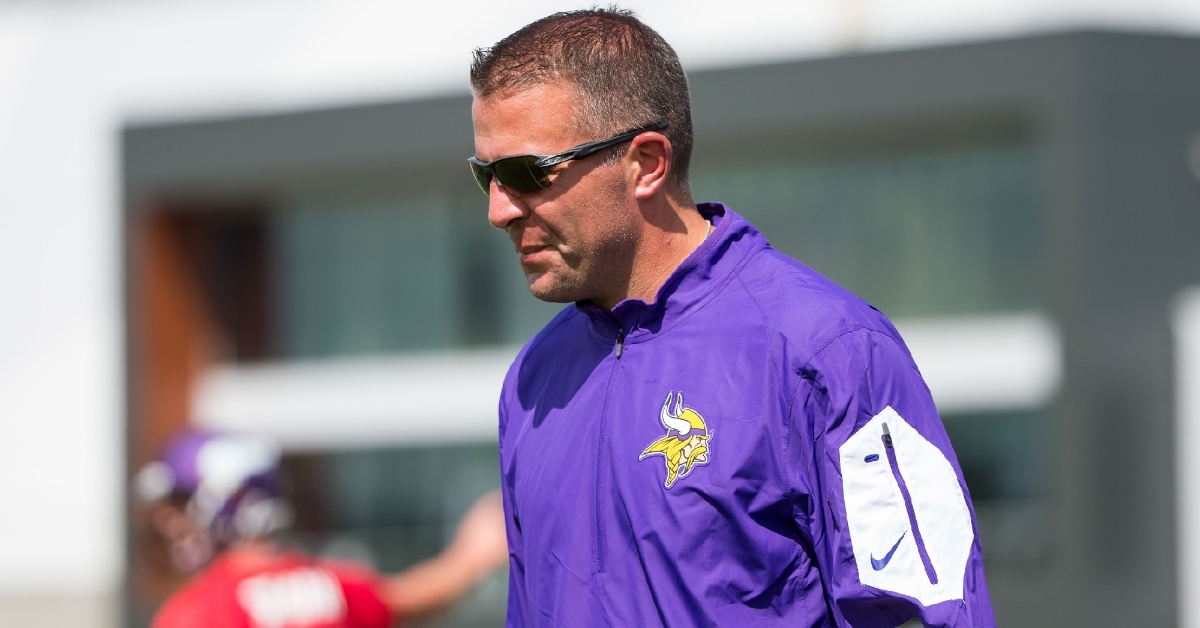 | | |
| --- | --- |
| Bears News: Is John DeFilippo the man to fix Mitch Trubisky? | |
---
| | | |
| --- | --- | --- |
| Friday, January 17, 2020, 9:54 AM | | |
Two offseasons ago, then Philadelphia Eagles quarterback coach John DeFilippo was one of the hottest names on the coaching market in terms of offensive minds. That status wasn't by accident and came with good reason, especially after what he and the Eagles offense accomplished that season.
Not only did Carson Wentz play at an MVP level before going down with an injury late in the year, but the backup Nick Foles stepped and performed just as good if not better in helping lead the Eagles to their first Super Bowl title in franchise history. About a month later, DeFilippo was brought into Minnesota as the Vikings offensive coordinator to replace Pat Shurmur.
Loaded with weapons across the offensive side of the ball, the hope was for DeFilippo to get the most out of Kirk Cousins, who came in as the new QB as well. It appeared from about week five on that DeFilippo was in over his head as the Vikings offense, although good never reached the level they expected to be at. That led to Mike Zimmer firing him with three weeks to go in the season.
Fast forward to this offseason, and DeFilippo found himself as the new offensive play-caller for the Jaguars, a team desperate for some ingenuity. A gutsy move at first appeared to be a match made in heaven as Foles was signed as an FA pairing him with DeFilippo once again. The second time around didn't go so well as DeFilippo was fired again, leaving him jobless at the end of another season.
For the third straight offseason, DeFilippo will be with a new organization as the Bears are bringing him in as the new QB coach for 2020. Is this a good move for Chicago considering the number of struggles he has gone through the past few seasons?
If you ask Chicago, the answer is yes, considering how they interviewed DeFilippo for the head coaching job two seasons ago. There is a relationship here as they have been in close contact in the past. Had DeFilippo been hired as the offensive coordinator, I would have hated the signing, but bringing him in as QB coach makes this a good hire.
Being QB and offensive coordinator are two different things. Given the track record, DeFilippo has at calling plays leads me to believe that is too much of a responsibility for him. Now coaching QB's is a different story as he has proven to be very good at that.
Look at Philadelphia that one season. He took Wentz and turned him into an MVP candidate, and allowed Foles to blossom into one of the hottest free agents who now could be on his way out of Jacksonville. He then goes to Minnesota and helps Cousins have the best season of his career except for interceptions statistically.
And, despite Jacksonville having a horrible go of things this season, DeFilippo helped mold Garret Minshew, who now appears to be the future of that franchise going forward, so working with QB's seems to be his specialty. The Bears are hoping that trend continues this season as this may be the last chance Trubisky has to prove he is worth a franchise opportunity.
Talent-wise, Trubisky, I feel, is much more talented than both Foles and Minshew, but the offense hasn't been tailored around what he does best consistently. Granted DeFilippo will have no say in what plays are called and when he can put Trubisky in the perfect mindset to succeed by working one on one to improve the bad aspects of his game.
Knowing what we know about Trubisky and some of his fundamental flaws, DeFilippo appears to be an even bigger hire than the offensive coordinator, especially when you look at what his former boss Doug Pederson had to say about him regarding Wentz.
"I think you see it in your fundamentals," Pederson said in an interview two years ago. "I think you see it in his attention to detail and when it comes to the progression in his reads. Helping Carson understand this offense and where guys need to be is fully credited to what John has done this season. He keeps it real with Carson by being honest with him and coaching him hard."
That quote right there is everything Trubisky needs in his corner as he looks to continue to develop as a quarterback in this league. He needs someone, to be honest with him about what he is doing well and what he needs to work on. He needs to be coached hard to try and limit the mistakes and reach his full potential. That is something that DeFilippo will bring to the table.
Another vital factor that Flip brings to the table is that he knows the importance of a tight end in an offense. Yes, he may not be the play-caller, but given what he believes about TE's, you could see him have some influence on how the TE position is used next season, ultimately helping Trubisky play better.
The fact that DeFilippo had other jobs out there and yet still chose Chicago proves to me that the Bears are still a desirable destination for offensive-minded coaches. Let's see if he can rediscover his QB teaching magic and turn Trubisky into the franchise man for the next decade.