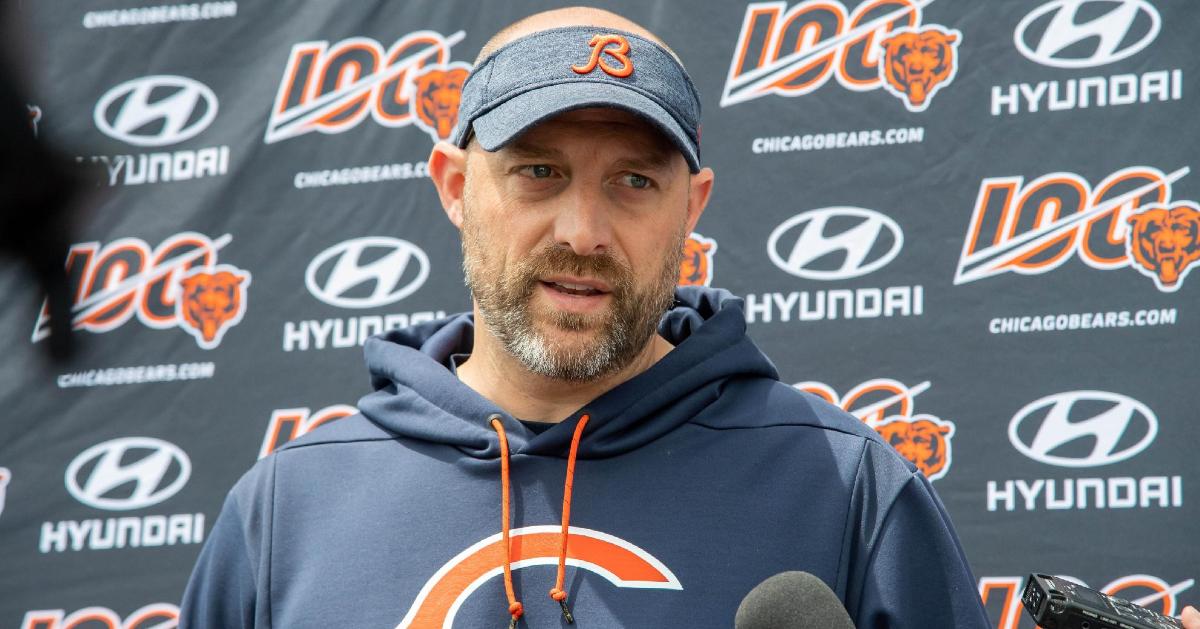 | | |
| --- | --- |
| Bears News: Matt Nagy and company have found their mojo | |
---
All season long, we have been waiting for the Bears offense to come to life as creativity wasn't there. After nearly three months of inconsistencies and struggles, it appears that Matt Nagy and company have found their mojo once again, but let's hope it isn't too late.
Over the past five weeks, Chicago has not only gone 4-1 to climb back into the playoff hunt but have now won three straight to move to 7-6 occupying the eighth seed in the NFC. Although that is not good enough to qualify for the postseason, the Bears are just two games back of both the Rams and the Vikings with three games left, so anything is possible at this point.
Winning is good an all, but it has been the way the Bears have won lately that has me feeling exciting for the final three weeks of the season as their offense seems to be where they expected to be finally. That couldn't have come at a better time given that Chicago closes out the season at GB, home against KC, and At Minnesota, three teams that can put up points at will.
We all know how good the Bears defense can be when everyone is on the same page, but suddenly it looks as if the offense can match the defense as Mitch Trubisky is in the midst of quite possibly his best three-game stretch as a pro. The evidence of that argument has been on full display the past two weeks as he has posted back to back games with a 110-passer rating, three touchdowns, and 70% completion percentage.
Whether Trubisky has finally figured things out or the training wheels have come off, one thing that we can agree on is that the 2018 coach of the year is back to being the offensive mastermind once again. Yes, Trubisky was incredible Thursday night against Dallas, but when he did so in front of a national audience, it made things that much more impressive.
While the numbers continue to be impressive, Trubisky is doing that without a lot of deep throws allowing his receivers to do the work. Not only was he accurate on the throws he made, but he also got rid of the ball quickly, making it easier to find his targets before the defense could get consistent pressure on him. Not to mention, he is back to scrambling, which is a considerable part of his game, and you can see why his play has been so strong over the past month.
It is about time we give credit where credit is due, and Nagy deserves a ton of that credit. Not only has he finally found a game flow that his quarterback is comfortable with, but he is still creative enough in his play-calling to keep defenses off balance. That allows Trubisky not only to be comfortable running the show but will enable him to play with confidence as it appears his training wheels are off, and the sky could be the limit for him.
While Dallas posted a rather strong defense, which Trubisky tore apart, the other wins the Bears have rattled off have come against teams out of playoff contention and posses a bottom-three defense so it shouldn't have been a shock to see Trubisky put up great numbers. The real test for him and Nagy will be the last three weeks of the season as they will face two teams with strong defensive units and three teams that can score points at will, meaning the Bears will have to match them point for point.
For much of this season, we have talked about the offensive struggles being more than just the QB position. There were issues with play-calling, designs, personnel deployment, offensive line execution, and so many other aspects that held the Bears back. With that being said, in recent weeks, we have seen what the Bears offense can look like when everyone is on the same page and do it consistently.
To say the Bears are officially back sounded good to say, although it still may be a little premature to go that far. This three-week stretch to close out the season will be the true test for the Bears, and then we can decide if the Bears are genuinely back. Despite all the struggles the Bears have gone through this season, Nagy has finally appeared to find his groove once again, and Trubisky has tagged along for the Ride. I suppose its better late than never, but let's see if this recent stretch of play can lead him to be the franchise QB we all hope he will be.
Upgrade Your Account
Unlock premium boards and exclusive features (e.g. ad-free) by upgrading your account today.
Upgrade Now