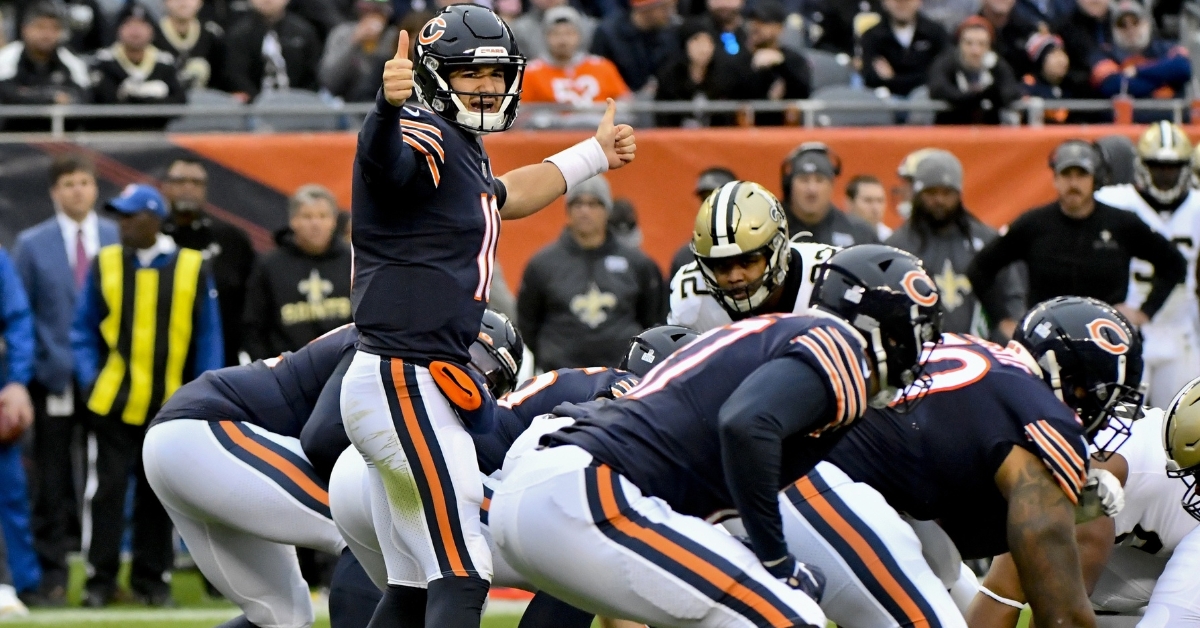 | | |
| --- | --- |
| Bears News: Mitch Trubisky: "We've got to come out with a different attitude" | |
---
| | | |
| --- | --- | --- |
| Tuesday, November 5, 2019, 2:48 PM | | |
For the past nine weeks, well four if you count when Trubisky returned from his shoulder injury, we have been waiting for the QB to emerge as a true leader and take this offense to the potential that we all expected it to be. Whether it is poor coaching, lousy play calls, or just not meeting expectations, the Bears offense continues to be one of the worst in the NFL as the Bears now have more losses than they had all of 2018.
Following another loss on Sunday in which the Bears were down by three scores early, Trubisky didn't hold back his thoughts on the offense as he is finally starting to take some ownership for the team's offensive struggles. After trailing 19-0 in the fourth quarter, the Bears rallied back to make it 19-14 before a Jake Elliot field goal slammed the door shut for the 22-14 win.
"You're proud of the resilience," said Trubisky via ChicagoBears.com's Nathan Smith. "However, at the end of the day, it's still not enough, and we know that because you feel like this afterward."
Not only did Trubisky list off some of the offensive struggles, but his Head Coach Matt Nagy also chimed in with similar responses as to why the offense just can't get going. Chicago has been ineffective on first downs, sometimes even losing yardage on those downs that often leads them to play from behind from the start.
Another glaring issue has been the offensive lines inconsistency of protecting their QB, which the Philadelphia defensive front fully exposed on Sunday. All game long, Jim Schwartz dialed up different blitz packages that kept Trubisky under pressure for the entire 60 minutes. By doing that, the Eagles dared him to beat them with his arm, and that quite frankly is something he has not been able to do in his three years under center. With the game now in the rearview, Trubisky felt that maybe he could have done a better job with the opportunities he did have during the game.
"For the times when I did have vision," said Trubisky, "I feel like I could have maybe put it in a different spot than what I did. When you have a rush like that, you've just got to get the ball out quick, and you've got to be able to beat man coverage. I think we could all be better in different areas. I'm just going to look at myself to see where I could put the ball in different places on film and come back and try to improve."
Throughout the week of preparation, Nagy took a different approach to get his quarterback ready for the Eagles. Instead of watching a lot of film on Philly, Nagy wanted Trubisky to rewatch the televised game from his performance against the Chargers the week before, hoping to make the third-year man understand his body language on the field. Even with little going right against the Eagles, Nagy was proud of how Trubisky kept his emotions in check throughout.
"I thought he controlled himself really well," said Nagy. "I was proud of him for that. It's not easy in those elements to do that, and when there is a bunch of three-and-outs, but he was great on the sideline. He was really good with our quarterback coach, and that part was good to see."
Part of the reason for the Bears falling behind by three scores was their inability to win one on one matchups when given the opportunity. Not only was Trubisky inaccurate during those occasions, but failing to record a single first down in the team's first five possessions was the biggest reason the Bears dug themselves another hole.
"We just got to come out better," said Trubisky. "We've got to come out faster. We've got to come out with a different attitude, kind of like we did in the second half, with a little chip on our shoulder. I think if we start the game like that, we give ourselves a better chance. Right now, we're not giving ourselves a chance, starting like that."
For Chicago, it is another week of getting back to the basics as a huge divisional game with Detroit is on the horizon.