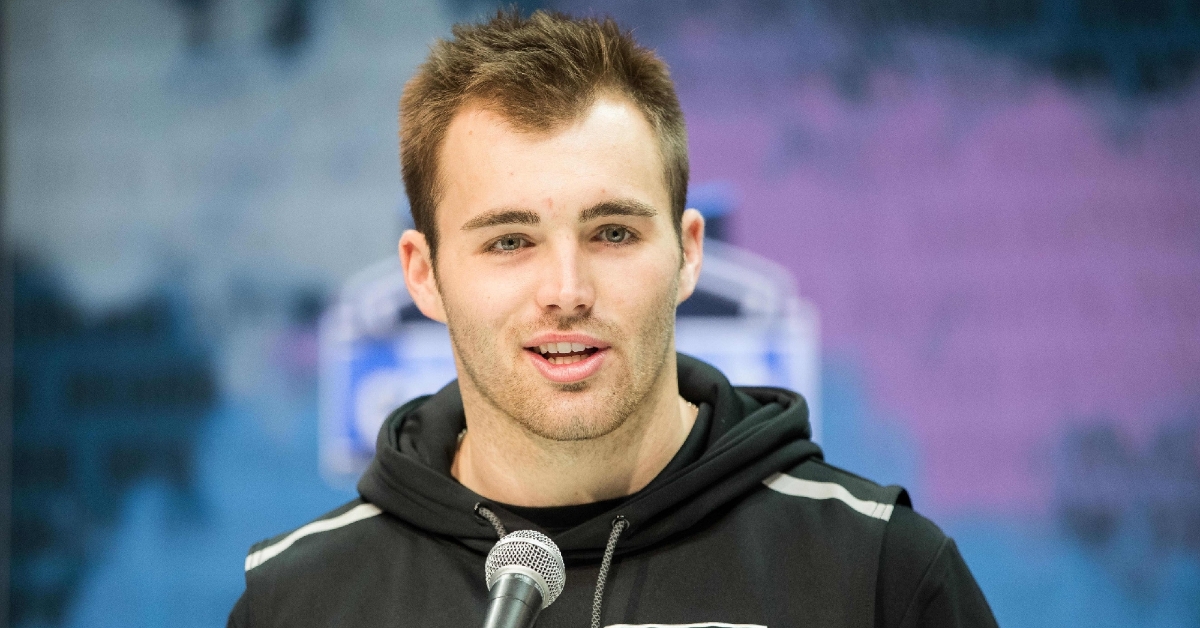 | | |
| --- | --- |
| NFL 2020 prospect profile: Jake Fromm | |
---
As we gear up for the draft in two weeks, look for the Bears to start conducting their video interviews as that is the way things must be done right now. With every team allowed 30 video interviews, the Bears have only used three of those up, so expect more to follow.
We have already seen many mock drafts over the past month that have the Bears focusing on secondary help and OL help with their first two selections. While that may be plausible and the best possible route to go, Chicago also has other holes to fill that they need to focus on long term. One of those holes could be the Quarterback position, which is where we shift our focus to today.
Despite trading for Nick Foles this offseason to pair him with Mitch Trubisky, not many people believe either one of them is the answer moving forward long term. That leads me to think the Bears could be in the market for a QB in this year's draft. While the draft will be top-heavy with a few QB prospects, you should be able to find a reliable option in day two, and three and Jake Fromm could be available.
In case you are unfamiliar with Fromm, make sure you turn on Netflix and watch the first season of the show 'QB 1'. That show takes you back to the high school days of some of the nation's top prospects in which Fromm was a feature in for the first season. A Georgia native, Fromm played his high school ball for the Houston County Bears, setting all kinds of game and single-season records during his time there. He then committed to the University of Georgia, where he put together a solid career for the Bulldogs before entering the draft this season.
While every draft is essential, this may be the most important one of Ryan Pace's tenure as he needs to fill as many holes possible for both the long- and short-term game with very little money to work with. After simply failing in 2019, the Bears must make significant changes at a lot of positions, and QB is certainly one of them, especially if Foles and Trubisky don't pan out this season.
Fromm has all the measurables you look for in a top QB, standing 6-2 and weighing 219 pounds. He is coming off a senior season in which his 60.8% completion percentage was low for him, but he still threw for 2860 yards, 24 touchdowns to just five interceptions in 14 games. For his career, Fromm started 43 games, completing over 63% of his passes. He threw for 8236 yards, 78 touchdowns, and 18 interceptions all for a national contending team.
Fromm also went on to add numerous awards his freshman season for the Bulldogs, before ending his career as a third-team All-SEC this season. Fromm not only has the starting experience that some QB's in this draft don't have, but he has also played in big games his entire career putting up great numbers in the process.
According to draft experts, Fromm is listed as the fifth-best QB in this class, which lands him in the second round on most draft boards. He does have previous connections with the Bears, as they met with him at the scouting combine back in February. Landing him may seem like a dream, especially when some people compare him to Brett Favre and Aaron Rodgers when they talk about his arm strength. The problem is he is nowhere near as accurate as those two, which makes him less likely to be an immediate starter.
Why I think Fromm makes an ideal fit for the Bears is quite simple. They have a QB in Trubisky who hasn't shown much to prove he is the franchise QB the Bears expected and is in the final year of his deal. They also have Foles, who is in his 30's and can opt-out following this season. Both are short term answers for this season, but the Bears don't have that long-term answer under center as of now.
That is why Chicago strongly should consider going with Fromm in the second round should he fall to 43, let alone 50. Given what he did in his three years in Athens, it is easy to see why the Bears would love Fromm as he not only showed toughness but showed the ability to process the game in front of him, all while making minimal mistakes. He also got the ball into his playmakers' hands early and often, which is vital given his lack of athleticism on the field.
NFL Insider called Fromm a supped-up version of Chase Daniel ahead of the scouting combine who could be a functional starter in this league given the right situation. They may not be what the Bears want to hear when it comes to finding a franchise QB, but should Fromm be in a system that fits him, he could have success.
As things stand now, should the Bears draft Fromm, he would be nothing more than a developmental project that would serve as the third QB this season. That may not be a bad thing as he could sit and learn behind two men who have been there before, including one who was a fifth-round pick and later went on to win a Super Bowl.
I see Fromm as a great backup, with a chance to become a starter given the right system. If that doesn't sound familiar, that is like what I view Foles as to this point in his career. Looking at Foles numbers, he has been nothing more than a backup in most places he has played. However, when put in the right system in Philadelphia, we saw what he could do. If the Bears do draft Fromm, you can bet Matt Nagy would do whatever he could to design the offense around Fromm with hopes he would be their long-term answer under center.