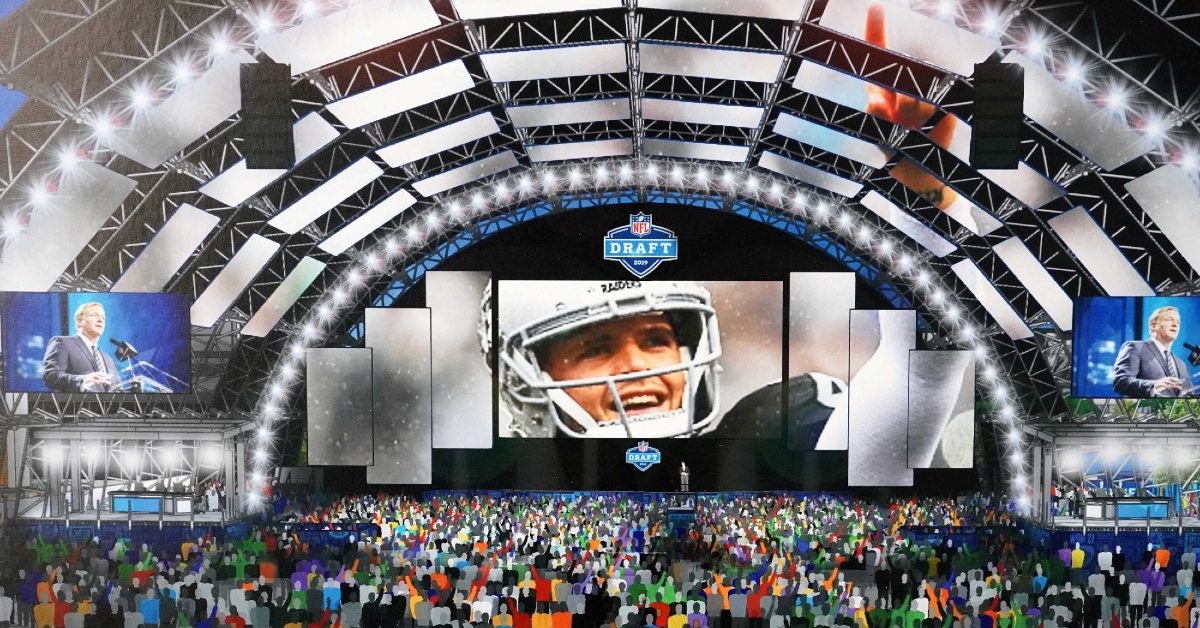 | | |
| --- | --- |
| NFL to hold "fully virtual" 2020 draft because of COVID-19 | |
---
| | | |
| --- | --- | --- |
| Tuesday, April 7, 2020, 9:10 AM | | |
While the entire world of sports has seen various cancellations and postponements to stop the spread of COVID-19 and flatten the curve of individuals being diagnosed and potentially killed from the virus, the world of football has not stopped.
The sport that had most recently concluded their season, football has kept a pretty consistent schedule throughout this offseason. Free agency began on time, with various big names switching teams and some of the league's best players still on the market. The NFL combine came and went, different schools had their pro-days, and NFL commissioner Roger Goodell announced in a memo sent out to all 32 teams that the NFL draft will be on schedule, which is set to take place in just a few short weeks.
However, the draft can not be done in person, in front of fans, with hundreds of prospects, scouts, and front office personal all at a central location due to the evident and on-going Coronavirus concerns. Instead, the NFL commissioner announced the draft would be done virtually.
Teams will be making their decisions likely on some type of conference call with other members of the clouting and front office teams. The commissioner will be notified of those decisions and have to announce that to the rest of the league. The players will get some of the best news of their lives in a less than normal way. Oh, and NFL Network has to find a way for us, the viewers, to get all of that on a central program so the fans, the rest of the media and anybody else who would like to know what team Joe Burrow will play for whenever play resumes can find out.
For the Bears, that means drafting in the second round twice, fourth round, fifth round, and twice in both the sixth and seventh-round from their homes.
For the rest of the league, it merely means making franchise-altering decisions from a remote location, virtually.
It will be up to scouting teams and front offices to conduct pre-draft interviews virtually with numerous prospects, watch countless hours of film, weigh options and come to collective decisions while not ever coming in contact with one another.
It may not be the most ideal of circumstances, but the NFL doing the draft on time does three things. First of all, it keeps the NFL on schedule should the tides turn, and activities are safe to resume. Second of all, this gives fans who have been deprived of sports and are in search of something to take them out of their misery, something to look forward to, watch, and be entertained by. Finally, it gives hope in a time where hope is absolutely necessary.
As for what comes next after the draft, things are a little more uncertain. The NFL and its facilities have been shit downs since March 26th and will remain shut down for the foreseeable future. This potentially puts a damper on summer workouts, OTAs, training camp and the first chance a lot of these rookies will have to get to know their teammates and how to play with them — but those are all worries, issues, and questions that come with operating during some of the most troublesome, uncertain and tragic circumstances in recent memory.
All you can focus on is the present, and for all of those around the NFL — that means the NFL draft from April 23-25th.
The Bears have one of their most crucial drafts in years. A window seems to be closing on an all-time type defense, a quarterback situation is foggy, and the Bears only have one proven player at an offensive skill-position. The Bears have holes on the offensive line and receiver positions. The Bears lack depth in the backfield and do not have a long term answer under center. So it will be up to Ryan Pace and company to produce picks that deliver on Sundays, and their jobs may depend on it.
No pressure… oh… and you have to do it from your couch.
Whether the Bears look to upgrade the offensive line, trade picks, draft a wide receiver, add another quarterback to the mix or continue to bolster one of the league's best defenses remains to be seen. Still, the Bears are being counted on to make those crucial decisions from their homes and to make those decisions correctly.
There hasn't been much to write about, so this is definitely a plus. While it may not be ideal, it's sports news, its exciting and its happening — and that's more than we have been able to say in a while.
The NFL is preparing for a "fully virtual" 2020 @NFLDraft.@Rapsheet and @MikeGarafolo have the latest details ?? pic.twitter.com/LUmShYpuxL

— NFL Network (@nflnetwork) April 7, 2020