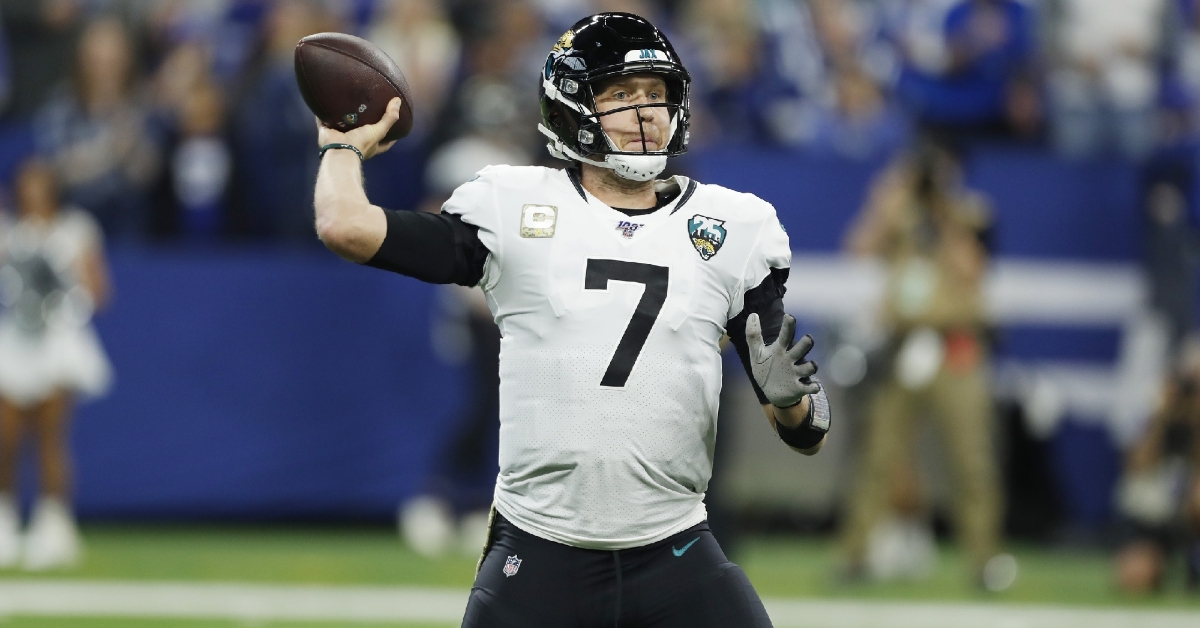 | | |
| --- | --- |
| Should Nick Foles be on the Bears radar? | |
---
Say what you want about the recent play from Mitch Trubisky as he is a big reason as to why the Bears offense has gotten on track the past two games. Even with his better and more consistent play, there is still plenty of question marks surrounding him as to whether he can continue this long term.
As the Bears continue to battle for a playoff spot, they are also starting to look toward the future and see if Trubisky is the man for them beyond 2019. That question may get a whole lot more interesting this offseason as Nick Foles has been benched once again by Jacksonville, leading to rumors about the Bears possibly pursuing him this offseason.
Foles journey in the NFL has not been an easy one as he somehow has a Superbowl ring under his belt. After being drafted by the Rams in the fifth round of the 2012 NFL draft, Foles never got anything going as he was then traded to Philadelphia. Once he arrived in Philly, Foles put together a solid season under then head coach Chip Kelly before being dealt away the following season.
After fizzling out once again, Foles then returned to Philly, where he filled in for the often-injured Carson Wentz during both the 2017 and 18 seasons, leading the Eagles to the Superbowl title in February of 2018 before knocking off the bears last season in the playoffs. That strong two-year run earned him a massive payday in Jacksonville this season where the Jaguars where hoping they found their franchise QB to take them over the top.
However, it may have been another QB that the Jags want to invest in long term as Foles missed the first half of the season with a broken collarbone and will now be benched the rest of the way leaving his future in jeopardy. This shouldn't come as a surprise if you look at his numbers as his production has gotten worse each game since coming back from his injury. Granted, it has been only a small sample size this season, but it appears the Jaguars have seen enough of him this year.
With him now being benched, we should keep tabs on the Jaguars moving forward. More importantly, we should be keeping an eye on Foles to see what happens to his 88-million-dollar contract. If you have forgotten, it wasn't that long ago that Foles and the Bears were rumored to have mutual interests in one another as in-season trade candidate. Although the deadline passed, those rumors never went away as many on the outside speculated that the Bears would replace Trubisky down the line.
Now that it appears Foles is officially done in Jacksonville, it will be interesting to see if the Bears entertain the idea of bringing him into Chicago. I don't expect Foles to be the savior for the Bears QB problems, but I like the idea of bringing him in as a seasoned veteran to not only back up Trubisky but to mentor him moving forward. Not to mention, he has the experience to fill in long term should Trubisky go down with an injury.
The biggest problem with the Bears or anyone acquiring Foles in a deal would be the length of the contract as they would be on the hook for what is remaining on his four-year 88-million-dollar deal. That would be utterly expensive to pay a backup near 17 million a season next year. The only way the Bears ideally could make this work is if they can convince him to restructure his contract, but why would Foles do that knowing he has guaranteed money coming his way regardless.
That will be something Jacksonville needs to figure out next season. Should the Jaguars commit to Gardner Minshew beyond this season, the Bears could conceivably be a team that could acquire Foles in a trade if the market bottoms out. With his recent troubles being what they are, I suppose the possible asking price could be less this coming offseason than what it was leading up to the 2019 NFL trade deadline.
Even with his recent struggles, Foles has proven time and again that he not only is an excellent backup in this league but given the right system can lead teams to the promise land. That alone may keep his asking price higher than it should because Superbowl experience is hard to find when searching for a QB.