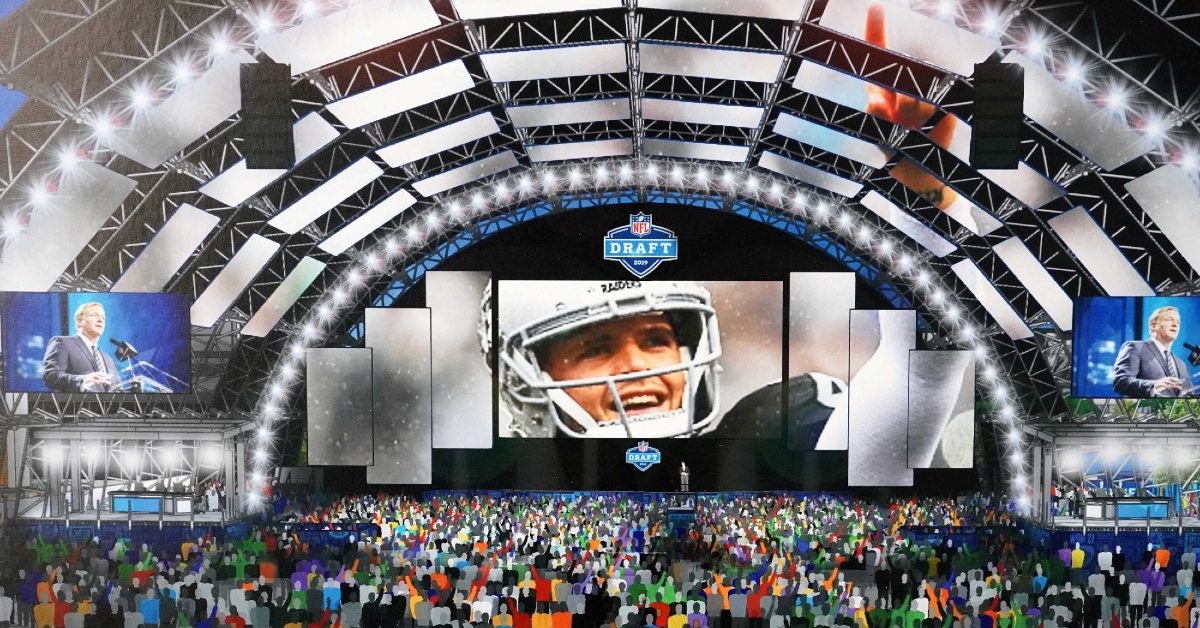 | | |
| --- | --- |
| Steelers GM proposes 10 rounds for 2020 NFL draft | |
---
| | | |
| --- | --- | --- |
| Thursday, April 9, 2020, 9:15 AM | | |
While we all know the draft will be taking place on time, as of right now, that doesn't mean things won't feel different this season. With no fans in attendance and the draft being conducted completely virtual this year, you would think that a seven-round draft could be taken care of in just one day instead of the usual weekend.
With no people in attendance, no prospects in the green room, no War Rooms, no on-air staff, and no interviews, an entirely electronic draft is going to be not only challenging but weird for those involved. To work on those challenges, the NFL is going to be doing a few practice runs over the next week or so to gives teams as much experience as they can with this hopefully once in our lifetime experiment that will not happen again.
They always say practice makes perfect, and while that may be true doing an entire draft electronically though one 32 team conference call is going to be not only confusing but difficult also. With how many challenges the NFL is facing right now to be the first sport to continue the year as planned, the Steelers GM, Kevin Colbert, has taken it upon himself with a proposal that he thinks should be added to this year's draft.
That proposal happens to be adding three more rounds to the draft this season, making it ten rounds instead of seven. While this sounds like a good idea on paper, as a minimum 66 more picks would be added, how would you go about putting those final three rounds in order, and what would it mean for the Bears? Could they get one pick in each of those rounds, or would they be more compensatory rounds where not everyone picks? At this point, it is unclear how serious the NFL is about this proposal, but Colbert is certainly doing his part to push it through.
While Colbert has taken up his proposal for ten rounds instead of seven in this year's draft, it seems unlikely that anything will come from it, but it is certainly worth talking about. After all, the seven-round format has been in place since 1994 when it went from eight rounds to the current seven. Maybe change is a good thing, especially with the COVID 19 situation, a 17 game season, and more playoff teams added to the postseason.
It isn't like a 10 round draft would be something new to the NFL as they used to have a 12 round draft format, but that hasn't happened since 1992. Even though that was nearly 30 years ago, the NFL did have double-digit draft rounds in the past and could go back to that format if they see fit given some of the changes on the new NFL CBA.
The reason for this proposal is not to add more players to the league, even though adding more picks does, but instead, the idea is more to offset the current restrictions the league has in place to give teams the best advantages possible to make their rosters better. Right now, teams can only interview prospects over the phone. No pro days, in-person meetings, or anything of that sort is allowed, which could make it hard for certain teams to get a real feel on a prospect.
You can only learn so much from interviewing a person over the phone, internet compared to interviewing them in person. At least when interviewing them in person, you could ask them to perform basic drills for you. Film is always used when scouting players, but again you can only learn so much from film as the pro days are often the best times you get to see the true capabilities of a prospect. That is why I think adding three more rounds is being tossed up. It allows teams to maybe pick someone that would be passed up on in the standard seven-round format because they didn't have a way to showcase their stuff this season. Although rare, it does happen when late-round picks become stars.
I don't see how adding more draft rounds will help teams cope with the COVID 19 curveball, but I do see how it could help when teams put together their 90-man preseason rosters. Using the Bears as our obvious example, adding three more rounds would mean three more picks for the Bears to add to their roster. In return, that means less money used on free agency to fill those remaining roster spots, which helps the salary cap numbers during the regular season.
Also, by adding draft picks to help your 90-man roster, teams will then have potentially an easier time adding people to their respective practice squads because more players will be under contract during the season. As I said, it may be a long shot at this point, but something that could be looked into for sure.
As this proposal is just in the initial stages, I am on the fence about it because I am not sure how it will work in everyone's favor. However, I am certainly not against it because as bad as Ryan Pace has been with some of his picks, he has done a good job of bringing in underrated free agents. What leads me to be against it, while that is a small competitive advantage that Pace has had over the years, adding three more rounds would give more teams that same ability eliminated the competitive edge Pace has built up in that area.
With the Draft two weeks from today, no official word has been made if the NFL will even consider this proposal. It is worth thinking about, though.