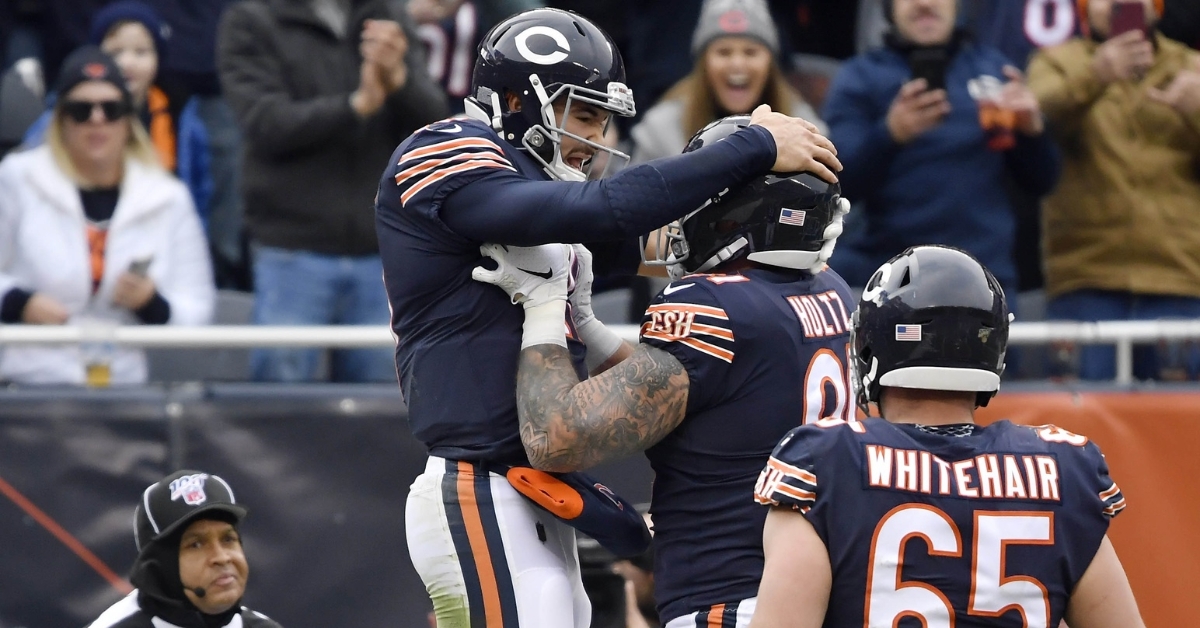 | | |
| --- | --- |
| The QB competition is heating up for Bears | |
---
As training camp continues, the competition is heating up as several key positions are up for grabs. One of those positions happens to be the quarterback spot as both Mitch Trubisky, and Nick Foles appear to be even at this point. While most of the media thinks it is still Trubisky's job to lose, Matt Nagy has gone on record to say it is an open competition that is far from decided. What else is he supposed to say?
The way I see the quarterback position shaping up is what the Bears feel comfortable doing on offense. The question is, do they want a point guard running the offense or a playmaker? If they want a playmaker, then Trubisky is the right choice to take the ball under center.
Sure, his decision making hasn't been the greatest through his first three seasons, but the physical tools are there to become something special. He possesses a big arm that is often accurate enough to get the job done, but his legs are a huge part of his game. When he can get out of the pocket and make things happen with his legs, the Bears offense appears to be best, by keeping the defense on their toes.
Given the weapons, Chicago has assembled on offense, the Bears have the potential to be a big-play type of attack which falls on the shoulders of the quarterback. To be that big-play offense that you expect to be, you need a playmaker under center. Trubisky is the playmaker who can make things happen in a variety of ways. If he can cut down on his mistakes, then Chicago will be in good hands not only this season but beyond.
While I would love for the Bears to take that next step as an offense and become explosive, the truth is this team is still all about defense. That will be their calling card, and they will continue to lean on that side of the ball. With that being said, should they continue to rely on their defense, Chicago may only need a game manager type of quarterback, which is where Foles becomes the best fit.
Foles has had an interesting journey in the NFL getting drafted by the Philadelphia Eagles and putting up impressive numbers for Chip Kelly before getting traded to the Rams. Once he arrived there, his play began to go south, eventually losing his job to Case Keenum. Foles then returned to Philadelphia and looked like the quarterback they drafted in years prior, leading the Eagles to a Super Bowl title.
That two-year run of strong play allowed him to sign a massive contract with Jacksonville, where once again, injuries and poor play had him looking for a job. Enter Chicago and his hopes to be their starter. Foles has displayed the ability not only to win games but win big games when counted on. While he doesn't have the arm or playmaking ability of Trubisky, Foles is a bit more accurate with the football and knows how to win games.
It all comes down to the system for Foles, as I feel he is a system quarterback more than anything. There is a reason he was successful with the Eagles and nowhere else, and that is because it was the perfect system for him. Foles, to me, is like a point guard in basketball who needs the ideal system to be successful.
He is a game manager who can make the throws you expect him to make but knows his limitations as a player. He has a high football IQ and knows what it takes to win games in crucial situations. Foles also knows what a specific offense is designed to do and will do whatever it takes to play within that system.
This is the biggest question that Chicago must answer before week one of the NFL season. They have several position battles up for grabs, but none are as important as the quarterback position. Although it appears like both candidates are even right now, Nagy must have an idea of what he wants to do this season.
Even if one performs better than the other, it may not necessarily mean they will be the starter out of camp. The thing we need to look for going forward is what type of offense the Bears want to run. Should this be a run-first type of team as we expect it to be, then Foles I think is the better choice as he can play within that system.
Should Chicago go more to a pass-first approach, look for Trubisky to get the early nod as we have seen his arm on full display. Whatever choice the Bears make before week one, doesn't mean it will ultimately be the final decision by seasons end. We hope to know more in the coming weeks as Nagy may keep things quiet until the last minute.