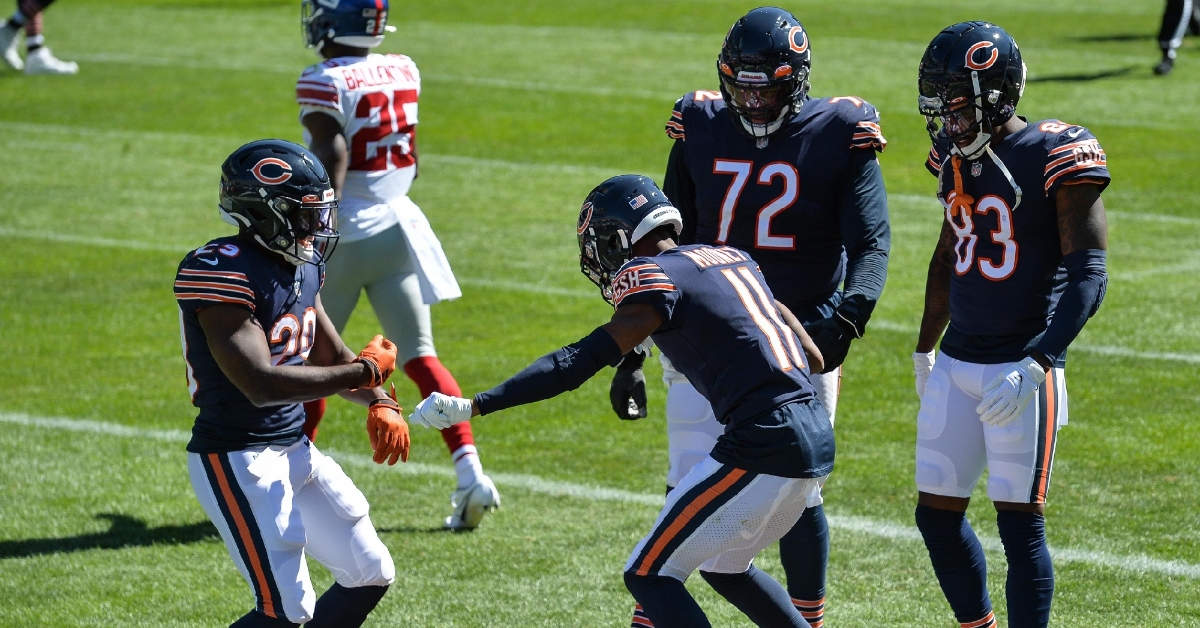 | | |
| --- | --- |
| Three Takeaways from Bears win over Giants | |
---
| | | |
| --- | --- | --- |
| Monday, September 21, 2020, 10:01 AM | | |
For the first time in quite a while, the Chicago Bears are 2-0, and it looks to be a two-team race in the NFC North. However, the Bears still have a lot of work to do as their game Sunday was not pretty. That makes two weeks in a row where the Bears were able to win, but it almost feels as if they didn't win the game but rather their opponents lost the game.
Last week it was a dropped touchdown, and this week it was an offensive pass interference. Had both those things went the other way and not in the Bears favor, this team would be sitting at 0-2 and not 2-0, and we would be having an entirely different conversation. Chicago is proving they can win ugly, but they need to do better to be considered a contender this year.
Here are some observations I took away from the game.
A win is a win: This was a game that I thought the Bears should dominate start to finish. Not only was this game at home, but you had a Giants team reeling with injuries and then losing Sequon Barkley early in the first half, making it that much more challenging for them. Chicago had the makings to blow the doors off this one.
It looked as if they were about to do that holding a 17-0 lead at one point, but that would be all they could do offensively as the Giants clawed their way back into the game. Once again, it came down to the final drive, where Chicago managed to pick up the win with a bit of help. Yes, the win was ugly, but this was one of those games that the Bears needed to win. This was a team the Bears should beat, and regardless of the play. A win is a win in the National Football League.
Headed to #ClubDub 2-0! ??@BoJack39 | #NYGvsCHI pic.twitter.com/oN85opNljw

— Chicago Bears (@ChicagoBears) September 20, 2020
The not so good Trubisky: The Chicago world raved about Trubisky after week one, mainly because of his fourth-quarter performance. What they didn't talk about was how he looked through three quarters against Detroit. Sunday, Trubisky didn't play to his potential once again, throwing for just 190 yards and two interceptions.
Yes, he did throw for two scores again, but for the most part, Trubisky struggled against a defense he should have had a monster day against. This is what stresses me out the most with Trubisky. Just when you think he is about to turn the corner coming off a huge week, he takes a step back and plays at an unsatisfactory level. Chicago needs more consistency out of that position if they intend to challenge Green Bay for the division title this season.
TD PASSES THROUGH WEEK 2

Mitch Trubisky: 6*
Pat Mahomes: 5
Deshaun Watson: 2

*5 officially but Anthony Miller dropped one#FACTSONLY pic.twitter.com/dMzz2AMzLK

— Tom Fornelli (@TomFornelli) September 21, 2020
Getting Robert Quinn back was huge: The first week of the season, we saw what the Bears defense looks like when they can't generate a consistent pass rush. Against the Giants, not only did they get more pressure, but Robert Quinn made his presence felt by picking up one sack. That was his only tackle of the day, but it is a testament to what he can do with more playing time.
All offseason long, I have been excited about the Quinn signing for a couple of reasons. The apparent reason that comes to mind is his ability to get after the quarterback. Over the past five seasons, Quinn has been one of the better pass rushers in the game, adding that to an already tough Bears defense. The more pressure they generate, the more turnovers they force, which is always a plus for them.
Robert Quinn waited about a second to make his presence felt & @FiftyDeuce is there to scoop it up because of course.

??: CBS#NYGvsCHI | #DaBears pic.twitter.com/wY42QHlunA

— Chicago Bears (@ChicagoBears) September 20, 2020
The second reason why the Quinn signing intrigued me was the ability to free up Khalil Mack. When Mack was here in 2018, he was a complete force on defense. Yes, he was solid in 2019, but he was not as productive as teams were able to double and triple-team him as the Bears had no real secondary pass-rushing threat.
That is where Quinn comes in handy. He is similar to Mack just not at the level Mack provides. Both get after the quarterback and have the potential to take over a game defensively. If both of them are on the field playing a majority of the snaps, teams must account for both, which will never be easy. For the Bears defense to take that next step and become the unit they expect to be, Quinn needs to be on the field helping Mack as much as possible.