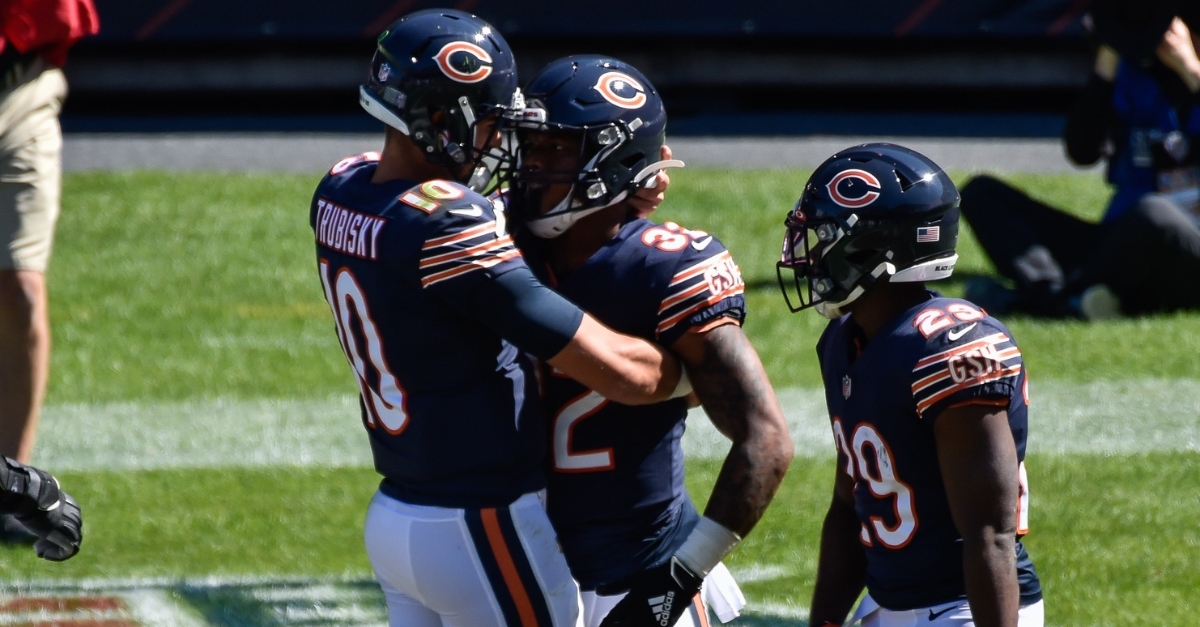 | | |
| --- | --- |
| Three Things to watch, Prediction: Bears-Texans | |
---
The Chicago Bears are in the regular season's stretch run as there are just four weeks left to go. Sitting at 5-7 through the first three quarters, and the Bears playoff hopes are quickly fading away as this team hasn't done anything to help themselves in recent weeks.
On paper, this should be one of those games where the Bears come in and take care of business with the hopes of strengthening their playoff position. Giving that the teams ahead of them in Detroit and Minnesota both play Green Bay and Tampa Bay, respectively, the Bears do have a real opportunity to pass up one of those teams and keep fighting.
Should Chicago lose this week to Houston, their season is all but over as eight wins probably don't get you into the postseason. With how things have gone this season, there is always a chance, but the Bears would instead earn the postseason on their own over backing in. Here are three things to look for in week 14.
Deshaun Watson continues to impress: Much like Mitch Trubisky, DeShaun Watson is in his fourth season in the league and is one of the top quarterbacks in the game. Granted, Trubisky has more wins than Watson as a starter and has made the postseason himself; the numbers and overall success isn't close as Watson is the better player.
Taken 10 picks after Trubisky in the 2017 draft, Watson has expressed his displeasure with the Bears about how things were handled. Not only did he not receive a single interview from the team, but he wanted to join this organization come draft night. The Bears felt differently and went with a guy who most fans thought was unproven.
Mitchell Trubisky said he's happy for Patrick Mahomes and Deshaun Watson.

As for the narratives, Trubisky said: "We were picked where we were. It's up to us to make the most of our opportunities. They've done a great job with theirs. I'm still trying to write my story here. "

— Chris Emma (@CEmma670) December 9, 2020
Watson now has an opportunity to use this game as motivation and play with a chip on his shoulder. He is the one with a big contract, not Trubisky. He is the one who will be back next season, and he is the one who has the tools to show the Bears what they missed out on. Watson could be on the verge of a big week this week.
List of QBs with these numbers in their first 50 games:

Deshaun Watson

That's it. That's the list.@CDWCorp | #WeAreTexans pic.twitter.com/gkAVOy076y

— Houston Texans (@HoustonTexans) December 10, 2020
How do the Bears respond from week 13: Chicago has been on the wrong side of a lot of losses this season, but none were as painful as last week's loss to Detroit? For the first time in nearly two months, both the offense and defense put together what looked like a complete game and built a 10-point lead with less than six minutes to go.
From that point on, it was all Detroit as their offense was able to tear apart the Bears defense while a strip-sack on Trubisky proved to be the game-changing play. The Bears then drove down the field only to come up short on fourth down. A loss like that can linger for a long time and often stick in the heads of an entire team to the point where they play with no confidence.
This team is lacking enough confidence that anything added to it will not be a good thing. Chicago needs to forget about that loss and come out playing with their own chip on their shoulder to get the job done.
Win or Go Home: This should have been the Bears mindset for weeks now, but it certainly needs to be this week. Chicago should be in playoff mode from here on out as one loss seemingly ends any postseason hopes. A win keeps them alive for another week, so it is win or go home time in Chicago.
After many players began calling Matt Nagy out following last week's loss, it will be interesting to see how those same players and the team, for that matter, respond this week. There has been turmoil off and on with this team since about week 8, but nothing to the level it is at now. I get the sense that this team no longer backs their coach, but do they care enough to win for themselves and the fans?
Prediction: Last week, I expected the Bears to come out and take care of business, and for the most part, they did until late. Trubisky played well as he always does against Detroit, but the defense was a massive disappointment for the second straight week. This week, the Bears are in for another intriguing test as the Texans are one of those teams that scare me.
If you look at their record, you would think this is an easy win, but Houston does have a ton of talent. They had the toughest schedule of any team through the first six weeks of the season and have gone 4-4 since their rough start, so they are playing better. They have a great Quarterback in Watson and several playmakers on both sides of the ball.
Not having Will Fuller certainly hurts the passing game, but Houston still has Randell Cobb and Brandon Cooks, among others, with Kenny Stills no longer on the team. Houston also has both Duke and David Johnson in the backfield, and both running backs can make plays happen. Watson seems to be on a mission this week, and that is a problem as the Bears can't outscore Houston. I am going with the Texans this week, 31-24.