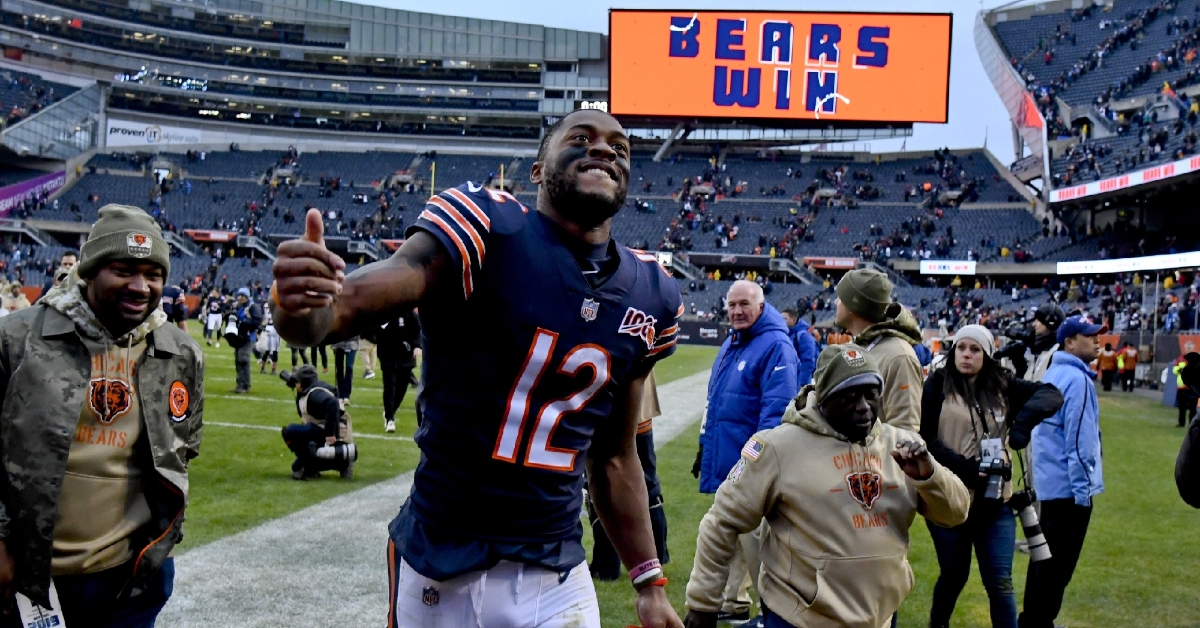 | | |
| --- | --- |
| Bears News: What to make of the Allen Robinson situation? | |
---
| | | |
| --- | --- | --- |
| Wednesday, September 16, 2020, 11:19 AM | | |
Ever since Brandon Marshall and Alshon Jeffrey departed from Chicago, the Bears have been looking for a true No. 1 to lead their receiving core. They thought they had that solution when they drafted Kevin White, but injuries kept him from producing on the field, forcing the Bears to go in a different direction. Then came the 2018 offseason where the Bears elected to bring in former Jacksonville Jaguars receiver Allen Robinson.
The former pro-bowler signed a three-year deal with the Bears, and since his arrival, he has proven to be the No.1 receiver the Bears have been searching for. Robinson has always had a knack to be a great receiver, which was evident by his 1400-yard 14 touchdown pro bowl season in 2015. Since coming to the Windy City, not only has Robinson showed he could be a real no. 1, but he has proven to play at a pro bowl level once again.
After an injury-shortened season held him to 754 yards in his first season with the Bears, Robinson stayed healthy last year and awarded the Bears with top-level production. His 1147-yard seven touchdown season was the first Bears receiver since 2015 to post a 1000 yard receiving season. Robinson also set Bears franchise records with most receptions in a postseason game and most receiving yards in a postseason game.
Heading into what would be the final year of his contract, Robinson has made it clear that he wants to finish his career in Chicago. He wants the extension, and Bears fans want him to get the extension. Yes, he may not have gotten it when he expected, but Robinson wasn't going to enter the season thinking about that as he wanted to win football games.
Well, things have changed, and there appears to be some growing tension between Robinson and the Bears organization as he does not seem happy with his situation right now. Robinson knows what he brings to the table and knows how much he means to the offense. He has not requested a trade at this point, but he is very unhappy that the Bears have refused to extend him and pay him the market value that top receivers are getting.
What started as a great week following the Bears win quickly turned into a headache after it was revealed Robinson removed all Bears mentions from his twitter account. Sometimes this is just a case of an athlete wanting to get rid of his social media to focus on football. However, in Robinson's case, where there is smoke, there is fire, and Robinson is not happy with his current situation.
Not only Robinson has grown increasingly frustrated about his situation and lack of progress regarding his deal, but the tension between Robinson and the organization also runs much deeper than that, and a trade may be imminent. While it is unknown how far apart the sides are regarding a deal, but had they been close, I don't think he would be making the comments.
Now in the final year of his three-year 42-million-dollar deal, Robinson has proven to be an essential piece of the Bears offense. Usually, the Bears have been able to complete deals with star players before they enter their contract year, and the fact that Robinson hasn't made any progress is telling. Despite that, Ryan Pace has made it evident that he is willing to keep working on the extension to keep Robinson here.
#Bears WR Allen Robinson's agent, Brandon Parker, reiterated tonight that Robinson hasn't requested a trade amidst contract talks. Meanwhile, Mo Sanu has a new team. @nflnetwork @NFLTotalAccess pic.twitter.com/CmxlZzcL9A

— Tom Pelissero (@TomPelissero) September 15, 2020
The problem now is more the relationship side of things instead of money. Has Pace ruined the relationship with Robinson to a point where the two sides will be too far off from ever reaching a deal? Not only do the fans know how vital Robinson is to the offense, but his teammates also do as Tarik Cohen backed Robinson on social media in hopes of getting the man extended.
What happens if the two sides cannot reach a deal? Would Chicago then feel the need to trade him to at the very least get something back for him? At this point, I find it very hard to believe the Bears will deal with Robinson, especially when he has been their most consistent receiver for the past two seasons. However, if things don't change quickly in terms of the relationship side of things, Robinson will have no trouble finding teams willing to discuss a sign and trade situation with Chicago.
From @GMFB: #Bears WR Allen Robinson is frustrated over the state of his contract negotiations. But he has not asked for a trade... yet. pic.twitter.com/FmlJoSNi6E

— Ian Rapoport (@RapSheet) September 16, 2020
Robinson has all the tools to be one of the best receivers in the NFL for years to come, but will he ever reach that level in Chicago? Not only has the offensive line been inconsistent, but the Bears still don't know who their quarterback will be for the future. Knowing that, will Robinson want to stick around when the Bears have no idea what the offense will look like beyond this season?
I love Robinson as a player, and I agree that he should be extended and paid most receivers. However, until the Bears have a quarterback in play for the future, does it make sense to extend him? You could have a Randy Moss on your team, but if your Quarterback play is mediocre, you're not going to get the most out of that receiver.
Maybe Robinson is doing what he is doing to send a message to Chicago. He may want to force their hand and try to get them to put their money where their mouth is. Maybe he does want out, and this is the first step in the process. Whatever happens from this point is going to remain behind closed doors for the most part.
Chicago has the money to make an extension happen with Robinson beyond this season should they want to. The problem Pace has in front of him is figuring out if that is the best way to spend the money. Is Robinson good? Of course, but without a consistent quarterback throwing him the ball, Robinson will only be decent and not great.
The list of QBs that Allen Robinson II has caught passes from in the NFL (grade/rank since '14):

Mitchell Trubisky - 66.1 (44th)
Chase Daniel - 65.1 (48th)
Blake Bortles - 60.8 (58th)
Chad Henne - 45.3 (99th) pic.twitter.com/uPDmFBeVIZ

— PFF (@PFF) September 15, 2020