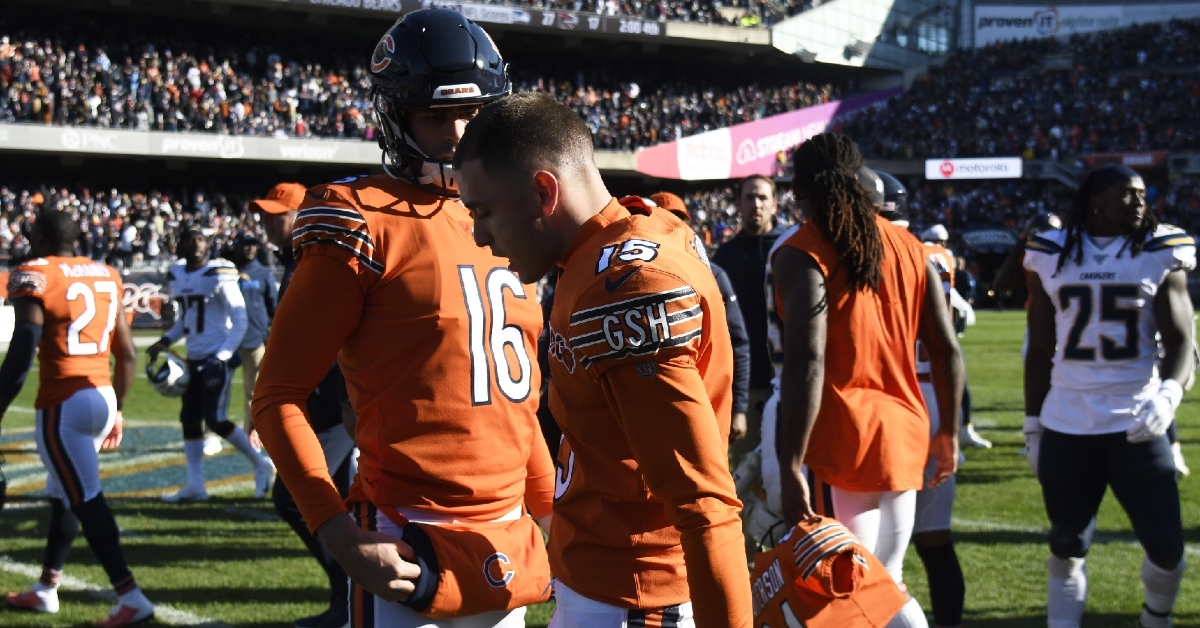 | | |
| --- | --- |
| What trust do the Bears have in Eddy Pinero? | |
---
| | | |
| --- | --- | --- |
| Thursday, January 30, 2020, 8:32 AM | | |
It has long been documented that ever since Robbie Gould bolted from Chicago via free agency, the Bears have had a hard time finding a true reliable kicker to take his place. After their most famous miss during the 2019 Wild Card game against Philadelphia, the Bears elected to have an open tryout between two kickers before the 2019 season.
Those two players were Elliott Frye and Eddy Pinero. Although it looked like Frye was the favorite to win the job early, Pinero put together a steady preseason and strong training camp to take the job from Frye and never look back. Pinero did have his fair of struggles, especially during the middle of the season, but he was able to finish the season strong, proving the Bears made the correct decision to make him the full-time kicker.
As of now, Pinero is going to be the kicker heading into next season, but exactly how much confidence do the Bears have in him long term? We have seen what happens when Pinero struggles as it sometimes takes him a few weeks to get that confidence back. We have also seen what happens when he has that confidence as he can make clutch kicks with the best of them with the game on the line. So why do I get the feeling the Bears are not sold on him just yet?
Well, for starters, it could be the fact that the Bears have met with some of the best kickers in college during the senior bowl, with one name starting to stand out the most. That player is former Georgia Bulldog place kicker Rodrigo Blankenship which, to me, is undoubtedly an eyebrow-raiser at this point.
After what the Bears invested in both Pinero and Frye a season ago, bringing in another kicker doesn't seem plausible unless they genuinely don't have long term confidence in Pinero being able to perform at a high level. I understand that teams always want to bring in competition for their guys, but competition is one thing. Bringing in Blankenship is an entirely different topic.
Not only did he come from arguably the best college football conference in America in the SEC, but his career with the Bulldogs was also a very decorated one. Through all the close games his team was a part of, to his many big kicks in high-level games, Blankenship spent this past season kicking his way to the Lou Groza Award (best kicker in the Nation).
Not to mention Blankenship is a two-time all American the past two seasons, and I think it is safe to say that he had a very well documented college career. Some more of Blankenship's career milestones is that he owns the longest field goal made in Rose Bowl history at 55 yards, connected on 82.5 percent of his career makes which is closer to 87% his past two seasons and made all 200 of his extra-point attempts with the Bulldogs.
So why would the Bears be interested in bringing this guy in unless it was solely for competition? As of now, Pinero still appears to be the Bears' choice in the kicking game, but for how long. After he missed four of eight kicks during a six-game stretch in the middle of the season, Pinero responded by going a perfect 11-11 on field-goal attempts the rest of the way. That included his game-winning kick against the Vikings in Week 17, which was his second game-winner of the season.
Despite those great numbers to end the season, if you look closer, that streak doesn't seem all that impressive. Going back to the Vikings kick, it was practically an automatic make from just 22 yards out against second and third-string Viking players. Not to mention it was indoors, so you didn't have elements to worry about.
Looking at his other ten makes during that stretch, and you have distances of 24,26,26,27,30,30,33,34,36, and 46. That right there shows you that only one of his final 11 kicks was over 40 yards with zero longer than 50. That makes me wonder how good his season would have been had more of those kicks been in the 40 plus range.
Even with some of those numbers putting an asterisk on the end of his season, the ability for Pinero to fight through his mid-season struggles is certainly noteworthy. That alone probably earned him some confidence boosters heading into this season and, at the very least, earned him another go around with the team in 2020.
That is what makes the Bears kicking the tires on Blankenship that much more intriguing. Pinero finished the season with an 82.1% field goal percentage, which isn't great, but still better than average. Even with that percentage, the vibe at the end of the season was that the kicking job was Pinero's to lose in 2020. Even with all signs pointing to him returning, I can't help but feel he won't be the only leg in camp this season.
Like many people have said in the past, competition at a position is a good thing, and I am a firm believer that competition often brings out the best in players. I don't know if bringing in Blakenship is the right competition. Yes, it may make Pinero better, but Blankenship is the reigning best kicker in the country for college football. Should these two battle it out for the kicking job in 2020, unless Pinero runs away with the job, I don't see how Blakenship is brought in not to have the job in 2020. Let's see how this plays out over the next few months.