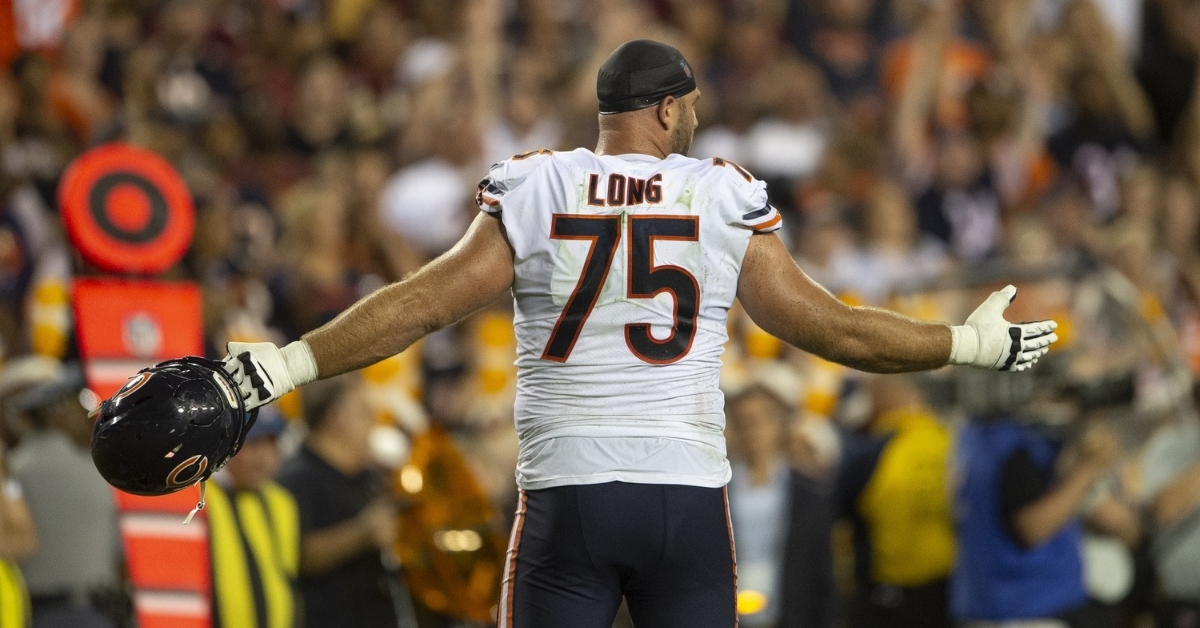 | | |
| --- | --- |
| Where are they now? Re-grading the 2013 Bears draft class | |
---
After another year that saw plenty of the Bears draft picks perform at less than appealing measures, Chicago was hoping that 2013 would be a draft that they could look back on as the franchise changer. However, outside the team's first-round pick, there wasn't much to be left desired from this group of players as yet another draft came and went by the wayside.
Round 1 Kyle Long (OT Oregon): One of the sons of former NFL legend Howie Long, Kyle was taken in the first round in hopes of anchoring the Bears line for a long time. He did just that as he played every season of his seven-year career in the Windy City, proving this pick was certainly worth the decision.
For his career, Long played in 77 games, 76, which were starts as he did miss a lot of games due to injuries. That was always the biggest issue for the three-time pro bowler and former second-team all-pro as he had a hard time staying on the field for long periods. Long closed the playing chapter of his career this offseason when he announced his retirement from the game after seven years. The injuries began to take their toll on him, and he is now looking for life after football as he owns MODE Motorsports in the NASCAR iRacing World Championship Series.
Round 2 Jon Bostic (LB Florida): No matter the year or success before the year, Chicago is always looking for depth on defense, and that is what they expected out of Bostic. Although his time in Chicago was a brief three-year stint, Bostic has turned out to be a solid player despite not having many starting roles throughout his career.
Following his time in Chicago, Bostic has spent time with New England, Detroit, Indianapolis, Pittsburgh, and Washington, where he is currently under contract through the 2020 season. For his career, Bostic has recorded 418 tackles and 6.5 sacks while recovering two fumbles and two interceptions. Bostic is coming off a season in which he started all 16 games in Washington recording a career-high 105 tackles. That earned him a two-year contract extension in March.
Round 4 Khaseem Greene (LB Rutgers): I tend to forget the Bears drafted Greene mainly because his career lasted about two seasons. After a promising start to his NFL career in which he played in eight games as a rookie picking up 38.5 tackles and one sack, things quickly went south for him in year two.
In March 2014, Greene tweeted he was going to change his number from 59 to 52 in honor of his Rutgers teammate Eric LeGrand. He went on to pick up just 6.5 tackles that season and was then released by the Bears the next offseason. In the time following his release, Greene spent time on the Detroit, Tampa Bay, and Kansas City practice squads before leaving the league in May 2017 after being waived by the Chiefs.
Round 5 Jordan Mills (OT Louisiana Tech): The 6-5 316-pound Mills had some upside coming out of college as he moved well for his size. Mills lasted just two years in Chicago however, despite earning the starting job out of camp in which he played in all 16 games and allowed only three sacks on the season. His career took a turn for the worst in week 17 that season as he fractured his fifth metatarsal bone in his foot that required surgery.
In September of 2015, the Bears parted ways with Mills, and the Dallas Cowboys scooped him up, not even 24 hours later. A few days later, he was waived by the Cowboys and signed with the Lions practice squad before the Bills picked him up and signed him to a two-year deal in 2017. Once again, Mills proved he can play a little bit as he went on to start 16 games that season, but was once again without a job.
Mills then signed a one-year deal with Miami and was released less than two months into that deal before finding a home with the Cardinals last season. Mills injured his knee on October 5th and was place on injured reserve without returning last year. For his career, Mills has logged 90 games played, and 84 starts. Currently, he remains unsigned, but he isn't giving up quite yet.
Round 6 Cornelius Washington (DE Georgia): In a trade with the Atlanta Falcons, the Bears added an athletic freak to their defense by bringing in Washington. The former high school track star was always gifted athletic wise but added tons of weight on in the college game to play on the line. Washington ended up making a name for himself slightly in Chicago as he lasted four seasons with the Bears.
While he saw some positives during his time in Chicago, he saw negatives also mainly the 2015 season opener, in which he suffered a season-ending quad injury. Following his time in Chicago, Washington signed a two-year deal with the Lions in 2017 and put up a career year that season. He went on to play in 15 games, recording career highs in tackles with 24 and sacks with 2.5. He was released the next year and hasn't played a down since.
Since his last snap in the NFL, Washington has remained close to the game and is currently on the Washington Redskins coaching staff. He is the recruiting Communications coordinator and will continue to fill that role this year.
Round 7 Marquess Wilson (WR Washington State): Also acquired in the Atlanta deal that draft was WR Marquess Wilson. Much like a lot of the players the Bears drafted that year, Wilson was able to stick with the Bears for four seasons, but that was about the brunt of the success he had at the NFL level.
For his career, Wilson hauled in 56 passes for 777 yards and three scores. Most of those numbers came in 2014 and 15 when he saw significant playing time, but several injuries during the 2016 season ended any more future progress. Wilson went on to spend the next two years on the Jets, and Eagles practice squads before signing with the BC Lions last year. He was cut before camp and is now looking for work again.
Draft Grade C+: Although once again it wasn't an excellent draft for Chicago, it wasn't terrible as they found some contributors they didn't expect to find. This time it was some late-round players that not only stuck on the roster for multiple seasons but carved spots in the starting lineup to fill holes. While no one outside of Long will be looked at as a star, the Bears found success.
Upgrade Your Account
Unlock premium boards and exclusive features (e.g. ad-free) by upgrading your account today.
Upgrade Now